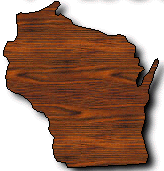 Wisconsin AM Radio
---
Click on CALL SIGN to go to the stations homepage.

  
Click on the

  

FREQUENCY to get more info on the station (address, phone, program schedule). 
Click on CITY to see a pic of the transmitter site.

  
Click on Power/Ant

  

to get a transmitter location map.

  
Click HERE to see all of the antenna abbreviations. 
Stations broadcasting in stereo are marked with a * 
<![if !supportEmptyParas]> <![endif]>
Calls

    

Freq City

          

Pwr/Ant 
WRRD

     

540 JACKSON

        

400 U4

           

The Word 
WSAU

     

550 WAUSAU

         

5k U4

     

       

News/talk 5-50 
WMAM

     

570 MARINETTE

      

250/100 U1 

      

Power Talk 
WKTY

     

580 LA CROSSE

      

5k/740 U4

        

The Ticket 
WJMS

     

590 Hurley/Ironwood,MI 5k/1k U4

                                  

History of Station HERE
WDGY

     

630 HUDSON

         

900/130 U4 

      

Radio Rey
WTMJ

     

620 MILWAUKEE

      

50k/10k U4

       

News Radio 6-20 
WOGO*

    

680 HALLIE

         

2.5/500 U4

       

Your Sports Station 
WVCY

     

690 OSHKOSH

        

250/77 U4 
WDSM

     

710 SUPERIOR

       

10k/5k U2

        

"All Sports 7-10" One-on-One Sports

  
WJMT

     

730 MERRILL

        

1k/127 U1 
WRPQ*

    

740 BARABOO

        

250/6 U1

         

AM Stereo 7-40 
WMIN

     

740 HUDSON

         

850/8 U3 

 

       

Sports
WAYY

     

790 EAU CLAIRE

     

5k U2

            

News/talk 7-90 
WDUX

     

800 WAUPACA

        

5k/500 U4 
WDMP

     

810 DODGEVILLE

     

250 D1 
WJJQ

    

 810 TOMAHAWK

  

     

980 D1 

           
WNOV

     

860 MILWAUKEE

      

250/5 U1

         

The Source 
WMEQ

     

880 MENOMONIE

      

10k/210 U2 
WATK

     

900 ANTIGO

         

250/196 U1 
WIBU

     

900 WISCONSIN DELLS1k/229 U1

        

Music of Your Life
WHSM

     

910 HAYWARD

        

5k/75 U1 
WDOR

     

910 STURGEON BAY

   

1k/102 U1 
WOKY*

    

920 MILWAUKEE

      

5k/1k U4

         

AM 9-20 
WLBL

     

930 AUBURNDALE

     

5k D1

            

Ideas 9-30 
WFAW

     

940 FORT ATKINSON

  

500/550 U4 
WCSW

     

940 SHELL LAKE

     

1k D1 
WERL*

    

950 EAGLE RIVER

    

1k/51 U1 
WCLB

     

950 SHEBOYGAN

      

500/11 U4

        

Club 9-50
WTCH

     

960 SHAWANO

        

1k U2 

    

       

Hit Country 9-60

  

Moose Country
WHA

      

970 MADISON

        

5k/51 U1

         

Ideas 9-70
KXTP

     

970 SUPERIOR

       

1k/26 U1

  

       

Radio Disney 
WNBI

     

980 PARK FALLS

     

1k/105 U1 
WPRE

     

980 PRAIRIE DU CHIEN1k D1

           

Cruisin' 9-80
WCUB

     

980 TWO RIVERS

     

5k U4

            

Cub Radio 
WSPT

    

1010 STEVENS POINT

  

1k/10 U1 

 

       

Sports Radio 10-10
WEIO

    

1050 EAU CLAIRE

     

1k/500 U1

        

Divine Mercy Radio
WJOK

    

1050 KAUKAUNA

       

1k/500 U4

 

       

Catholic/EWTN 
WLIP

    

1050 KENOSHA

        

250 U1 
WTSO

    

1070 MADISON

        

10k/5k U4

        

ESPN Radio 10-7-0
WISS

    

1090 BERLIN

         

500 D1 
WAQE

    

1090 RICE LAKE

      

5k D1

            

Classic Country 
WISN

    

1130 MILWAUKEE

      

50k/10k U4

       

Radio 11-30 
WEAQ

    

1150 CHIPPEWA FALLS 5k/46 U1 
WHBY

    

1150 KIMBERLY

       

5k U4 
WMRH

    

1170 WAUPUN

         

1k D1 
WNWC

    

1190 SUN PRAIRIE

    

1k D1 
WCLO

    

1230 JANESVILLE

     

1k U1
WXCO

    

1230 WAUSAU

         

1k U1

            

ESPN Radio 12-30
WOMT

    

1240 MANITOWOC

      

992 U1

                        

            

History of station HERE
WHFA

    

1240 POYNETTE

       

1k U1 

    

       

Catholic Radio
WOBT

    

1240 RHINELANDER

    

1k U1

            

Sports Radio 12-40 
WJMC

    

1240 RICE LAKE

      

1k U1 
WEMP

    

1250 MILWAUKEE

      

5k U4 
WXCE

    

1260 AMERY

          

5k U4

            

Sports ESPN
WWIS

    

1260 BLACK RIVER FALLS1k/33 U1 
WEKZ

    

1260 MONROE

         

1k/19 U1 
WOCO

    

1260 OCONTO

       

  

1k/29 U1 

 

       

All Heart Radio
WRJC

    

1270 MAUSTON

        

500/27 U1

        

Radio Juneau Country
WGLR

    

1280 LANCASTER

      

500/22 U1

        

Country // WGLR 97.7
WNAM*

   

1280 NEENAH-MENASHA 20k/5k U4 
WMCS*

   

1290 GREENFIELD

     

5k U4

            

Rhythm and Blues 
WKLJ

    

1290 SPARTA

         

5k/59 U1 
WIBA

    

1310 MADISON

        

5k/5.4k U2

       

Newsradio 13-10 
WFHR

    

1320 WISCONSIN RAPIDS5k/500 U2 
WHBL

    

1330 SHEBOYGAN

      

5k/1k U4 
WLDY

    

1340 LADYSMITH

      

1k U1 
WJYI

    

1340 MILWAUKEE

      

1k U1

            

Joy 13-40 
WPDR

    

1350 PORTAGE

        

1k/41 U1 
WGEE

    

1360 GREEN BAY

      

5k U2

            

New Radio 13-60
WVRQ

    

1360 VIROQUA

        

1k/23 U1 

 

       

Vintage VRQ
WCCN

    

1370 NEILLSVILLE

    

5k/42 U1

         

Memories 13-70
WFCL

    

1380 CLINTONVILLE

   

3.9k/1.8k U4

     

Music of Your Life
WTJK

    

1380 BELOIT

         

5k U2

     

       

The Jock 
WRIG*

   

1390 SCHOFIELD

      

5k U4

            

Big Rig 13-90
WATW

    

1400 ASHLAND

        

780 U1 

   

       

Memories 1400
WBIZ

    

1400 EAU CLAIRE

     

1k U1

            

Sports Radio 1400
WDUZ*

   

1400 GREEN BAY

      

1k U1

            

Sportstalk 14 
WRJN

    

1400 RACINE

         

1k U1

            

AM 14 
WRDB

    

1400 REEDSBURG

      

1k U1

            

Standards, Star 1400
WIZM

    

1410 LA CROSSE

      

5k U2 
WJUB

    

1420 PLYMOUTH

       

500/62 U1 
WBEV

    

1430 BEAVER DAM

     

1k U2 
WRDN

    

1430 DURAND

         

2k/152 U1 
WNFL

    

1440 GREEN BAY

      

5k/500

  

U4 
KFIZ

    

1450 FOND DU LAC

    

1k U1 
WHRY

    

1450 HURLEY

         

1k U1 
WDLB

    

1450 MARSHFIELD

     

754/1k U1 
WRCO

    

1450 RICHLAND CENTER1k U1 
WBJX

    

1460 RACINE

         

500/62 U1

        

La Compeona
WTMB

    

1460 TOMAH

          

1k/42 U1 
WBKV

   

 

1470 WEST BEND

      

2.5k U4 
WTDA

  

  

1480 MADISON

        

5k U4

            

See 1670 below 
WGEZ

    

1490 BELOIT

         

1k U1

            

Home Town Radio 
WLFN

    

1490 LA CROSSE

      

1k U1 

    

       

Original Hits 14-90
WIGM

    

1490 MEDFORD

        

1k U1 
WOSH

    

1490 OSHKOSH

        

1k U1 
WAUK*

   

1510 WAUKESHA

       

10k D3

           

Sports Radio 15-10
WMBE

    

1530 CHILTON

        

250 D1

           

ESPN Radio 15-30
WTKM

    

1540 HARTFORD

       

500 D1 
WZRK

    

1550 LAKE GENEVA

    

1k/1 U3

          

Presently Silent
WTUX

    

1550 MADISON

        

5k D3

            

The Tux
WEVR

    

1550 RIVER FALLS

    

1k D1 
WGLB

    

1560 Elm Grove

      

180/200 U2

       

CP for 183w D3 Elm Grove, WI 
WRJQ

    

1570 APPLETON

       

1k/331 U1

        

News Calls coming: WSCO
WKBH

    

1570 HOLMEN

         

1k/365 U1

        

ESPN 15-70 
WLKD

    

1570 MINOCQUA

       

5k/500 U1

        

Music of Your Life 
WTTN

    

1580 WATERTOWN

      

1k/7 U1 
WIXK

   

 

1590 NEW RICHMOND

   

5k/70 U1 
WPVL 

   

1590 PLATTEVILLE

    

1k/500 U2

        

Super AMs //1280 WGLR
WTRW

   

 

1590 TWO RIVERS

     

1k/33 U1 
WRPN

    

1600 RIPON

          

5k U4

            

Sport/ESPN AM 16 
WKSH*

   

1640 SUSSEX

         

10k/1k U1

        

Life Message 16-40 Use to be 1370 
WTDY*

   

1670 Madison

        

10k/1k U1

        

Today's Talk 16-70 

<![if !supportLineBreakNewLine]>

<![endif]>


<![if !supportLineBreakNewLine]>

<![endif]>
BACK TO THE WISCONSIN RADIO PAGES
Updated January 24, 2002
Corrections, comments, etc. to:
mailto:

[email protected]