Dan Flaig K8RF / NP2JEx: KG4RF, CY9RF, WT8N, VP5VW, VK9LX, VP5FXB,
VP5CW, PJ2C, KP2F, NV0T, WB8FOS
5BWAZ #466, 5BDXCC #508, 160 WAZ #115, DXCC Honor Roll
---
CY9RF and KG4RF Logs are on LOGBOOK OF THE WORLD (LOTW)
Please go to: www.arrl.org/lotw
---
New Mailing Address!!
Dan Flaig K8RF
PO Box 25941
Christiansted, VI
00824
---
Back on the air after many years QRT! - - - New info soon! - - - Below K8RF Past DX/Contest Operations
---
KG4RF Guantanamo Bay Naval Air Station, Cuba
1999 CQ WW CW Contest
KG4RF
1999 CQ WW Contest
21 Mhz Single Band - Single Operator
Antennas at the Gitmo ARC
Force 12 Tribander on left, and A3WS WARC Band beam on right
40 Meter loop between poles


Rusty "Rustman" KG4AU (Now WV3R)
My good friend and past President of the Gitmo ARC
Many thanks for all of Rustys' help arranging everything for me!
---
CY9RF St. Paul Island DXpedition
1999 WPX CW Contest
Winner: World Multi-Single Trophy
Operators: Doug K4LT & Dan K8RF
May 28 to June 1, 1999

1999 WPX CW Contest
Single Transmitter - Multi Operator entry: 13,651,00 Points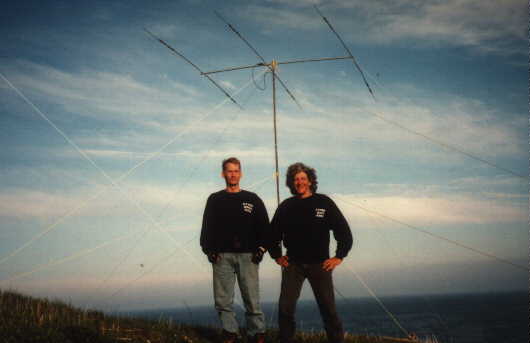 CY9RF Operators:
K4LT Doug, K8RF Dan

Thanks to Cushcraft for help with CY9RF antennas!
---
CY9RF
Our fantastic Boat Captain, Mr. Robert MacLellan
landed us on St. Paul on the morning of Thursday May 27th.
****
After hauling the 1000 LB's or so of gear up these rocks....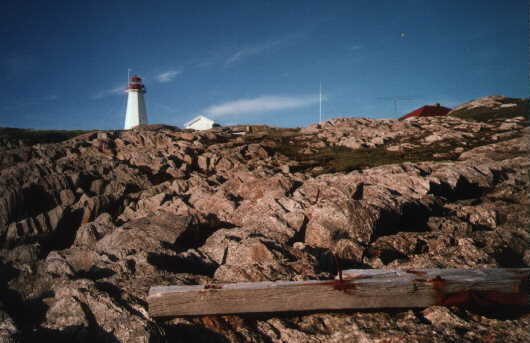 We got on the air a little after 0000 GMT May 28th.
We operated mostly 20, 17 and 15 Meters before the contest
****
We entered the WPX CW Contest as a Multi-Single and made 4840 QSO's

*****
Doug K4LT and I K8RF would like to let it be known we could not have
done it with out everyone behind the scenes:
Noel W9EFL, Tom W8TK, Steve N8LGP, Geoff W0CG,
Bob W6RGG, Mac W6BSY, Hank K8DD, Stan AC8W, George K5KG, Dennis K7BV
CUSHCRAFT, GDXF and others..
*****
We were lucky to have excellent propagation.
The European and JA pile-ups, especially on 15 Meters, had to be heard to be believed!


Some times.... the pile-ups make you a little "Crabby"
One of the Op's at CY9RF....!
---

CY9RF QSL Information
Please QSL with SASE or SAE and $2.00 to:
Dan Flaig K8RF
PO Box 25941
Christiansted, Il
00824
---
VK9LX
Lord Howe Island 1997 DXpedition with Nick VK1AA/VK9LX Ex:VK2ICV
Operating in the 1997 CQ WW CW Contest Nick and I made 13,300 QSOs in one week.
We made over 500 contacts on 160 meters, a main focus of our operation..
During the contest we made over 4,300 QSO's operating as a Multi/Single and 5,300,000+ Points
---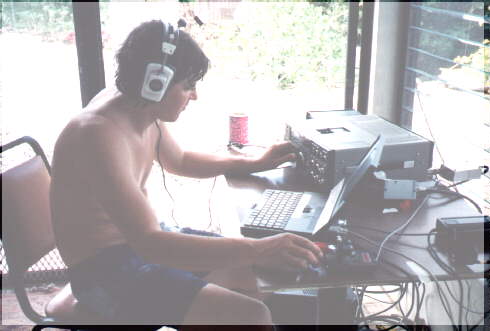 VP5VW 1994 CQ WW CW Contest operation
Multi/Multi Operation - 160 Meter Operator
Operated with Great group of guys!
W6RGG Bob, K8MFO Don, W9VNE Jim, WD8AUB (Now K4LT) Doug, WD8LLD (Now W8AV) Goose, W0CG Geoff and WA4DRU Al.
Most QSO's and Mult's of any station in World, Number two world score Multi/Multi
---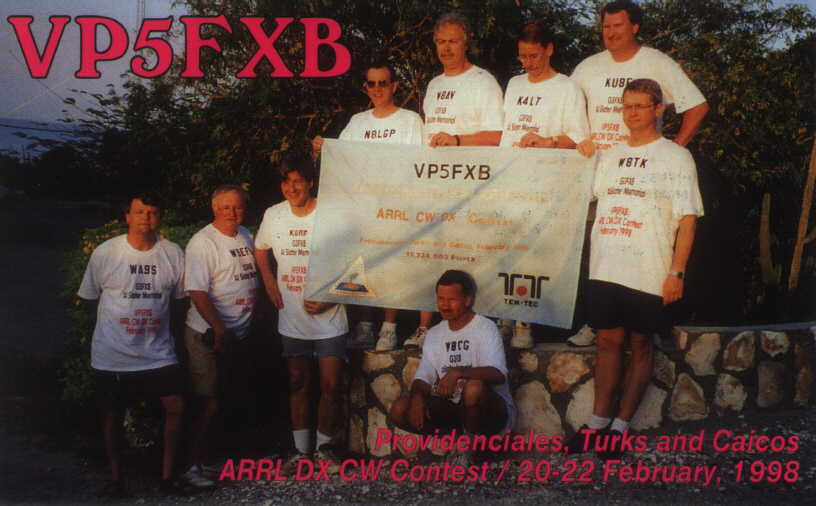 VP5FXB 1998 ARRL CW DX Contest - G3FXB Memorial
Multi/Multi operation - 80 Meter operator.
Teamed up again with W0CG Geoff, W8AV Goose (ex:WD8LLD), K4LT Doug (ex: WD8AUB) and was joined by KU8E Jeff, W9EFL Noel, WA9S Ken, and N8LGP Steve.
Winner: North American Plaque
Looks like we came in second place again! Beaten by a great effort by V26B!
---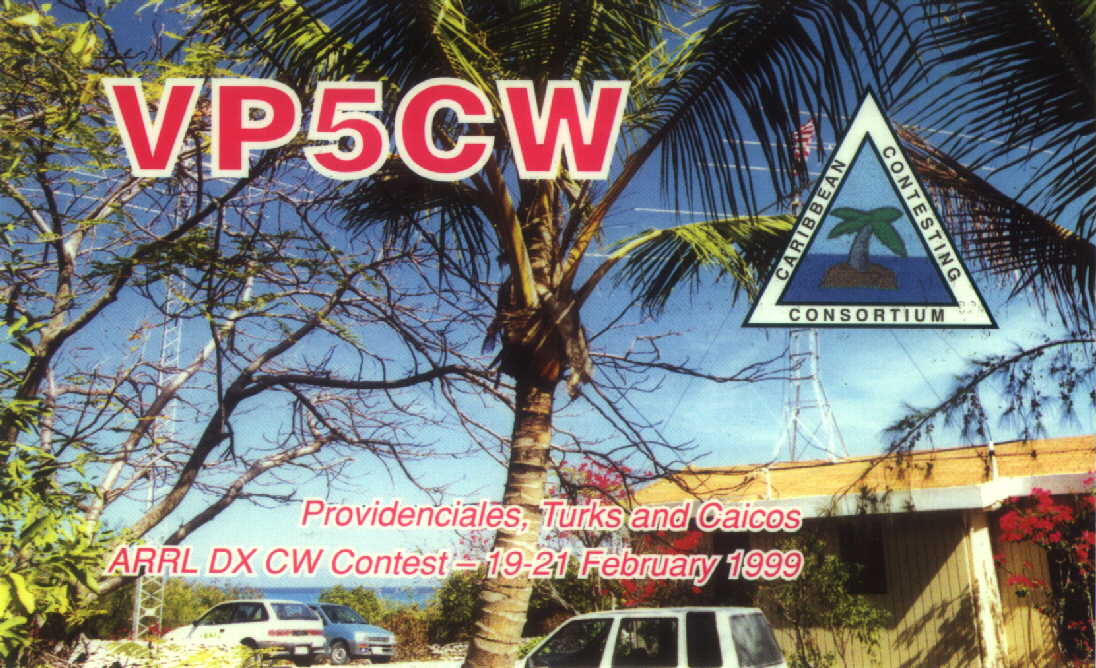 VP5CW 1999 ARRL DX Contest Multi/Single Entry
Operators: W0CG, W0NB, W9VA, WA9S, K8RF, W9EFL, N8LGP
<![if !supportLineBreakNewLine]>
<![endif]>
---
Dan Flaig K8RF
PO Box 25941
Christiansted, VI
00824
E-Mail: dan <"at" symbol> np2j (dot) com