Hocking Valley Amateur Radio Club
Logan, Ohio
***** Hocking County *****
Club Call Sign: K8LGN
Grid Square EM89 - CQ Zone 4 - ITU Zone 8
A Non-Profit Organization of Volunteers dedicated to the support of local Public Safety Agencies, assisting local
residents during times of emergency, and the furtherance of Worldwide fellowship through Amateur Radio
The Hocking Valley Amateur Radio Club is an IRS 501(c)(3) charitable organization. Your donations may be tax deductable as allowed by law.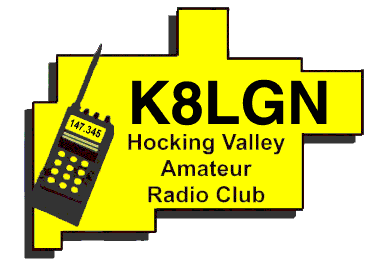 Club Officers for 2021

Chris Boch, KC8RYM, President
James Martin, W8LGN, Vice President
Bill Hopstetter, W8LGX, Secretary
Roy Vickers, KC8TFW, Treasurer
Ray Webb, KB8GUN, Club Trustee
Dave Brimner, KB8OTU, Emergency Coordinator
Bill Hopstetter, W8LGX, Repeater Engineer
Obtaining an FRN, Printing your license, Renewing your license, Applying
for a Vanity Call, Setting up your License Manager Account, License Search
HVARC Newsletter and Meeting Minutes
Meetings and Nets
The next In-Person Club Meeting is on Tuesday, December 7. This is the Annual Christmas Potluck Dinner.
See the Activities and Events page for more info.
**Weekly Net on Wednesdays at 9:00 PM local time, on all of the HVARC Repeaters (see below)
Area Amateur Radio Events
The 1st Annual KC8JRV Pre-Thanksgiving Fox(Turkey?) Hunt, Saturday, November 20
Athens, OH Amateur Radio Examination Schedule for 2021 ACARA Tests
The Big Contest Season is Upon Us, With the ARRL Sweepstakes and
CQ Worldwide DX Contests in November - ARRL Contests CQ Contests
---------------HAMFESTS--------------
Attendees are advised to check with the event sponsors before traveling to any of the events listed below
SCARF Hamfest, Sunday, January 16, 2022. NOTE LOCATION CHANGE. Shade Community Center,
2380 old US 33, Shade, OH. Contact Jeramy Duncan, KC8QDQ, 740-343-5976.
----------Of Special Interest---------
For Those of you who like to design your own antennas, Roy Lewallen, W7EL, the creator of the EZNEC Antenna
Design Program, is retiring at the end of the year. Since his business is a 'one horse' operation, he has decided
to make available his EZNEC(Pro/2) program FREE OF CHARGE beginning January 1, 2022.
There will be no further support for EZNEC beyond this year. EZNEC
[I have used version 5 of this program for over a decade, and it is highly accurate. A limited version
of this program has been included with the ARRL Antenna Book in the past.- W8LGX]
Current Station Status
2 Meter GE Mastr II Repeater Online, 75 Watts ERP / 1.25 Meter Remote Base Online, 35 Watts ERP
70 cm Repeater Online, 45 Watts ERP / K8LGN-5 APRS Digipeater online
Club Radio Room at County EOC - Restricted Access due to Pandemic
HVARC Amateur Radio Stations
HVARC maintains the following stations as part of the local Amateur Radio
infrastructure for routine as well as emergency communications
-----
2 Meter Repeater: 147.345 MHz output, 147.945 MHz input, Tone(PL): 114.8 Hz
1.25 Meter Remote Base: 223.460 MHz Simplex, Tone PL: 114.8 Hz
70 CM Repeater: 443.125 MHz Output, 448.125 MHz input, Tone (PL): 114.3 Hz
Club Station: 80 thru 10 Meters HF, 2 Meters and 70 CM, located at
the Hocking County EOC.
---
Communications Trailer Deployed for Field Day, June 2016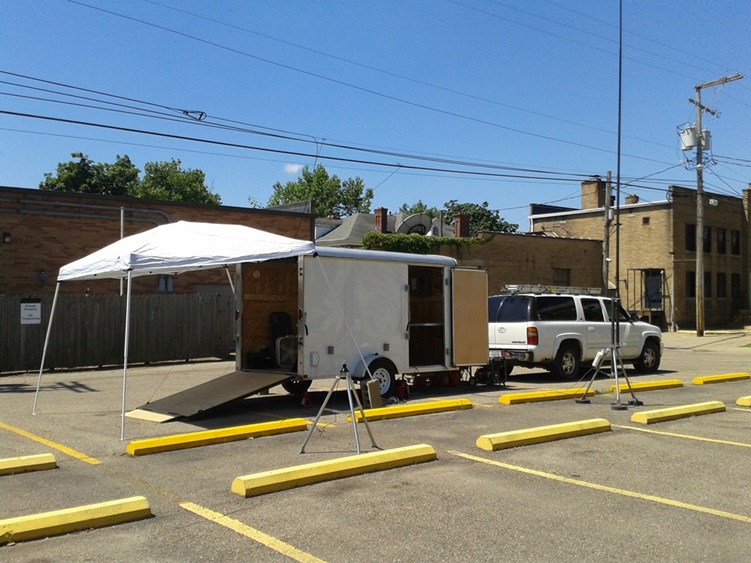 ---
HVARC Field Day Crew, June 2017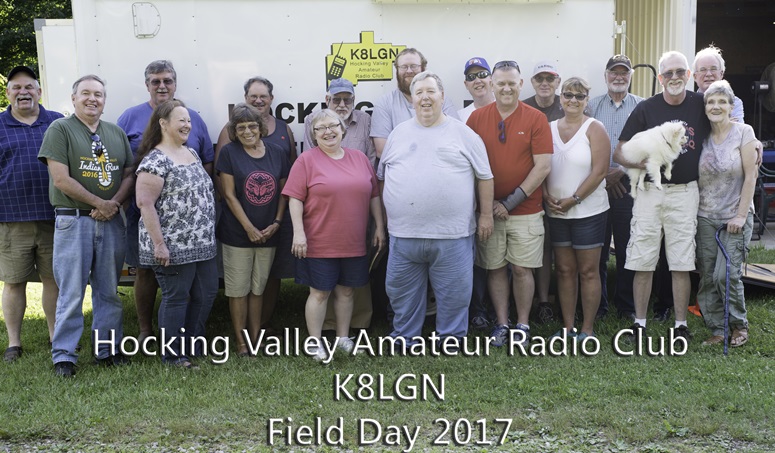 ---
Repeater Tower atop Schultz Hill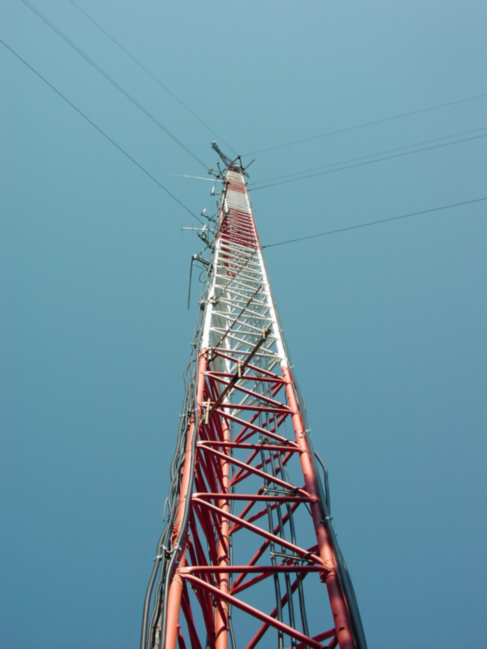 ---
Hocking Valley Amateur Radio Club - Revised November 12, 2021