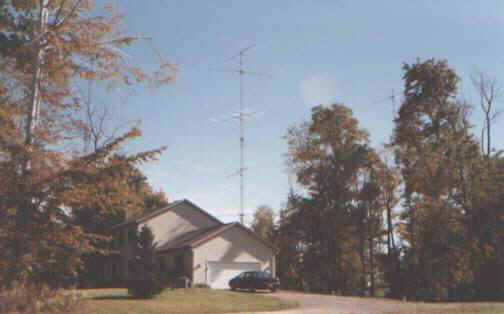 My name is Scott Detloff, K8DX. I'm located in Paris, Ohio about 15 miles east of Canton, and about 60 miles south of Cleveland, Ohio. It was very rural when my wife and I moved to our five acre hilltop in July '94, but as you can tell from the pictures taken from 170' on the tower, we do have neighbors now.
After getting the station almost completed, I suffered a major set-back in June of '98. Winds of 90Mph+ took down fifty trees on our property, as well as 170' of Rohn 55 with 5/5/5 on 20M and a 6EL 15M Yagi. The pictures of the damage just don't come close to showing the devastation. Luckily I was insured and elected to put the tower (plus an additional one) up with the aid of a crane.
I spend almost 100% of my time on the air contesting. My favorite contests are both modes CQWW, Sprints, NAQP, and ARRL DX. I am currently the President of the "North Coast Contesters" which is proud to have very active contesters in our group such as K3LR, K8AZ, N9RV, and VE3EJ .
I look forward to working you in the next contest, and seeing you in person at the suites at Dayton!
73...Scott K8DX
This page was last updated on 03/15/01.