New Shack – May 2002
<![if !supportEmptyParas]> <![endif]>
Here is my new Ham Shack. My wife has let me take over our "playroom" on the second floor for an Office / Ham Shack Combo. The operating station layout was inspired by Mac, W7JHS. This change was made in May of 2002.
<![if !supportEmptyParas]> <![endif]>
<![if !vml]>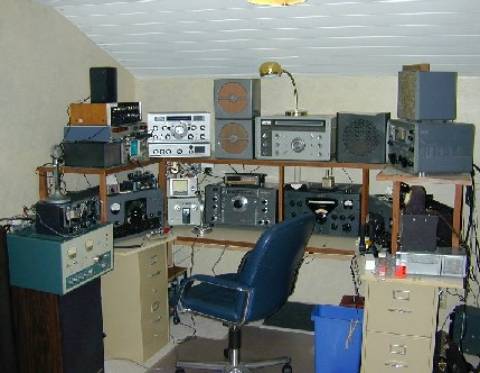 <![endif]>
<![if !supportEmptyParas]> <![endif]>
Across the top is the new audio chain equipment comprised of a Sansui AU555, a frequency counter and a TEK 465 to watch it all unfold. Next is my National HRO-500, followed by a NC-300 and Hammarlund HQ-180 with the appropriate speakers. The first level consists of my pristine E.F. Johnson Valiant, Wanzer Antenna Tuner and Daiwa Power/SWR Meter, National HRO-50T1, Collins 51J-2 and E.F. Johnson Viking ll. Lastly is a fine Gonset G-66B receiver with a Johnson 122 VFO sitting on top.
<![if !supportEmptyParas]> <![endif]>
To the left of the Valiant is an Elmac AF-68 holding court over a Heathkit KL-1 Chippewa Kilowatt Amplifier. For my money, the AF-68 is every bit as good sounding as a Johnson Ranger. (Multi-Elmac essentially copied the Ranger circuit and housed it separately from the power supply to make it flexible for mobile operation) Various D-104 microphones and a homebrew condenser adorn the operating space.
The power supply for the Chippewa sits on the floor behind the lefthand file cabinet. It all makes for a wonderful operating experience.