K4TX
Chester, Virginia

Welcome to K4TX's small bit of "Cyberspace!"
LOOK !!!
PY4VE's 2 Element 40 Meter Delta Loop Photographs!!!
CLICK HERE àPY4VE
Hi - my name is Chuck Stigberg, licensed since 1963. I've had a number of calls including:
WN4QIT - WA4QIT - KA8HLZ - KB8TA - KD4FP - NT4U - K4GE - K4TX
My primary interests are SSB, CW, Contesting, QRP, Construction & Experimenting with Wire Antennas - and yakking with my good friends on 3.868 Mhz. I look forward to meeting "you" on the bands.
EQUIPMENT
Yaesu FT-1000 MP.
Ameritron AL-1500
NYE Viking MBV-A
Kenwood TM-255 E Multimode 2 Meter Rig
ANTENNAS
160 Meter Inverted L - Vertical portion 70 Feet - Radials (need work!)
75 Meter Horizontal Dipole @ 65 Feet
40 Meter 2 Element Parasitic Delta Loop - Switchable NE/SW - @ 60 Feet In Pine Trees
2 Meters - Diamond - Base is @ 80 Feet in Pine Tree
DESCRIPTION OF K4TX DELTA LOOP
The Delta Loop array used at my QTH is a simple and inexpensive way to achieve substantial gain and reasonable F/B ratio. I took the idea from Dave Pietraszewski, K1WA's article in the ARRL Antenna Book when he wrote about 5 Sloping Dipoles suspended from a single tower. The sloper parasitic array he described had an "ungrounded" coax switch mounted in the tower. He used 3/8 electrical wavelength feedlines to each element. He would transmit with a single sloper & the other ones acted as reflectors. Why? Because the 3/8 wavelength feedline going to the other slopers (each being open circuited due to the ungrounded coax switch) added inductance making the element appear 5 % longer - thus acting like a reflector.
I decided to see if it would work with a pair of equilateral loops. I already had one up, and I was disappointed with the performance. I had tried all sorts of things (i.e. switching the feedpoint to change polarization, inverted, sideways, you name it. . .to no significant avail.)
I put up the second loop - same size - spaced about 20 feet apart. It was no easy feat using my slingshot to get the ropes in the pine trees and maintaining some semblance of symmetry. I cut the feedlines (RG-8x) to the proper length. The velocity factor of the RG-8x was .81 according to the manufacturer.
Lastly - The switch. . .Ameritron's RCS-8V comes from the manufacturer with the coax ports "ungrounded." Voila! I fed the loops direct - NO quarter wave matching transformer needed!
PERFORMANCE RESULTS
Absolutely phenomenal!! On air reports confirm that this antenna is equal or better to most 2 element yagis and competitive with most 3 element yagis - albeit at the same height. And - you have to remember that "average height" of my Delta Loops are only 30 feet. The top is at 60 feet and the feed point is only about 15 or 20 feet. Typical reports? VK/ZL usually give me +20 db over S-9. I can also work them long path. Europeans typically give me the same reports or better. The front to back ratio is only about 10-15 db - but what a difference it makes to cut the European broadcast QRM when I work stations to the West! They literally go from unreadable to solid copy. Best of all is the antenna is very inexpensive and INSTANEOUS SWITCHING.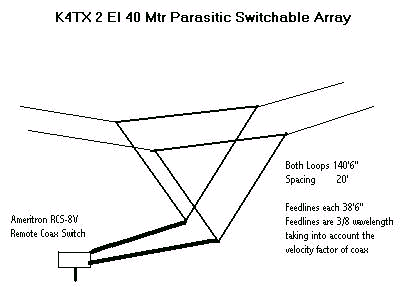 FAVORITE LINKS
AC6V - The best for ham related links!
PERSONAL INFO
I'm 52 years old, and still enjoy the hobby a great deal. It's difficult to fit all of my interests into my day to day living. These interests Include: Golf, Relic Hunting, American Civil War History, Writing, and a host of others too numerous to list.
I have an MBA degree, am a Vietnam vet, and work as President for a Cable TV Construction Company. I've worked for the various large CATV companies in the past, and I was even fortunate enough to begin my own cable TV system that was ultimately sold to a large company after only 3 years. That was back in late 1989. My company now provides turnkey aerial and underground construction of coax and fiber optic cable with services predominately in the Mid-Atlantic region of the US. I'm married to a beautiful wife. I have a 23 year old daughter, a 13 year old son – AND Twins were born November 17th, 2000. Sean & Shelby. . .a boy and a girl!
<![if !supportEmptyParas]><![endif]>