Ah yes, here it is - The best seat in the house, the K4KU operating position!
I have accumulated the following gear over the years (not all of which is visible in the photograph):
TS-140 (2)

TS-430

AL-80A Amplifier

MFJ-989C Tuner

2 element GemQuad up 65' and numerous dipoles

Several computers and packet stations

"Sufficient" 2-meter gear

Classic (or "old") gear including:
Hallicrafters SX-99

Hallicrafters SX-110

Hallicrafters SX-111

Hallicrafters S-120

Hallicrafters HT-40

Drake 2-NT

Heathkit DX-20

Allied Knight T-60

---
BACK WHEN RADIOS WERE BEAUTIFUL!


Hallicrafters SX-99
Hallicrafters SX-110 Hallicrafters SX-111
---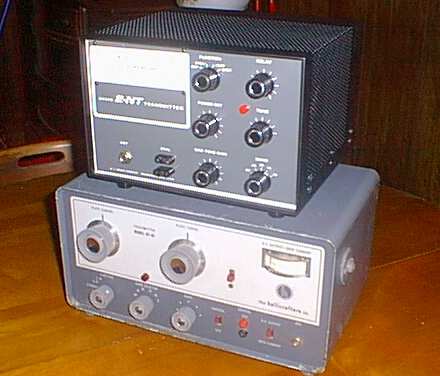 Top: Drake 2-NT transmitter Bottom: Hallicrafters HT-40 transmitter
---
Do you folks know what these are? (Of course you OTs do!)

ANSWER: These are crystals (they are all turned upside down). Back in the 50s and 60s Novices were not permitted to use VFOs - our transmitter frequency had to be crystal-controlled. In those days most of us were lucky if we had one or two crystals per band (we had CW-only privileges on 80, 40 and 15 meters). I have accumulated these over the years. It was a big incentive to upgrade in order to get away from being "rock bound" and to have the freedom of using a VFO.

BACK TO THE K4KU MAIN PAGE.