As published in "PocoNoise," official newsletter of
Pocono Amateur Radio Klub, Inc., Stroudsburg, Pennsylvania
(PARK)
PARK PROFILES By Mike Ruggiero, W2NVR
ON DECK THIS MONTH
RICK BARROW, K3IW
Metaphorically speaking, writing this profile every month is just as much fun as a kid eating ice cream on a blistering August afternoon! And it gets to be more enjoyable each month, interviewing you members -- in particular, this month's profile, Rick Barrow, K3IW. Rick, born in Ellenville, New York and raised in the Pocono Mountains in the Stroudsburg [PA] area, had an interesting story to tell me on how he entered the hallowed halls of amateur radio. This is how it all started, a long time ago, but in a galaxy not too far away ---
When Rick was a young lad, his Mom and Dad owned a summer resort in Bushkill [PA] called "Barrow Lodge."
There was a part of the resort which was a day camp; just the thing to to keep the kids occupied while the parents enjoyed themselves in relative peace. A wonderful idea in its conception and even more enjoyable for the youngsters who were lucky enough to be part of it all. Rick, a built-in attendee, spent wonderful lazy summers there, certainly a dream come true for him. Swimming, hiking, fishing and just having great fun was the order of the day at Barrow Lodge. As a city bred kid, I would have given a proverbial fortune (had I been lucky enough to have one) just to spend a few happy days in the green Pocono hills.
Prior to their swimming sessions,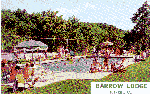 however, all the kids were sent to their rooms to rest for an hour. Rick's friend had a shortwave receiver which he used during those rest periods to listen to foreign broadcast stations. Like the mule that was whomped with a two-by-four to get its attention, listening to the voices and music from faraway places with strange sounding names got Rick's -- and then some. He was not only intrigued, but increasingly fascinated by the strange world of radio.
A few summers later, Rick, the day camp alumnus, was working at the hotel. His roommate had a picture of then teenage pinup, Haley Mills over his bed. Not to be outdone, Rick had a picture of a Hallicrafters short wave receiver, the SX-110 over his.
Clever thinking, indeed! He not only had the dream of his life over his bed, but he could also take an occasional peek at Haley Mills.

Rick worked hard, helping out in the kitchen in the summer so that he could earn enough money to purchase that SX-110 beauty. While working, he sent for and received the receiver manual and a shortwave guide. Needless to say, he knew all about the SX-110 before he owned one. Now that is ingenious. Most people don't read the manuals with a piece of new equipment thoroughly, but turn on the power and have at it! I have been guilty of that, I must admit.
Eventually, one of the resort guests took Rick's hard earned cash, traveled to the famous radio row (the Courtlandt Street area of New York City) and purchased an SX-110 for him. After scattering the excelsior packing material all over the room (and driving his roommate bonkers) he removed the receiver from the box, fired it up and listened not only to the foreign broadcasts, but to radio amateurs on the various ham bands. Needless to say, he was impressed with this amateur radio stuff. In high school, on the second floor in the middle of a long hall, there was a glass-enclosed room with a sign over the door that said "Radio Room." Rick was astounded to discover that the room contained amateur radio station, K3HOD.
With the help of the physics teacher and also trustee of the station Grant "Bart" Bartholomew, W3ZIV, he earned his Novice license, KN3WPI in January, 1963.
Bart was also a member of PARK in those early days and he is now a silent key. Ernie Transue, W3MDO [SK] can tell us a lot about him, I am sure. Rick had his receiver of course, but no transmitter. So, he bought a Knight T-150 transmitter kit and without any experience whatsoever, wired the kit in some semblance of order, but it didn't work. Another local amateur and now a silent key, Joe De Santo, W3URL, untangled most of the maze and it did work at last. It developed parasitics and stuff you wouldn't believe; but by heaven, it worked!
In all honesty, the Knight kits were difficult to build because the instructions were terrible. Rick did, however, became friendly with the FCC when they sent him a pink slip informing him that what that Knight transmitter was doing was a big no-no. That ended the short career of the Knight transmitter.
He still operated, however, with a borrowed Globe transmitter until he bought, built successfully and got on the air with a Heathkit DX-60. His Dad drove him to Philadelphia where they stayed at the Ben Franklin hotel, the day before he was scheduled to take his General exam. But -- the next morning, the blizzard of 1964 struck in all its fury. He took the General test anyway, copying CW with a howling wind outside the window -- passing it! During the sixteen looooong weeks that Rick waited for his license, his novice ticket expired.
Finally the long awaited license arrived --but to his dismay, it was KA3WPI; a good license, but only authorized by the FCC for American servicemen stationed in Japan. Rick was an absolute bear at the time and finally his Mom, who was slowly being driven to distraction, called the FCC and raised the proverbial roof. Hell hath no fury like a Mother that is a wee bit upset. A hurried personal telegram from the FCC in Washington D.C., gave him permission at last to operate with the call K3WPI.
From that time on, there was no holding back our talented Rick, not only in the ham world but the real world as well.
He earned his Bachelor's degree at East Stroudsburg University of Pennsylvania, squeezing in four years in the US Air Force
that interrupted his studies temporarily. Later at ESU, he earned his Master's degree, too. Rick took a job there where he worked for eighteen and a half years, ending up as an Educational TV producer before his retirement. Rick had met his wife Debbie while she was a student there and married her after she graduated. By the way, Debbie is also K3IWH. Rick now works at the Burnley Workshop, Snydersville, PA, a rehabilitation facility, in a new career. Most commendable for Rick.
Even more impressive, this amazing person is working on his second master's degree in Rehabilitation Counseling, travelling back and forth to the university in Scranton to do so. Rick is an avid CW operator and very active on the bands. He would like to, eventually, get involved with satellite communications. He and Debbie also go on trout fly fishing vacations and have a ball in the process. Go to it Rick. He now has as his call, K3IW and has his Extra License to boot. An added note:

Rick is and has been a member of PARK for many years and was President. Twice. Nice going Rick!

See you next month!
Vy 73,

Mike, W2NVR
Note: Mike's key fell silent on August 15, 2013. I was honored to be one of his interviewees,
but his lifetime was as full and interesting as any number of the stories of people he interviewed. His obituary told much about this extraordinary man, but knowing him was a distinct pleasure.
---

[For current information please see "Virtual QSO"]
---