<!> <!> <!> <!>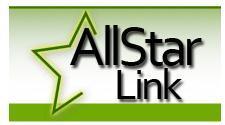 My Allstar / Echolink
VOIP Radio Page

This page has the latest info on my VOIP radio station. See the left side of the page for other operating modes and projects.
If this is not visable, click here to reload web page.

Homebrew Echolink interface schematic
Homebrew PLRI interface schematic
Check out PLRI on Wikipedia! PLRI (Parallel Logic Radio Interface).
I discovered Echolink in the Summer of 2005, and have been experimenting with it ever since. After using Windows software, RtpDir, IRLP/EchoIRLP and TheLinkBox, I'm now operating Asterisk/app_rpt software as of 2011.
My registered node numbers are: Allstar-nodes 2210 thru 2219, Echolink 267895(K0KN), 309554 (K0KN-L / Allstar 2213), 307578 (K0KN-R / Allstar 2218)
Background
My Echolink adventure began in 2005 when I was traveling through Austin, Texas and scanning local 440 MHz FM repeaters. I stumbled upon a QSO between a local ham in Austin and a guy in the UK! Once I figured out WHAT I was listening to, I wanted to figure out HOW it worked!
The audio quality was excellent, and all repeater functions worked normally (squelch tail, courtesy tone, etc). The two guys chatted as though they were both in the same town. Of course, the fellow's accent and G3 callsign gave it away.
The more I listened to that repeater, the more excited I became! Using DTMF sequences, these local hams were able to extend the range of their repeater from the Austin metro area to anywhere on earth via Echolink! The DTMF control is very similar to an Autopatch, and allows you to connect to a specific node number, random node, disconnect the link, etc.
I was excited about all of the possibilities! What a great way to stay in touch while traveling! As long as there is an Echolink-enabled repeater where you're going, you can connect via your HT or mobile to those back home (or anywhere else!).
What systems to use? Allstar, Echolink, IRLP?
While playing around with Echolink, I discovered EchoIRLP nodes, which as the name suggests is an IRLP node that also can operate on the Echolink network. I did briefly hold an IRLP node number, and installed EchoIRLP on my node. I realized quickly that the IRLP powers-that-be do not allow experimentation with interfaces, etc. You must BUY a premade node interface from IRLP to be on IRLP. One interface equals one node, and that node can either talk to an IRLP node (or reflector) or an Echolink node (or Conference) but the streams are not allowed to cross.
IRLP is not nearly as friendly to install, or operate as the standard Echolink package is. For example, IRLP only runs on the Linux operating system and requires that you BUY a proprietary commercial interface - no homebrewing is allowed! IRLP rules aside, you can download a schematic for a compatible interface.
IRLP is only for linking radios together - users are not allowed to connect to the system via SIP/IAX softphones, cell phone APPs or PC software. This is a big drawback for the casual operator. However, the number of registered stations on Echolink is about 300,000 compared to about 2000 on IRLP, so don't worry about it.. hi hi
Echolink and Allstar allow connection via RF, PC software, cell phone APPs, SIP/IAX softphone, Web Transceiver, or even telephone.
IRLP is not helpful to you if the person you want to talk to is not in range of an IRLP node! With Echolink or Allstar, you can connect as a home user without a repeater!
Echolink's home user mode can be useful for many situations. For example, many OMs are in assisted living centers and cannot install antennas of any kind. Maybe you live in a subdivision with an out-of-control Homes Association and are also precluded from installing antennas?
Perhaps you're out of town on business, and don't know which repeaters will be in range, etc? Stay in touch by using Echolink on your smartphone, in your hotel room, coffee shop, etc using the Internet.
I have learned that IRLP is different from Echolink in other ways. For example, random connects are quite common on Echolink. There is even a list of DTMF commands for "Connect to random repeater or link", "Connect to random conference", "Connect to random user" and so on. Generally speaking, IRLP node owners do not support such activity.
The latest (and greatest) VOIP network out there is AllStar (read more below)

This network is sometimes referred to as Asterisk, after the open-source Telephone PBX system it's based on. Allstar is the pinnacle of VOIP network development. The Allstar and Asterisk names are used interchangeably.
Allstar has a taken a big technological leap beyond anything else out there. Because it's based on a telephone software system, it is easily (and seamlessly) integrated with the IAX, SIP or POTS telephone network. Cross-platform support such as IaxRpt for Windows is available, and is an easy way to participate on Allstar without a radio.

Getting Started with Echolink
 Early K0KN-L Node Hardware 
The official Echolink software runs on the Windows platform, and can be operated a couple of different ways. Note that the Echolink software package is exactly the same in all cases. Echolink-compatible packages are available for Linux and Mac, and apps are available for Android and Apple devices.
* Using the normal 'user' mode, you simply sit at your PC and talk into a computer microphone (or use an app on a Smartphone or Tablet).
* Via repeater. Many repeaters offer Echolink! The access is controlled by the repeater owner, so you may be required to join a club, etc for access.
* Set up your own RF-linked node, or simplex link. This is how I operate 99% of the time. I connect a radio in my shack via homebrew interface to my PC. The interface is basically a PSK31-type sound card interface with a few extra features. This allows me to take Echolink with me where ever I go! I routinely operate while out walking my dog, and have worked stations in Australia, Japan, and all over the US this way.
This picture was taken in 2007 of an early VHF node I had on the air. I still have that radio/sound card interface, and many more like it. I began with a single GE Phoenix UHF, and later acquired this one for VHF. The Phoenix are good radios, but require EEprom programming and have a few other quirks.






Allstar / Asterisk

I heard about the Allstar/Asterisk VOIP system in early 2008, and spent quite some time trying to find out everything I could about it. I became active on Asterisk in September 2008.


A typical Allstar node consists of a PC running Linux and a USB sound fob (often built around the CM108 chip). As of late 2010, Allstar released chan_TLB, a channel driver designed to integrate Allstar to TheLinkBox (TLB) software. In late 2008, Asterisk can now operate Echolink by way of channel drivers! This eliminates the need to install separate Echolink software along with Asterisk if you want to operate both VOIP systems. Note that IRLP specifically disallows connecting to Allstar.


Asterisk is built on an open-source PBX telephone system, but the folks from AllStar Link have designed a specific Amateur Radio application, called app_rpt. The capabilities of Asterisk surpass anything I've dreamed of in a Ham Radio VOIP system. For example, one PC running Asterisk can control up to 8 separate radio links or repeaters (using a single Internet IP address!)

Allstar Link supports Web Transceiver, so you can operate Allstar from your PC, without installing Linux, etc. Sign up for a free account and check it out.


To get started with your own Asterisk node, download the ISO on the Allstar web site, and burn an Installation CD .


NOTE: The installer will repartition your hard drive and install CentOS 5.1 (Linux) and Asterisk. The installer does not ask which hard drive to install CentOS to (Most Linux Installs will!), and the software will be installed to the first hard drive. I lost my Windows XP drive this way!


I hope to QSO with you on Asterisk soon!

Note that as of 2011, no expensive USB fob from overseas needed for Asterisk, just a generic, unmodified CM108 USB fob and IRLP board or Asterisk parallel port interface









Homebrew Echolink / Digital Modes Interface

Below is a picture of my homebrew interface. Scroll down for a schematic and connector diagram. As stated above, it is a PSK31-type radio to sound card interface with the addition of COR/COS capability. The COS signal allows the PC to detect when the squelch is opened on the link radio. Note that this interface is also compatible with many other digital applications including SSTV, Voice Keyer, packet, off-air recording, etc.

The interface uses a simple NPN transistor to key the radio's PTT, and as shown is configured for active-low COS. A second transistor is used for the COS circuit. Audio is fully isolated using audio transformers. I have received many reports of great audio with this interface.

My PLRI interface was designed to be compatible with this interface.



 K0KN Universal Interface Schematic