Northeast Colorado Roadtrip - Feb 15, 2002
de K0CO /m Jack 1865 So. Oswego St. Aurora, CO 80012 mailto:[email protected]
I had off on Friday and needed an outing to fight being cooped up for winter. What better cure than a CHN ROADTRIP and run a few counties on 14.056! My chief navigator and XYL, Ann, was working, so I tuned up my GMC counterpoise and headed out.
Thanks to the NCS and QSP guys. Your presence really helped in the weird band conditions. Sigs would go S4 to S9 in seconds.
COUNTIES: Arapahoe, Elbert, Adams, Washington, Yuma, Phillips, Logan, Washington, Morgan, Adams. The counties out here are a bit large, so it took an hour to drive through some, especially Washington and Yuma. Please advise any CO needs as we love to road trip.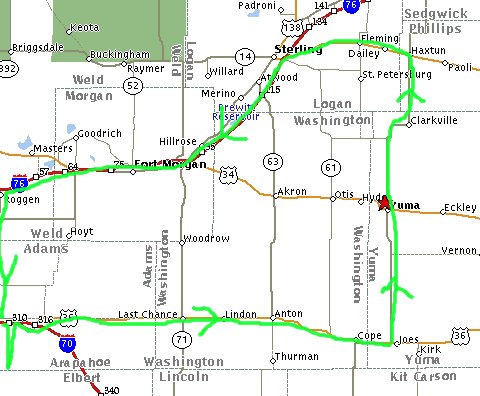 Click on pix for full size.
The start from a snowy drive in Aurora, CO outside Denver
Arapahoe/Elbert County line and what's left of the wooden sign.
Adams/Washington County line off US36
Yuma County on Colo Rte 59 Northbound
The Holy Grail and destination, Phillips County, CO.
Not many roads go through Phillips county. Unbelievable pileup here and had to work by the numbers to hear anyone! Tnx to most for your patience. You shoulda heard from my end!
End of a long 8-hour drive - Adams county Westward and Rockies sunset

Rig: Original IC-706, mark zero - key by Kent - antenna by Hustler, counterpoise by GMC.