Nice spring weekend for a roadtrip to:
SATURDAY: Arapahoe, Adams, Elbert, Lincoln, El Paso, Crowley, Otero, Bent, Prowers CO
SUNDAY: Prowers, Otero, Bent, Pueblo, El Paso, Douglas, CO
XYL's Blazer w MagMount CL: Otero/Bent, CO OPAL's Dance Hall..Yeehaaa
Sat. night, we had a fine steak dinner at the Best Western Cow Palace in Lamar,CO. followed by dancing at one of the truly great local Country dance halls, OPAL's in Lamar, CO. Man, those folks like to have a good time after working cattle all week!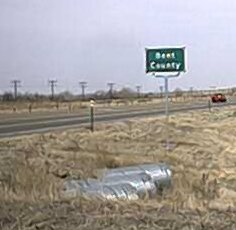 Gerat band, $2. long necks, 50cent pool table and terrific 4-piece band that played BOTH kinds of music: Country AND Western.....
Very rough QRN because we were following the Arkansas River which is Colorado's farm belt, and EVERY irrigation pump in the state was running to water the new crops. S9 to +20dB noise was common, so thanks to many for hangin in there and especially for the QSP help. Gracias!
CBA OK, but fastest QSL address is:
1865 So. Oswego St.
Aurora, CO 80012
Hasta....k0co jack & XYL/driver/road support crew, ANN