You are interested party ....number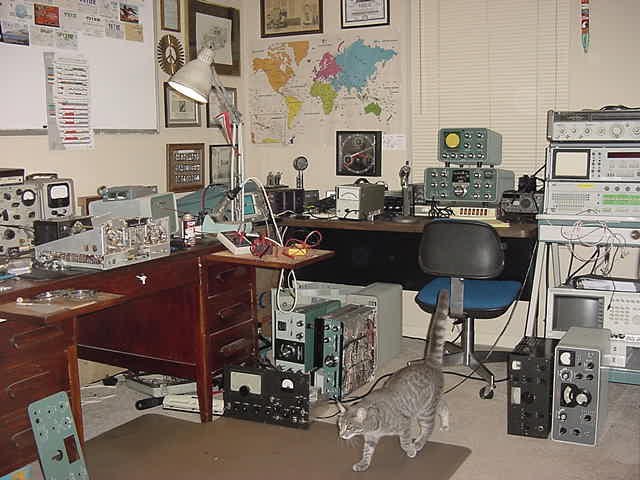 (If I just wanted to talk, I'd be using a cell phone)
K5BCQ's station today .....is it a step up from 1962 (below) ?
Trust, but Verify

Web Site for K5BCQ

This Site has been improved by moving the pictures (they are all still there) to their individual sections and using an index. This will allow a more rapid initial download and selection of what you are specifically interested in.
---
In order to insure quality in all tube projects, this is Inspector #6 who has charge of my homebrew TV-2 tube tester, it's calibration, and all tube quality issues.
---
Want to build one of the HBR Receivers published in several QST articles ?
Click on HBR Receiver Web Site
The site includes links to 100+ photos of various HBR Receivers ..... under construction, in use today, and in use years ago. The site has recently been expanded to include other receivers of similar capability (DCS-500, HB-65, HB-67, etc) and "matching" tube type transmitters. So, let others see those HB units you built and provide encouragement for their projects. The "Hints & Kinks and Construction Notes" section includes useful data, applicable to ANY tube equipment.
---
Want to build one of the LWM-3 Transceivers published in GE Ham News in the early 1960's ?
Click on LWM-3 Transceiver by Jim Smith, VK9NS-SK
This is an article written by Jim Smith, VK9NS-SK and sent to me by Bernie Nicholson, VK2ABN. Jim wrote the article but never had a chance to publish it, so here it is. While I've spent considerable time with HBR-16 Receivers, I've always thought the ULIMATE homebrew SSB Transceiver was the LWM-3 presented in several issues of GE Ham News in the early 60's. This was also a construction article built by quite a few hams. Not nearly as many as the HBR series, largely due to the LWM-3's complexity of construction and debug difficulty (my opinion). I've been contacted by several builders who saw the LWM-3 pictures in the HBR-16 section, they have been on ebay, I've had one (and have a "partial"), and thought it would be great to make the article available.
Jim Smith, VK9NS-SK was an excellent builder, especially in light of the fact that he lived on a remote island without ready access to parts. He completed the build in 2003 and you will be quite impressed. I think it deserves it's own section on the website. Enjoy.
---
Want to read about bringing another R-390A receiver to life ?
Click on Bringing another R-390A to life
This was the scenario with my R-390A .....from buying it at a swapmeet to using it on the desk.
---
How about bringing an old Military TCS to life ?
Click on Bringing a TCS to life
This is where I'm at after a filthy TCS Transmitter followerd me home from a swapmeet.
---
How about bringing an old, late 30's, RME-69 to life ?
Click on Bringing a RME-69 to life
This the progress made so far after a filthy RME-69 followerd me home from a swapmeet.
---
Cool "Spy Radio" ......the RS-6
Click on Bringing a RS-6 to life
Here is the RS-6, which I intend to use as a QRP rig and will be on the lookout for additional unit history.
---
The USN RBZ "Marine Raider" Receiver
Click on A "new" RBZ Receiver
Interesting receiver, used by WWII US Marines and Resistance fighters.
---
The Vietnam Era, Hallicrafters OPS/FM-1B Transceiver
Click on Hallicrafters OPS/FM-1B
Interesting transceiver, among a family of CIA sponsered OPS equipment in the 60's and 70's.
---
My first Receiver kit, the AC-100
Click on A replica AC-100
This is the first receiver kit I built back in 1955; the AC-100 made by Air Champ Mfg Co. of New York.
---
A Battery Powered Tube Regenerative Receiver
Click on A battery Regen
This is little better and more stable design of a battery operated Regen for 160m to 20m+ using common 1.5V and 9V batteries. This one is made by K5BCQ Mfg of Austin, Texas.
---
A Low Voltage (12VDC) Two Tube Regen Using "Space Charge" Technology
Click on Low Voltage Regen "Space Charge" Regen
This is a two tube Regen which works off nothing but 12V ....yes, for the filaments AND for the B+. .....and the radio works BETTER and is EASIER to use than many Regens I've built in the past. Try it, you'll like it.
---
Want to work on that Heathkit SB-104(A) and get it working again ?
Click on SB-104(A) Repair Site
The above repair site is for you Hams with a non-working or working (but wanting to improve the performance of same) SB-104, HW-104, or SB-104A. The site offers links to a SB-104A Tech schematic which is the "latest level" and shows more detail (voltage levels, etc) than the original schematic.
---
Want to change the IF frequency on that Heathkit SB-620 Panadapter ?
Click on SB-620 IF Information Site
So you just got a good deal on a SB-620 Panadapter, but it came without all the coils and it's presently set up for a 2215Khz IF ....Bummer ! This Site will give you instructions for making the more common 455Khz and 3395Khz IF coils.
---
Want to work on that Heathkit SB-101 or SB-102 and get it working again ?
Click on SB-101/102 Repair Site
The above repair site is for you Hams with a non-working or not working well SB-101/102 which you would like to fix.
---
Want to fix that Boonton 260A Q Meter ?
Click on Boonton 260A Q Meter Repair Site
You got a good deal on a Boonton 260A Q Meter, only thing is that it doesn't work or not having the manual, you burned out the heater/thermocouple. Maybe this will help you fix that excellent old Q meter. Also some firsthand comments from Erwin (W2FTN) "who was there".
---
Want to repair your AN/URM-25D or -25F Signal Generator ?
Click on Signal Generator Repair Hints and Comments
These units are still excellent today, but after 50 years or so, could stand a little work and many which supposedly work correctly, don't.
---
Want to work CW with a homebrew key ?
Click on Homebrew CW Keys
Examples of several brass keys made from surplus pneumatic fittings, bearings from the head positioning mechanisms in several scrap PC disk drives, etc. Also shows a few interesting semi-automatic keys.
---
Want to wind your own coils ?
Click on Get/Make a "Coilmaster"
Shows "The New Modern Coilmaster" made by MoReCo, Inc. of Council Bluffs, Iowa and a couple of alternatives ....a homebrew coil winder, and a coil winder using a hand drill. If you want to wind your own coils, and many people did, you may need to build one of these. Also included are several coil winding hints and suggestions.
---
Want a little Nostalgia ?
Click on K5BCQ's station in 1962 (High School vintage)
---
Want to build some Amateur Radio related kits ?
Click on K5BCQ & K5JHF Kits
One of the neat things about retirement is that you can come up with fun stuff to do. A couple of us, John Fisher, K5JHF, and I decided to come up with some inexpensive but useful kits to encourage building and help get people started in this aspect of the hobby. We both come up with ideas and designs, John writes the code and I do the hardware and kitting. We put any funds, over the cost, into the next kit and so on. The experience level required varies from just knowing which end of the soldering iron gets hot ......and on up.

---
Want to write HTML code by hand "for the fun of it" ? ....join in




Last updated 01/01/2016....or whenever I get a round tuit