Trip back to JA 2003
I tripped back to Japan in June 2003. I was happy to meet a lot of old friends during my stay.
First gathering was in Ebina, very closed to the place I have stayed, on the day I arrived in Japan. Nice to meet Kaz JH8PHT, who usually works in Middle East, just staying in Yokohama coincidently. I met him in Tunis last time.
| | |
| --- | --- |
| | |
| JI1CYX, JH4RHF, JH8PHT and JH6RTO | JH4RHF and JH8PHT |
| | Jun greeting Kaz |
(Three photos above courtesy of JI1CYX)
Saori, of Japanese bar, shooting us.
In my home town, Tokuyama, I met Toshi JH4UHW(l) and Naoshi JN4FEU (r) at their contest shack.
In Tokyo, some keen DXers gathered to meet me. Thanks to Tad JF6OJX for the arrangement.
| | |
| --- | --- |
| | |
| Yoichi JP1NWZ and Fred JA1ADN of CQ Magazine | Isao JH1ROJ (r) and drunk guy... |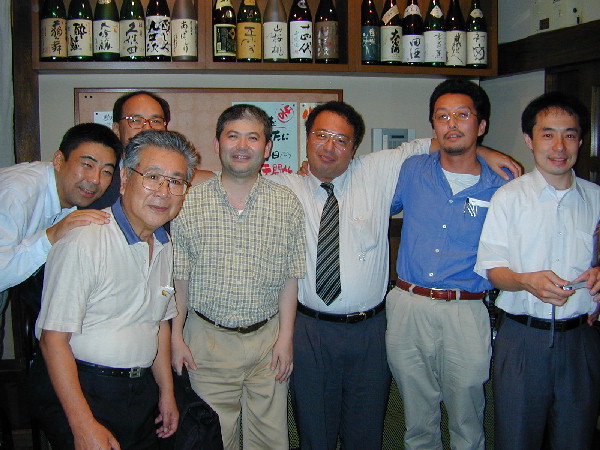 Happy drunk DXers in Tokyo
l to r: Tad JF6OJX/JA1DFK, Isao JH1ROJ, Fred JA1ADN, Hisato JA1DOT (ex 7K1WLE), Hide JJ1CBY, Jun JH4RHF and Yoichi JP1NWZ