Trip back to JA 2002
I tripped back to Japan in June 2002. I was happy to meet a lot of old friends during my stay.
DXers in my hometown, Tokuyama. L to R, Joe JA4PXE, now one of famous IOTA expeditioner, Toshi JH4UHW, keen young (relative hi) contester, and Tad JH4FRP, keen DXer for long time. This meeting is reunion after almost 20yrs.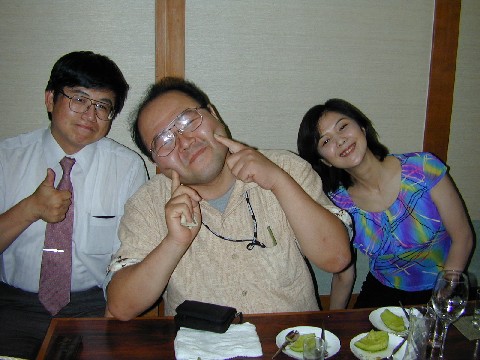 Other good old friends at hometown. L to R, Katsu JH4HCA, Haru, JH4TXT and Masumi
At KanHam 2002, Ham Fair in Osaka on June 8-9;
Meet old friends. Jun, Elvin JA3CZY and Jin JF1IST of VP6DI fame.
| | |
| --- | --- |
| | |
| Elvin gives the opening address of DX forum | Jin presents VP6DI videos and related talks. |
After the DX Forum, beer meeting with young (relative hi!) contesters of JA3YBK/ZOH and JE4VVM
| | |
| --- | --- |
| | |
| Masa JH3PRR, Hide JI3OPA and Katsu JR4ISF of JA3YBK/ZOH | JN4FEU from team JE4VVM and Yoshi JF4FUF of JA3YBK/ZOH |
| | |
| Jun and Kaz JG4CLV of JE4VVM | |
In Tokyo,
| | |
| --- | --- |
| | |
| Jun, Yoichi JP1NWZ, of JA CQ Magazine and Jim JR2BNF/7K4QOK | Yoshi JH4NMT staying Tokyo for training coincidently. |