TN5R (last update 2018/06/07)
The trip to Congo started on 6 March 2018, a flight to Madrid.
The team gathered in Madrid to pack all of our stuff.
All of the equipment and personal stuff were packed into two boxes per parson, each of them was fine tuned within the allowance limit, 23kg.
| | |
| --- | --- |
| Equipment and personal stuff are packed into a box and fine tuned within 23kg. | All boxes are well packed, numbered and listed. |
| Put all boxes into a van for transport to the airport. | |
On the following day, 7 March 2018, we drove to Madrid airport to fly in Congo. It was a long flight, Madrid to Addis Ababa via Rome, then change the flight to Point Noire via Brazzaville. As check in luggage was well prepared, no problem at the check in counter.


Waiting a flight to Pointe Noire at Addis Ababa.
Unfortunately, entering into Congo was not pipe line. The passport control took a long time for administrative issues and the custom clearance was another headache as usual.
The custom clearance took whole one day, which made one day delay of starting radio operation.


Pointe Noire Airport



The custom officer with TN5R guys after long discussions.
Finally, the afternoon of 8 March, all of our luggage was released by customs and brought to our hotel. Our hotel was approx 30km south of the airport of Pointe Noire.


As our rooms were at the end of the series of bungalows, all 22 boxes were hand carried.
First thing to do is...

Then, antenna party.
| | |
| --- | --- |
| 80m vertical to be erected. | A Spider beam ready to go. |
| Outlook of our shack (operating room) | |
Operation was started in the afternoon of 8 March.


We set up totally 4 operating position (one SSB position at the other side).
| | |
| --- | --- |
| Toni EA5RM on SSB | Tony F8ATS on CW |
| HK6F Fabar on SSB | Javier EA5KM on CW |
| Alberto EA1SA | Simone IK5RUN on RTTY |
| Bernard F9IE tired of huge CW pile ups | Jun on 20m SSB for JAs |
Some photos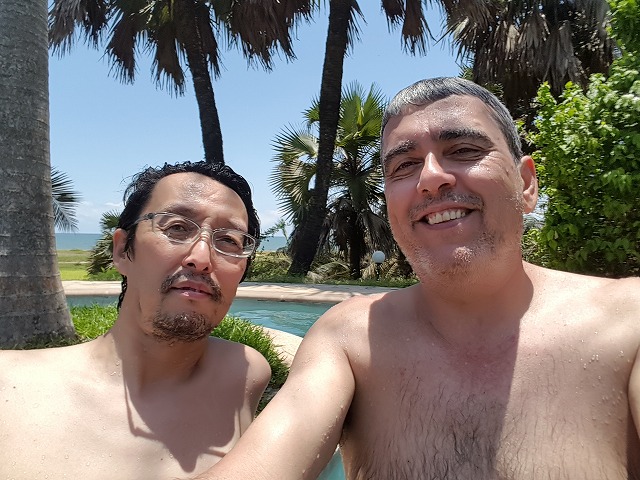 No beet no pile up !
Jose Ramon climbed up to a tree for low band antennas.
Another relaxing time.
Celebrating Tony's birthday
Fixing antennas.

The group photo