W4BPD First DXpedition in 1960
He is the wonderful DXer to have made DXpedition all over the world such as the
Indian Ocean islands and African countries in 60's.He made his DXpedition almost
at one man in those days and be excited many DXers in the world.
He had published The DXers Magazine from April 1967 and sent DX information to
all over the world.
After that he was ordered to stop publishing The DXers Magazine by a doctor
due to his illness. He passed away at age 82 years old on August 21st in 1990.
His sociable man will be to be left forever in one's mind of DXer's all over the world
that was QSOed with him. He is one of big DXers and gentlemen.
Gus gave me a lots of new countries when he traveled around the world and
reminded me of what is DX spirit as well. He taught me that DX spirit is no boundary
in the world, equal with every one.. I think this means DX spirit is self-denying spirit..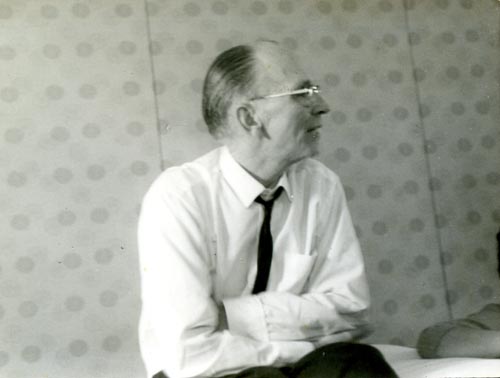 Gus was talking about Tremelin DXpedition to JA DXers
at Imperial Hotel in Tokyo on the way back to USA
on March 1964.
The cards at the time of 1960 when Gus began his first DXpedition
Gus started his first DXpedition from 3A2BW on around 26 August 1960 and then to M1/W4BPD on
around 21 September.
After operating M1, he moved to Seychelles for transportation arrangement to Aldabra VQ9. He and
W0MAF, W0UQV and W0AIW operated VQ9A from Seychelles around October 21. Then they chartered
the small schooner owned by VQ9HB and headed to Aldabra. From the ship they operated VQ9AIW/MM
on the way to Aldabra. However the weather was very bad and sea was rough, and could not landed the
island, then they were forced to return to Seychelles.
After that W0AIW and others were returned home but Gus alone went to FL9, VQ1A, 6O1AA and other
African countries and operated from those rare countries. Gus returned to home at the end of 1960.
This time Gus and the crew could not operate from VQ9 Aldabra Island. Aldabra was still needed
country till 1962.
You can see larger picture when you click the QSL.
Recorded sound of Gus from FH0VP