II0ESA
ESA-ESRIN Radio Club Station
Via Galileo Galilei snc
I-00044 Frascati (RM)
Italy
Settimana della Scienza di Frascati 2010
From September Saturday 18th till Sunday 26th inclusive, the special call II0ESA will be aired during the "Frascati Science Week" (http://www.frascatiscienza.it).
The station, located at the ESA-ESRIN premises in Frascati, shall be active with two independent stations from 80m to UHF. The ARI chapters of Roma and Frascati will provide the volunteer operators for the period.
In particular on Friday 24th, a 144 MHz EME station shall be active and open for external visitors (from 16:00 h, reservation required) during the "Researchers Night" event.
QSL card via IZ0FEJ.
====================================================================
Da Sabato 18 a Domenica 26 Settembre inclusi in occasione della Settimana della Scienza di Frascati (http://www.frascatiscienza.it), sarà attivato dalla sede italiana dell'Agenzia Spaziale Europea, il nominativo speciale II0ESA.
La stazione, locata nel sito dell'ESRIN a Frascati, potrà essere contemporaneamente in aria con 2 stazioni sino dai 80 m alle UHF, con operatori volontari delle sezioni ARI di Roma e di Frascati.
In particolare il giorno Venerd́ 24, dopo aver ospitato il meeting AMSAT-I, per la Notte Europea dei Ricercatori sarà attivata una stazione EME sulla banda dei 144 MHz che sarà aperta alle visite da dopo le ore 16 (prenotazione obbligatoria).
QSL via IZ0FEJ.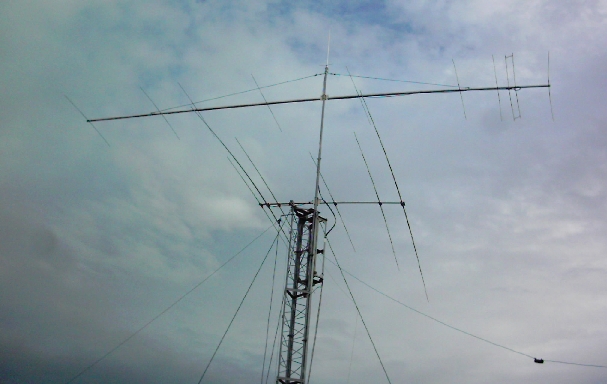 ENEIDE 2005
In occasion of the space mission ENEIDE, the radio club of the Italian branch of the European Space Agency (ESA-ESRIN) organizes some special radio operations from its site of Frascati (Rome).
Roberto Vittori, an Italian ESA astronaut selected to fly onboard of the International Space Station, shall fly on board of the Soyuz for a 10 days mission, planned to start on April 15th, 2005. ENEIDE, an ESA mission, is co-sponsored by the Italian Ministry of Defence and the Lazio Region, with the support of Finmeccanica, FILAS and the Rome Chamber of Commerce (CCIAA).
For a full month, the ham radio club station IZ0FEJ shall use the special call II0ESA to follow with all the other radio amateurs the operations of Roberto Vittori, radio amateur himself and honorary member of the club.
For these operations a special QSL card has been printed. In addition for those stations, which will contact the station for more times, the opportunity is offered to receive a certificate signed by our astronaut.
Rules, to obtain the certificate are the following:
General Rules
The participation is open to all radio amateur stations officially authorized from their own country authorities, OM and SWL.
Period
From 00:00 UTC of 15/04/2005 till 24:00 UTC of 15/05/2005
Bands and Cathegories
HF only (1.8 - 3.5 - 7 - 10 - 14 - 18 - 21 - 24 - 28 MHz ).
VHF/UHF (50 - 144 - 432 MHz)
Special prefix
The ESRIN radio club station will operate during the entire period with the special callsign II0ESA
Points
1 point for each contact or heard with the II0ESA station. The station can be contacted or heard every day only once per band, irrespective by the operational mode. A maximum daily possible score of 9 points on HF and 3 on V-UHF is then possible.
How to qualify for the certificate
The following points are needed:
o 50 Points for Italians OM and SWL - HF
o 30 Points for Europeans OM and SWL - HF
o 20 Points for Extra-Europeans OM and SWL - HF
o 20 Points for OM and SWL - VHF/UHF
How to ask for the certificate:
Send by mail the extract of the log, completed with all the station and operator information, to:
ESRIN Radio Club
Via Galileo Galilei snc
I-00044 Frascati (RM)
Italy
No charge is applied for the certificate.