APRS TELEMETRY
WITH LEMPS
The APRS on-the-air protocol (see my APRS page) also allows for a wide range of telemetry experiments. I am using a 68HC11 based microcontroller system (LEMPS) to carry out some telemetry experiments. The present idea is to use it as a remote weather station by adding various additional sensors (pressure, humidity, etc.). Telemetry data are transmitted as AX.25 packets in the 144 MHz amateur radio 2-meter band using the APRS digipeater network.
Below you can have a closer look at the telemetry system itself and at a telemetry recording.
Data recorded by the LEMPS weather station can be reviewed here.
| | |
| --- | --- |
| | |
| The microcontroller system is housed in a suitcase. For a larger version and details click picture. | The last transmitted telemetry values are displayed on the LCD. For a larger version click picture. |
| | |
| | |
| A variety of sensors can be attached to the system. This is a photovoltaic cell used for light measurements. For a larger version click picture. | A Kenwood TH-D7E is used as a terminal node controller (TNC). For a larger version click picture. |
This plot shows light intensity and temperature (°Celsius) recorded in Zauggenried (JN37SB) on August 20th, 1999.
The "noise" on the light intensity (blue) corresponds to clouds briefly hiding the sun.
These on-the-air packets are then analyzed by MacAPRS software and an example is shown below.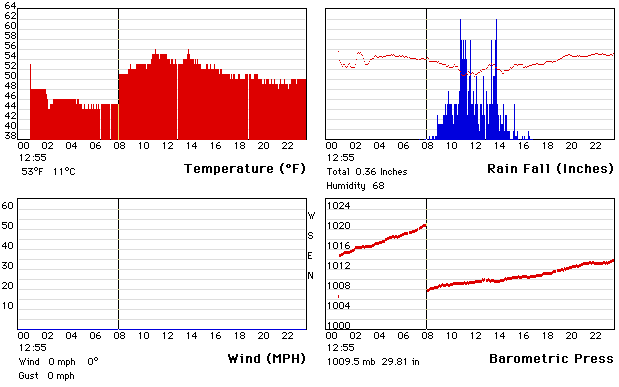 | | | |
| --- | --- | --- |
| | | |