Martha's Vineyard DX-Pedition 2012
May 5-7, 2012

This was our 19th consecutive year on the island, and it was our biggest one yet!
An upgraded tow vehicle, and high speed Internet beamed in from the
main land with high powered WiFi on Amateur Radio were a couple
of the highlights. We had were able to have the live online log checking
run reliably, and also hosted a webcam inside the HAMCOW. It
was entertaining to speak with somebody halfway around the globe
and they were watching us operate in near real time via the
Internet. Although we used the Internet, it was only possible
via Ham Radio licensed equipment.
Faith's Seafood Shack, which is located near our site also
has a webcam that looks over the large field we set up in.
Faith's is only open seasonally, so the camera may not always be available.
http://173.14.190.138/view/index.shtml

The 2012 DX-Pedition was a grand success.
We posted our highest NEQP score to date!
We also placed First Place Massachusetts in the 7QP
and 2nd Place Outside 7 Area Multi-Multi in 7QP.
NEQP final results will be posted in 2013.


Station 1
IC-756PRO
Skywalker 500W Solid State Amplifier
5 Element Hy-Gain 10/15/20M Yagi @ 45 feet
Full Size 80M Dipole @ 40 feet

Station 2 (For local VHF/UHF)
FT-847
Comet GP9 Vertical @ 50 feet.

Station 3
TS-2000
Drake L4B Amplifier
MFJ Antenna Tuner
Cushcraft A4S 10/15/20M Yagi
Full Size 40M Vertical w/4 Elevated Radials

Station 4
K3
AL-811H Amplifier
Palstar Antenna Tuner
160M Carolina Windom

Station 5
FT-847
SB-220 Amplifier
Palstar Tuner
Hustler BTV6 Vertical w/16 Elevated Radials


The HAMCOW in our spot for the weekend.


The main HAMCOW pneumatic tower uses nice Aeroquip rope tensioners.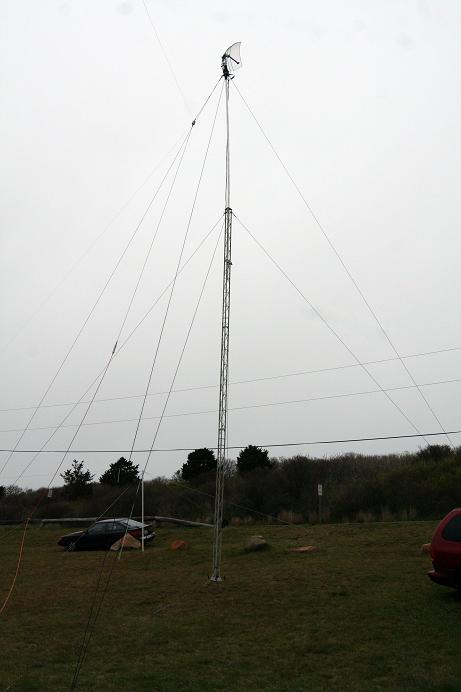 This is the 45 ft. tall telescoping tower supporting the WiFi
Point-to-Point radio and antenna, along with the 160 Meter
Carolina Windom. This provided a solid Internet connection
throughout the weekend.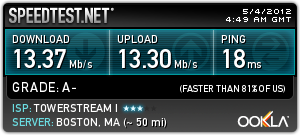 We're all set up on the island and have tested the 20.5 Mile WiFi link. It's working great!



Martha's Vineyard High Power Long Distance WiFi Link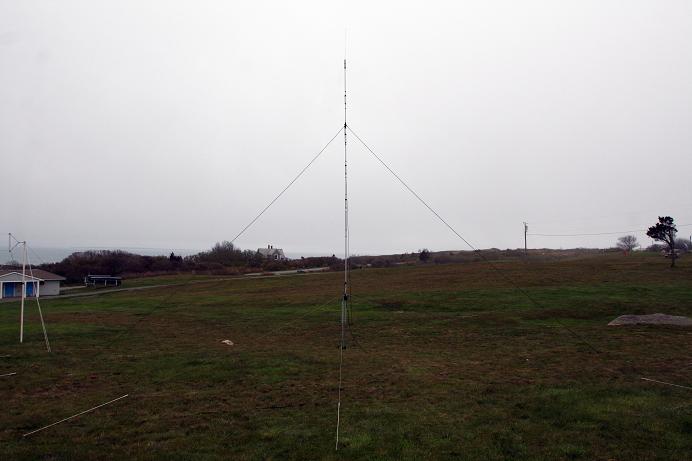 Hustler BTV-6 vertical antenna for 10-80 Meters. 16 elevated ground radials
help make this antenna more efficient.

The 2nd HF Yagi and full sized 40M Vertical.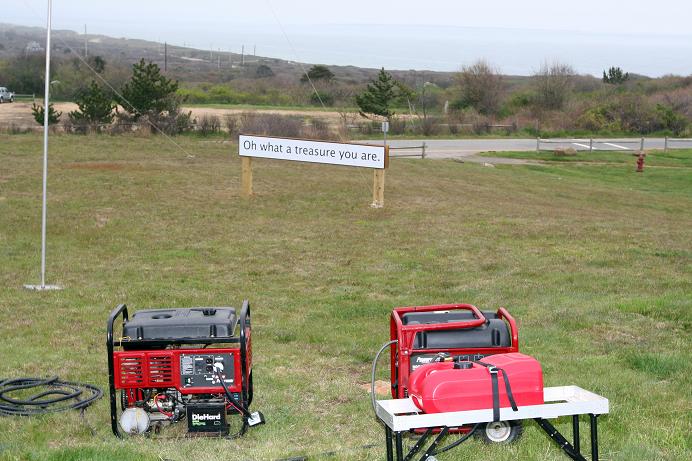 Our 2 generators and a bit of local artwork in the background. For this trip I swapped
to a 6 gallon boat tank for the additional fuel due to the Steamship Authority regulations
regarding fuel quantities. We still had enough fuel to run form early morning until
late night on a single load of gasoline.

This is directly across the street from our location. The lighthouse is famous on post cards.

It's always a spectacular site is when there is some fog and the Gay Head Lighthouse is beaming through the haze.

This is our arrival in Vineyard Haven as we drove off the ferry
with the new HAMCOW Hauler tow vehicle.

The HAMCOW Hauler waiting for the ferry to arrive.

The HAMCOW roof is packed with antennas for the weekend.
Lots of aluminum!

Time lapse video of the ride from N1JOY's to the Vineyard ferry, and arrival at Vineyard Haven.

The new GoPro camera has allowed us to take some camera shots like never before.
Here is a look from the HF Yagi at our site below. Watch the tower be telescoped up
and view our site from 45 feet above the ground.





Another shot taken with the GoPro camera looking straight down the boom of the HF Yagi on the main HAMCOW tower.
You can see how great of a location this is with absolutely no terrain to obstruct our signals. Watch the tower telescope up
to full height and rotate back and forth to see a full 360 degree view of the horizon.




UPDATE: April2, 2012 - The high speed wireless link to the island has been installed and initial testing looks great.
The initial test from 2.7 Miles away produced a solid 17 Megs up and down to the Internet. That sure is going
to blow away the cellular air cards with their relatively slow speeds and spotty connections.
Line of Sight for the initial test was not the greatest and we still had that good of a signal. I was located slightly off the
direct RF path, which was over water and I was on shore. The antenna was only 4 feet off the ground for this initial test.
All path predictions indicate we will be able to sustain a very solid signal to Aquinnah, which is 20.5 miles
away with clear Line of Sight. All this on Ham Radio WiFi!





Above is the high power WiFi installation at one of the sites used by my employer for our commercial wireless service.
My gear utilizes a Ubiquity Bullet and a 4 Watt WiFi amplifier on a wire mesh dish. It produces 641W ERP! (1KW EIRP)
It's great having a license to operate in the 2.4 GHz band and to work for an Internet provider who is located on
very tall buildings. Ham Radio digital heaven.





This is the Line of Sight photo from the WiFi transmitter antenna to the Gay Head Lighthouse
20.5 miles away. If you look close, you can see the white flash of the lighthouse. This was taken with a
400mm zoom lens. The factory building and smokestack are approximately 2 miles away.




This is the path the high power WiFi needs to traverse. Downtown New Bedford, MA to Aquinnah Circle on Martha's Vineyard.
That is a long wireless link by any standards. This link is designed to give us 99.9% reliability with plenty of fade margin
to deal with things like rain and heavy fog. It'll be interesting to see how well it really performs. Although the path takes us over
Nashawena Island, its elevation does not pose any problems to the RF path.




This is the proposed antenna layout for 2012. Due North is the Gay Head Lighthouse (Top center of the picture).
We take advantage of the highest spots in the field.