Cranberry Trifest 2009
August 28th & 29th


Mother Nature took her toll and we ended
up having 5-1/2 inches of rain on the first day
of the event, which had to be canceled.
The 2nd day turned out pretty nice and
there were over 900 racers!



Wave after wave of swimmers navigated the
0.9 mile course in Loon Pond. There were plenty
of kayaks and canoes on the water in case there
was a need for a rescue. There was also a dive
team on site "just in case". Luckily the emergency
folks had a pretty boring day and everybody was safe.




As soon as they stepped out of the water every swimmer
stepped across the RFID mats so their times were accurately
recorded by the RFID tags assigned to each racer.




After shedding their wet suits and donning
their biking shoes, each racer walked their bike
out of the transition area and hit the pavement
for the 24.9 mile pedal through 5 towns. We had
Hams set up at every 5 mile checkpoint, plus 2
rovers driving the course.

Bikers seemed to swarm in at times and the bicycle dismount
area got pretty jammed occasionally.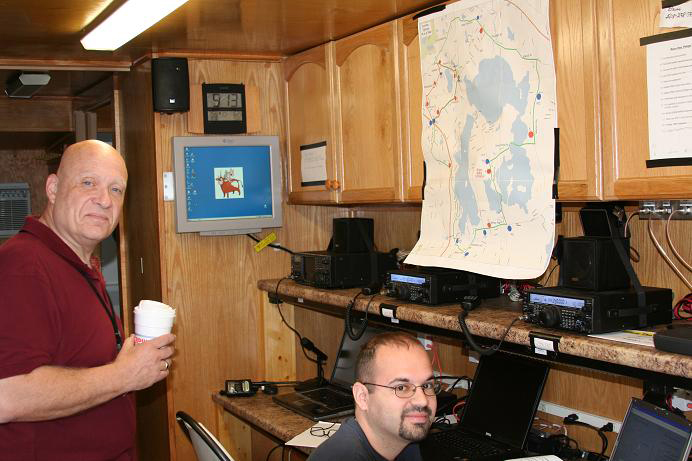 Here are our Net Control ops, Ed KA1RSY and Tony N1XRS.
They were monitoring 2 Ham radios, and FRS radio, and
we were also loaned a Lakeville F.D. radio to monitor.
We also had APRS on the vehicle ahead of the lead racer,
W2DAN cleared the course in his APRS equipped truck,
and we also were able to monitor the location of the
bicycle repair vehicle that was around the course. We
placed a computer monitor outside so onlookers could
view the course activity from outside the HAMCOW.



This event was the debut of the 2 newly installed
25 ft. push-up flagpoles at the rear of the HAMCOW.
Today's configuration only required one antenna support
for the APRS antenna, so we used the other to fly
a nice 4'x6' American flag. It looked great!



Back to HAMCOW Events