Burndept be439 - be470 - be488 - be500
500mw 3 channel handportables
BURNDEPT BE439 Red Button Home Office Police Issue 3 Channel UHF Transceiver
15 OFF various.
4 OFF BE470 ex London Fire Brigade. 1 remote unit
1 OFF BE470 remote microphone UHF set near mint ex Heathrow Airport Police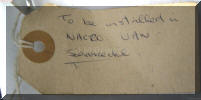 4 OFF car adaptors. Service manual in stock
2 OFF BE488 (1 scrap)
VHF 3 channel handheld.
No battery compartment.
Ex Metropolitan Police Crime Squads.
1 OFF BE439 built into BT DP box used as radio alarm unit on transmit. On UHF frequencies to give out tone sequence on activation of clean contacts as a temporary burglar alarm unit.
BE500