Pye Cambridge AM10D FM10D FM10DV AM10DX
Dash mounted.
Circa 1960 - 1965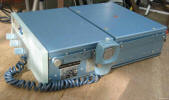 1 OFF AM10D mint condition High Band single channel dash mounted in display cabinet.
2 OFF AM10D clean AM dash mounted examples in museum plus
1 OFF AM10D with bracket mounted in Museum. Mint condition
5 OFF poor examples. 1 FM in Museum.
1 OFF FM10DV Low Band with mount bracket. Single channel
Serial Number 35830D on 70.260 MHz 4 metres in Museum.
FM10D
Lancashire Police M2BD
1 OFF 6AM10DX GPO Equipment No. 7A
Mint condition
3 channel AM Low Band Cambridge with Cambridge size bolt on rear AC mains PSU to run as base station for Post Office comms use.
This one was used by the London Telephone Region (LTR) Outside Broadcasts.
Serial Number C36583
Bought at Milton Keynes Radio Rally August 2003
1 OFF 6AM10DX
As above, in medium condition