SV5/GM4CXM 2004
FALIRAKI
RHODES
EU-001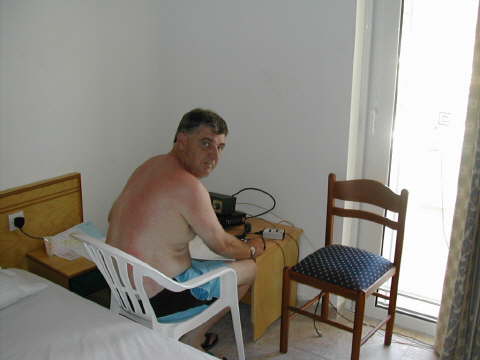 I operated from my apartment using a TS50 for HF and IC207H for 2m/70cm.
Antenna was a 20m dipole @ 50 feet and a dual band mobile whip for 2m/70cm.
The local repeater SV5DDR is on 145.650 and provides excellent island coverage.
It is also connected to the Echolink system for remote connection to worldwide repeaters and gateways.
Noise levels in SV5 were found to be very high. Poor maintainance of the glass HT insulators!
I wished I'd taken my Timewave ANC-4 with me to combat the noise level.
Most of my operating was on CW.
Dipole for 20m was erected on the roof of the apartment.
It was fortunate I'd taken tie-wraps with me as the mast was made up of odd bits of metal on site!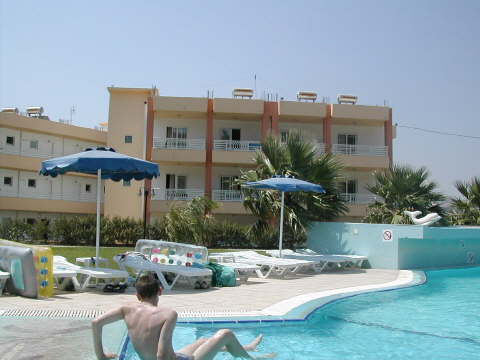 View of the apartment plus dipole. The VHF/UHF antenna was simply placed on the balcony.

The apartment complex owner, Mr Yiannis Tokousis, could not have been more helpful in not only giving me complete roof access (with my own roof key) during my stay, but also accommodating a change of apartment from the 1st floor to the 2nd floor to enable the feeder I had brought to reach up to the roof.

Anyone looking to stay at the Olympia Apartments should ask Yiannis for either room 305, 306, 307 or 308 (4 beds).

Mr Yiannis Tokousis
Olympia Hotel and Apartments
Langonas 85105
Near Faliraki
Rhodes
Greece

Tel 22410 87873
Fax 22410 38283

Tell Yiannis or Debbie that the recommendation came from Ray and Sandra!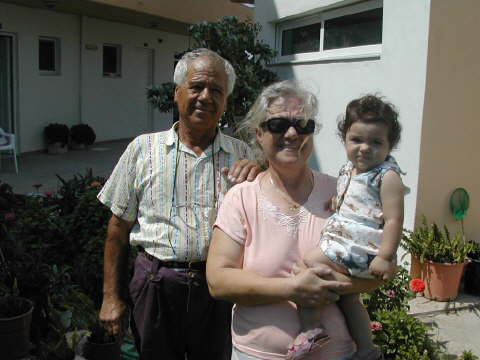 Yiannis and Debbie Tokousis