FALIRAKI RHODES
I recommend
OLYMPIA APARTMENTS AND HOTEL
LANGONAS 85105
FALIRAKI RODOS GREECE
Telephone 22410 87873
Fax 22410 38283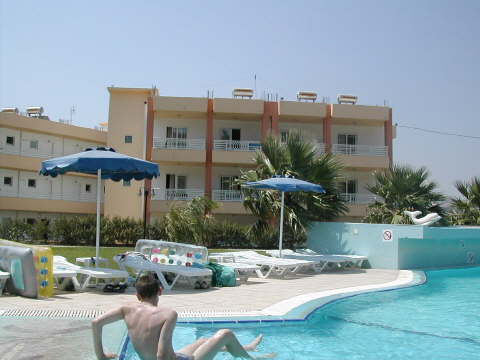 The hotel and apartments include swimming pools, bar, cafetaria, games area and on site Supermarket.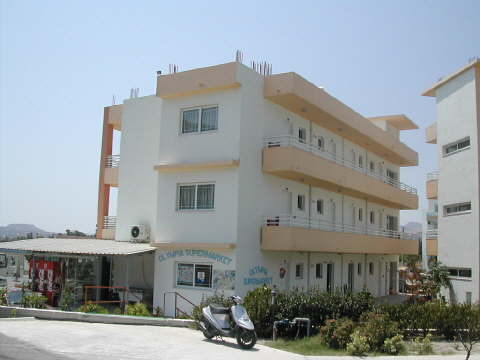 Located approximately 20 minutes walk from Faliraki centre and less than 10 minutes to the beach.
It is away from noisy roads and bars but not off the beaten track.
Each room has a balcony and are clean and well maintained.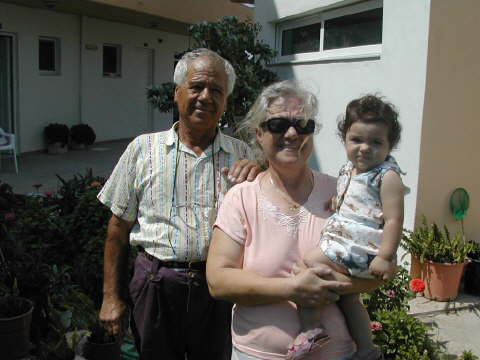 The Proprietors are Yiannis and Debbie Tokousis.
They cannot do enough to make sure you have a great holiday.
You will find them and their family very friendly.
Tell them Ray and Sandra recommended you.
Faliraki is full of taverns and restaurants looking for your custom.
For the best food and service, we found two favourites.
The Golden Wok Chinese Restaurant was excellant and we decided it was well worth a second visit.
The quality was great and the cost was most competetive.
(The Jade Dragon (across the road) was completely the opposite!)
Next door to the Golden Wok is the La Strada Italian Restuarant.
They serve a superb pizza, made fresh to order within your view.
They also boast a wide selection of Greek cuisine.
Faliraki has been in the spotlight during the last few years for the wrong reasons.
The over indulgence by younger elements has been curtailed, though there is still much for them to enjoy.
During our stay in July/August 2004, we saw no problems and just a jovial holiday time had by all.
For those looking for a low cost holiday, I would suggest a "flight only" to Rhodes. The cost of a taxi from
Rhodes Airport to the Olympic Apartments in Faliraki is around 15 Euro's and takes 15 to 20 minutes.
Self Catering apartments should set you back around 30 - 40 Euro's per apartment. They have 2 and 4 berth.
Rhodes (Rodos) town is well worth a visit and the local bus service runs every half hour until midnight.
The cost of a single journey is 1.60 Euro's and takes only 20 minutes.