MARITIME
RADIO
STATIONS
OF THE
WORLD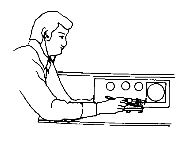 CLOSEDOWN OF THE UK'S COAST RADIO STATION SERVICE
At 1200z on Friday 30th June 2000 the United Kingdom Coast Radio Station service very quietly closed down after over 100 years of service to the maritime industry.
29th April 2000
THE FINAL FINAL FINAL
A very special amateur radio event commemorating the passing of Portishead Radio was held on Saturday 29th April 2000. Read some more about it here.
30th April 2000
PORTISHEAD RADIO/GKA, the United Kingdom's long range radio station and one of the world's most famous names in the maritime communications field, closed at 1200z on Sunday 30th April 2000. With it went the UK's final commercial Morse Code service and the Radio telex MF and HF services. Read about this sad event here
30th April 2000
MARITIME VHF SERVICES around the UK coastline, latterly all controlled from Stonehaven, also closed at 1200z on Sunday 30th April 2000.
30th June 2000
MEDIUM FREQUENCY COAST RADIO STATION SERVICES from Stonehaven Radio, Wick Radio, Land's End Radio, Portpatrick Radio and Humber Radio - all controlled from the Stonehaven control centre - closed at 1200z on Friday 30th June 2000.

A final announcement, broadcast from Stonehaven, brought this proud, substantially unrecognised, service to an end. The time of day chosen for closedown dictated that there could be no on-air "jamboree" of farewells. A solitary farewell came from Malinhead Radio.