GB5HQ 2003 - 20m CW
The GM7V contest station was used for 20m CW during this nationwide event. This was the last big event from here - the station and antennas are now being dismantled and transported to New Zealand to become ZL1V in October 2003. At the time of writing, the overall score for GB5HQ is still being calculated (approx 15M pts), and we contributed the following QSOs and mults. to the overall score :
20m CW QSOs 1686
QSO Points 5760
ITU Zones 19
HQ stns 33
Conditions were not very kind to us over the 24 hours - we had hoped to do well with the hardware and antennas that we had prepared over several weeks - we started fairly well, but never really got a good opening to JA, and activity on 20m CW on the Sunday morning was not too good - we spent a lot of time searching for new stations to work. When I worked a PY station at about 0630 on Sunday, this was a sure sign that the Long Path to JA/VK/ZL, one of the paths that we do very well on from this QTH, was not likely to open - very disappointing. Also, quite a few problems with the Writelog software, but no RFI problems luckily - another unexpected problem was the sunny weather which made the temperature in the shack climb to nearly 30deg. C, despite open windows and an operator cooling fan running.
On the positive side, we enjoyed the contest, it was great being part of the UK team, and I think we've done really well for our first UK-wide effort. It's great fun having a 'stereo' pile-up calling. Below are a couple of pictures from the 20m CW station :-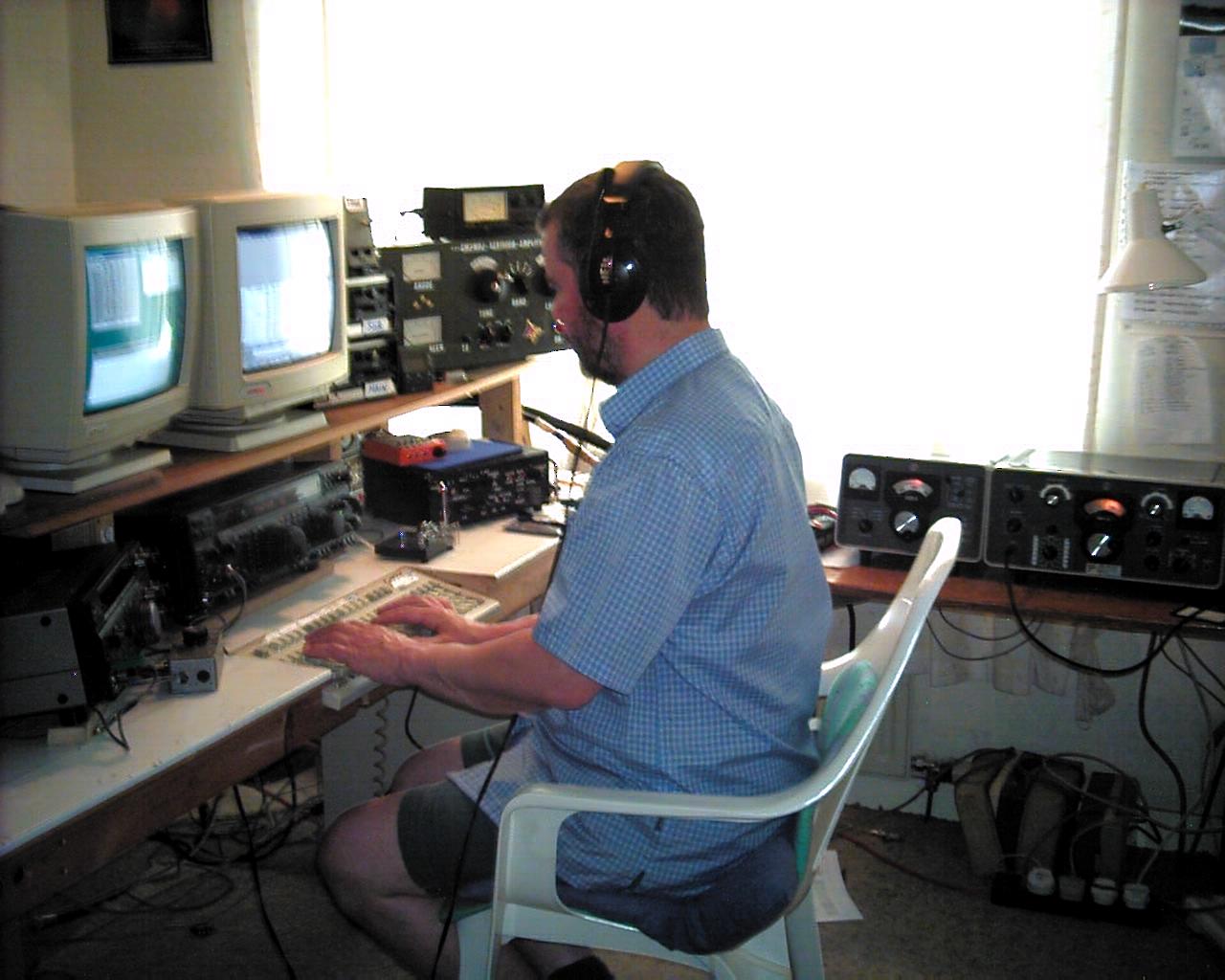 A rather shaky and low-resolution (a bit like the operator at times) photo of me operating the SO2R 20m 'run' station. Note the Collins KWM-2A and 312B-5 external VFO standing by as a 'hot' (!) spare transceiver (not)
The 2 separate Hy-Gain 205cas 5-element 20m monoband yagi antennas used at the GB5HQ 20m CW 'run' station - one at 80' and the other at 60', one fed with LDF5-50A heliax, and the other with LDF4-50A. These antennas spent most of their time beaming in 2 different directions.
Equipment used : 2 x FT-1000MP, 1 x TS-850sat, 1 x Alpha 91B, 2 x homebrew amps. (4CX1500B), 2 x 5ele + 1 x 3ele monobanders
73 from the GB5HQ 2003 20m CW team : Chris GM3WOJ and Gavin GM0GAV
Thanks to all the other organisers and operators of GB5HQ 2003, and to everyone who worked us on 20m CW. Visit www.gb5hq.com for full details and lots of photos of the different stations.