Climbing..
or the art of clinging on.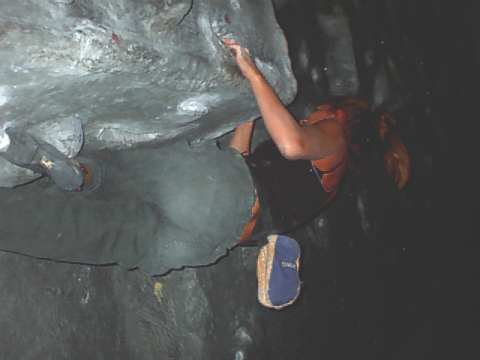 I started climbing like most folk when very very small........ah the memories, blue baler twine round the waist being dangled (belayed?) over the local quarry by my brother..........long falls from which you picked yourself up from, climbed back up and fell off again!
A few years later I found myself being drawn back to 'the rock' by some undeniable force. Of course by this time, I am considerably older , considerably more chicken and considerably less available time wise. I had kept reasonably fit through hillwalking winter and summer and my job as a Woodcutter so I was ready (ha ha HA)....
I went to a local Rock Climbing Club meet with two of my friends and oh boy...did the bug bite hard again! Out came all the old climbing books and I sat of an evening reading (again) the epic tales of Tom Patey, Kurt Deimberger, Herman Buhl, Hamish MacInnes and the like. Unfortunately my new found enthusiasm was thwarted by a period of ill health. Would I ever get to climb again?
A year later I found myself (he he) at one of Aberdeens many climbing shops, cash in hand and 'that' glint in my eye. I walked out with shiny new gear and a much lighter wallet. Next, E Commerce found me and new rock shoes arrived shortly after. Now to find some rock.......
First time back on rock.......Cummingston, on the Moray Coast is a popular spot for climbers. Soft sandstone and a pebbly beach makes for an attractive vista when dangling from a size 5 nut. However, my excitement was dampened when I found myself unable to leap around as I used to and although I did a few routes, I was sorely dissappointed. So on return home, I ordered a pull up bar and various other training accessories..........the postman must have loved me!
At the same time, we constructed a 'training wall' ......thats all I'm saying about that but as the weeks went by, I found the moves, crimps and dyno's a lot easier and wandered around with a huge smile on my face and no skin on my knees, fingers or elbows.
Its continually improving..........I'm now at a level where I'm climbing and training hard and having fun all at the same time. I've made some damn good climbing friends and most nights are spent dangling from either our training wall or the local Crag. Weekends are spent at various climbing locations outdoors or Rockwall's if the weather's badl and holidays are all based around climbing..........obssessed? you ain't seen nothing yet!