The nest of dipoles at GM0ADX the Kilmarnock and Loudoun's club station always caused problems. The West of Scotland is a windy part of the world and it was almost impossible to keep the elements separated and the performance was described by Club's Contesters as being poor.
The nest of dipoles had a commercial choke balun which was borrowed, just to try, and was still being used two years later and we thought we should give it back to its owner (thanks Alan). Being tight fisted Scots the concept of buying something that we could built for next to nothing never crossed our minds.
The balun described here is a sleeve balun, the ferrite cores are salvaged from the video leads from computer monitor leads courtesy of those friendly folk down at the local Council recycling centre and were available just for the asking and is used to feed a W3DZZ trap dipole as described elsewhere in the website.
The other bits needed are :-
300mm length of 20mm PVC conduit,
12 ferrite cores salvaged from computer monitor video leads,
400mm UR213 cable,
20mm PVC terminal box,
PVC tape,
PL259 plug,
Fibreglass resin,
Eyelet and brass termination bolts.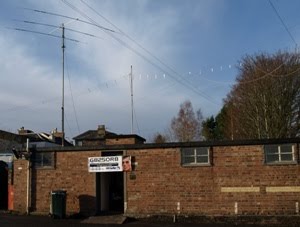 GM0ADX nest of dipoles, for a change actually unravelled.