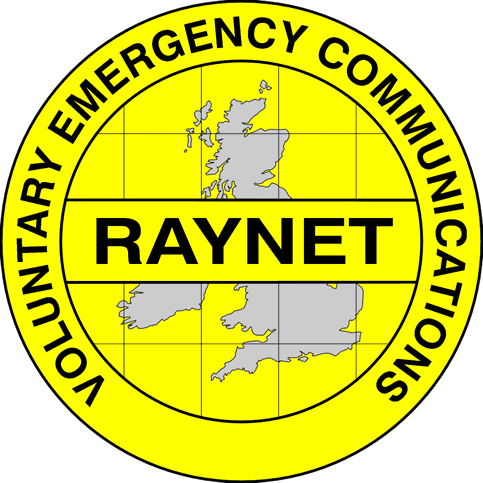 East Cheshire RAYNET Group

The Radio Amateurs' Emergency Network (RAYNET) is a national body of Radio Amateurs who are pledged to provide communications in times of emergency or disaster.
RAYNET was formed following the East Coast Floods disaster in 1953, when radio amateurs provided emergency communication. Under the terms of their transmitting licence, radio amateurs are not usually permitted to pass messages for third parties, but an agreement was reached which authorised this procedure whilst working for a "User Service". The list of user services has increased over the years and now includes the British Red Cross, St. John Ambulance, St. Andrews Ambulance Association, local authority Emergency Planning Officers, any UK Police, fire or ambulance service, health authority, government department or public utility.
RAYNET members come from all occupations and frequently have an agreement with their employer that they will be released for duty if required, in much the same way as volunteer fire fighters and lifeboat crews.
It is important to have "hands on" experience and throughout the year RAYNET volunteers give their time and use of their equipment to provide communications at local fun runs, marathons, car rallies and similar events when message handling, radio engineering and a host of other skills can be tried and tested.

Cheshire RAYNET is divided into three groups, these being East, Central and West. Each group now has it's own web section with local information and pictures of past events etc.
At East Cheshire we host communications for events as the Wilmslow Half Marathon, Congleton Carnival and Cheshire Cycle Race, we also assist Central and West Cheshire in events such as Frostbite (2 day event), Cheshire Ring Canoe Race (overnight event), Cholmondley Horse Ride.
The Group regularly meet at the Cheshire Radio Club, Morley Green, Wilmslow. every four weeks to discuss the running of the group, the latest events calendar and any other matters arising, we also have a weekly net night which is held at 2100 Hrs on 145.200 MHz to discuss members availability and any other news.
The Management consists of:
Group Controller : John O'Donnell (G7VCF)
Deputy Group Controller : Alan Foster (M0ABS)
Group Secretary : Mike Pickering (M1DDN)
Group Treasurer : Oliver Tate (G6SUN)
Web Page Editor : Kevin J Lloyd (G0JNH)
For more information to becoming a member of the group, click any of the above links giving your name, callsign and postal address.

The County also has a Technical Team which is led by 'Digger' G8DHQ, which coordinates work in the numerous Emergency Centres around the County as well as maintaining some of our more major items of equipment. The team ensures that members should be able to take their equipment to any Emergency Centre in the County and find a set of common connections to hook up to. One standard which has finally come of age is the CAIRO system for providing a harmonised audio interface to radio equipment, more information can be found in the CAIRO manual which is now available on-line, courtesy of Dr Peter Best who has developed the system.

Total hits to these pages
Continue to page 2

World Time
| | | |
| --- | --- | --- |
| | | |
| Manchester | Los Angeles | New York |
| | | |
| Moscow | Sydney | Tokyo |

© March 12th 2002
Kevin J Lloyd (S.E.C.)
[email protected]