Maritime Mobile Opperation
Page submitted as version 1, to be updated. Any submissions of ship photoes appreciated.
Vessels I have worked on & Ship photoes required are:-
Barentzgracht, Houtmangracht, Telness(Jebsons) Sponsalis(Shell), Deepwater1, (Now Rockwater1), Waterschout(Containership), Stella Procyon(Theodora Tankers), Brent Bravo (Shell Oil & Gas Platform, pre refit), Santa Fe 135(Sana FE Drilling rig), Santa Fe 140, Cormorant Alpha, Brent Delta (Both Shell), All BP Forties platforms & the Tiffany Oil/Gas platform (AGIP)
Here is some info on 2 ships.
1982 Houtmangracht:348.800 cbft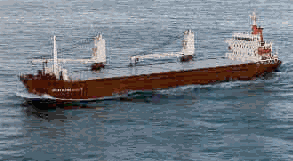 I was the Radio Officer on this vessel, I was fortunate to visit the following countries whilst serving aboard.
USA(Corpus Christie, Tampa), Uragay(Montevideo), Brasil(Santos, Salvador, Recire, Natal), Nigeria(Lagos, Warri, Port Harcourt), Angola, Equitorial Gunai (Maliboo), Congo.,Netherlands(Amsterdam), Portugal(Faro)
The euipment I used on this vessel for my Amateur Radio Opperation (with the permission of the owners/ Captain) Was the main SP radio HF Transmitter/Receiver, or my Swam Astro-D "Suitcase radio)
1981 Barentzgracht:-DWAT 6.150 mt
I also sailed on the Barentzgracht (PCZB) where I Visited:-USSR(Arkhangel'sk),Germany (Bremen), Netherlands(Rotterdam, Amsterdam,Vlissingen),Algeria(Mostaganem). Spain(Huelva, Cadiz)
Deepwater1
GRT / NRT13,514 / 4,777Built1986, Kherson Shipyard
DimensionsLength overall159.00 m (142.00 LBP)
Breadth moulded22.46 mDepth12.00 mDraught9.00 m (light)
Stella Procyon
Built: 1978
Dwat m. tons : 4520 mt
GT : 2697
NT : 1257
Speed : 11 knots
L.o.a. : 84 m
Breadth : 15.60 m
Draft : 6.65 m
Cargo cap. 98% : 4438cbm
Cargo tanks : 10
Heating : 165oC
Cargo pumps : 2 x 420 m3/