Zahlé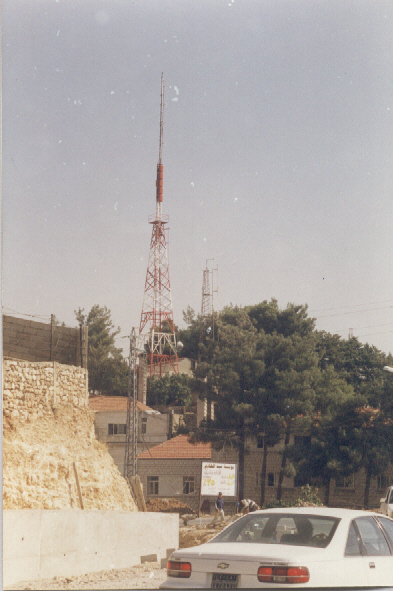 G.C.: 33° 50'N 35° 54'E Altitude 900m
The photograph shows the Tal-Shiha Hill site in the town. The MTV tower on the left has 4 dipoles above the UHF panel array. These were used by Nostalgie 88.0MHz, RML 99.0MHz and Radio Scope 100.9MHz which have recently moved to Jabal Terbol. I believe the TV services have also moved.
The shorter tower on the right has 4 dipoles for Sawt al Ghad 105.1MHz. RadioScope (Bekaa) 100.0MHz also uses this tower. The photograph is taken from the gas station, under which Radio Scope (Bekaa) has its studio.
Pax Radio also have a transmitter behind the Tal Shiha Hill hospital on 94.8MHz
The Radio One site is on the western outskirts of the town. Radio One and France FM are combined into 6 dipoles. During my visit, Sawt al Chaab 103.6MHz had 4 dipoles at the same site but now it has moved to Hommar Hill, which is near Tal Shiha hill.
Back to VHF/FM Transmitter List

Author: Jack FitzSimons
Last Update: 25 December 1998