Ships & Shacks
Various pictures of ships I've sailed on and shacks I've worked from.
Click on picture for a larger image. Use your browsers back button to return.
This page will gradually be updated as I find more photos of ships I served on, and the shacks I've worked from.
Days with British & Commonwealth / Cayzer Irvine (Clan Line etc.) from 3rd January 1978 until September 1982.
My first ship, the m.v. Clan MacIver, c/s GXBX, at anchor off Port Louis, Mauritius, in 1978. Built around the year I was born, 1958, registered in Glasgow, # 300214, around 14,500 tons DWT. I had two trips on her, both starting in the UK, one run to E. Africa, and one to Mauritius and India.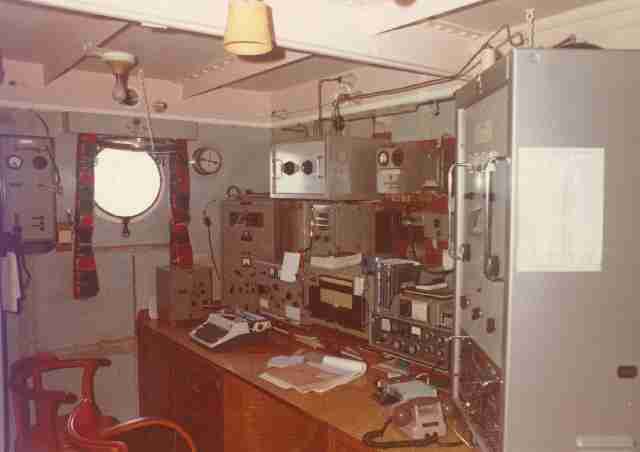 The shack on board GXBX. Located just aft of the Bridge on the starboard side. A Marconi equipped station, Commandant 400W main TX, Nebula main RX, Atalanta reserve RX, Salvor III reserve TX, Seaguard A/A.

m.v. King Richard, GWME, in Capetown harbour in 1991. I sailed on her in 1979.
Registered in London, # 309977. This was my second ship, a bulk carrier, mainly carrying coal or iron ore, and my last as a Junior R/O.

The shack of the m.v. King Richard, GWME, with self at the operating position. The shack was located below the Bridge, facing forward. Equipment was a mixture of Debeg, ITT and Redifon, with Decca Radars. We had dispensations for various parts of the radio equipment, as it didn't meet full UK specifications.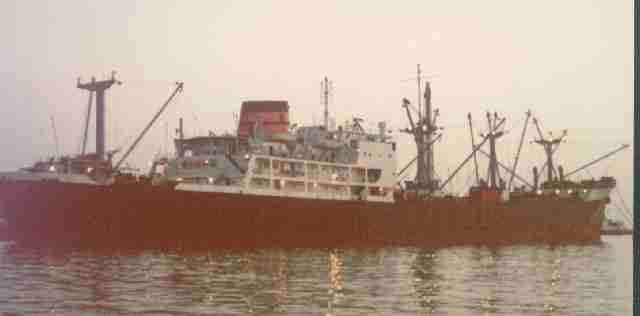 My third ship, the m.v. Clan MacGregor, c/s GKWU, at anchor off Aden, in 1979. Also registered in Glasgow, # 304151. Slightly larger than GXBX.

The shack on board GKWU. ITT ST1600A Main TX, ITT/Mackay 3020B Main RX.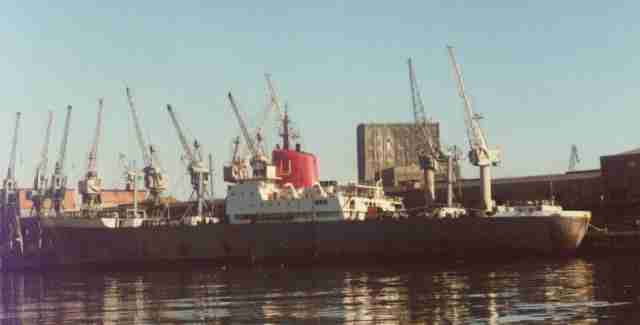 m.v. Kinpurnie Universal, GQNE, (ex Clan Ross) alongside in Capetown. Registered in Glasgow # 307645. Built 1965, scrapped 1984 at Chittagong (final name Syros Reefer). A 'reefer', I joined her in Aqaba, Jordan, sailed to S.A. to load fruit for UK/Europe. I did two runs to S.A.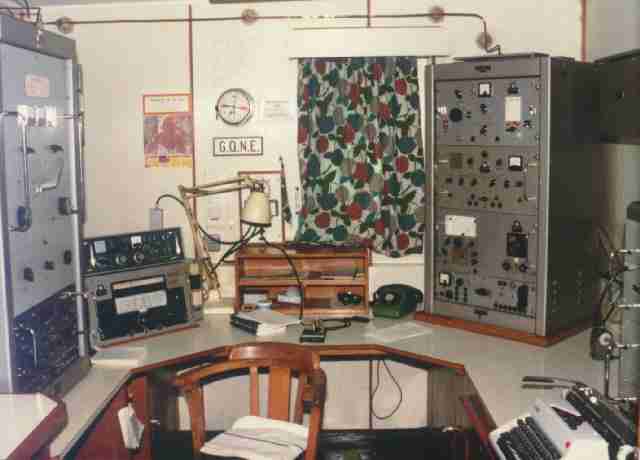 Another Marconi installation. The rack to the right of the port hole contains Reserve TX, A/A, AKD, and battery charging panel.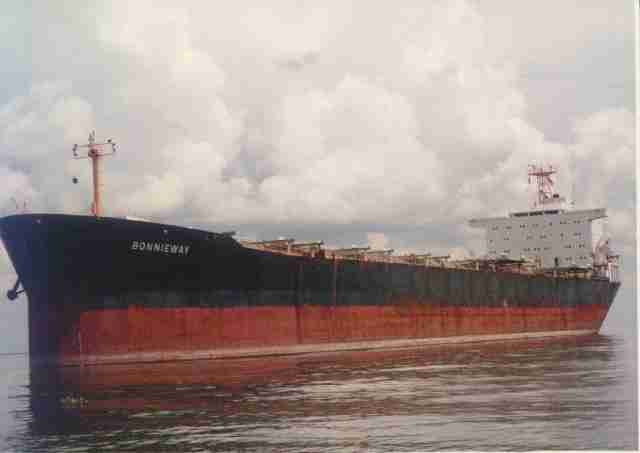 m.v. Bonnieway, GVHV, a Panamax bulk carrier. Registered in London, # 366157.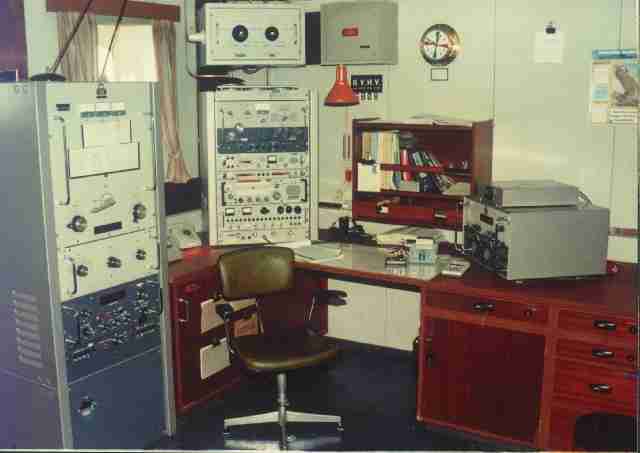 Another Marconi station. Commander 1kW main TX, Apollo Main RX, console containing Salvor III reserve TX, A/A, AKD, Marconi badged Eddystone reserve RX (I want one for the home shack if anyone has one for sale?) and battery control panel.

Christian Salvesen, Leith. I served on two colliers with this company, unfortunately I didn't get many photos. December '83 - June '84.
All these photos were taken at anchor off Southend - my second voyage with the company was 8 weeks at anchor here. This was during Arthur Scargill's attempt to bring down the government by bringing the miners out on strike. We carried coal from the Tyne area to three Power Stations in the Thames and Medway. I left the company before being made redundant.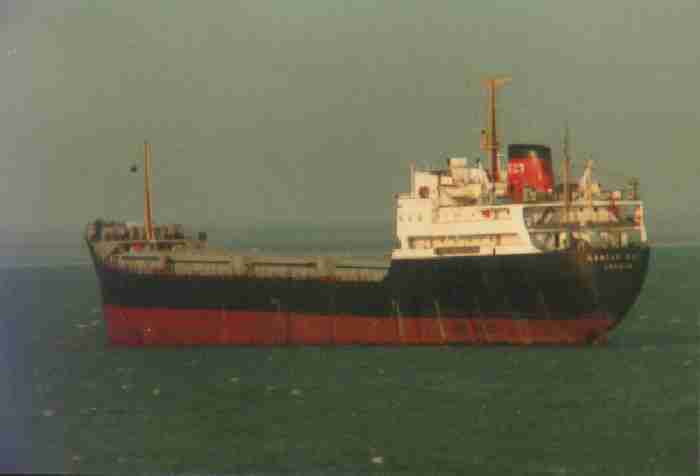 m.v. Castle Point, semi sister ship to the Beacon Point. I joined the Beacon Point on 5th December '83 in Leith. Beacon Point: Official # 335174; GRT 4439.86; BHP 3450.

The shack aboard the m/v Rora Head, the second vessel I 'sailed' on with Salvesens. Again a Marconi station, with the usual 400W Commandant main TX, Apollo RX etc. Official # 387792, GRT 4690.57

A shot of me at the operator's console.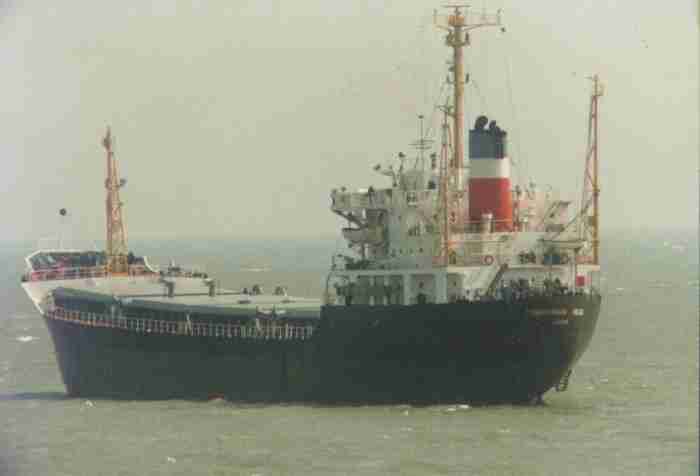 The m/v Sumburgh Head, sister ship to the m/v Rora Head on which I was working.

Chevron International Oil Co A/S. July '84 - September '91
This section is still to be completed. Come back for another look soon!!
I sailed on several 35,000 ton tankers with Chevron, all sister ships. The radio offices were identical on these vessels. Other vessels included VLCCs of 264,000 and 272,000 tons, ULCCs of 464,000 tons (at the time around 13th largest in the world), and an ex-Gulf oil vessel 130,000??tons. (all DWT figures).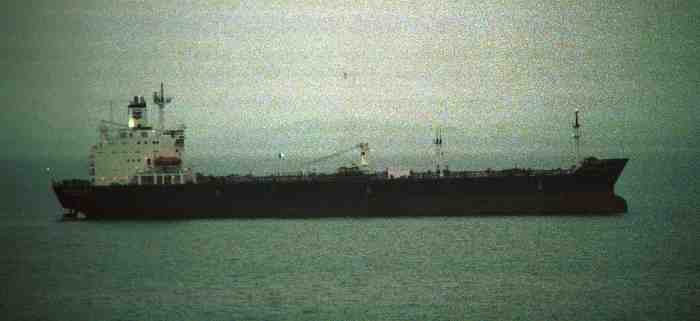 m.t. Chevron Pacific, ELCO5, 35,000 ton product carrier. Registered in Monrovia, # 7328. I joined at the end of July '84 in Hong Kong, and disembarked mid December in New York. We were one of the last vessels to leave the St. Lawrence seaway a few days earlier.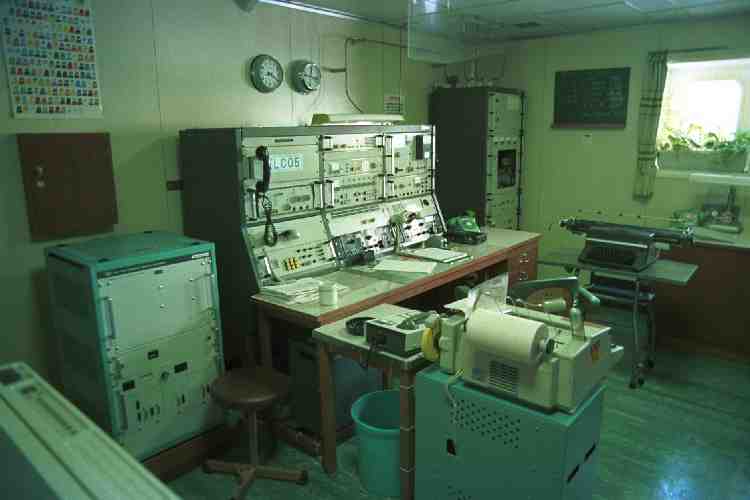 An ITT station. To the left is the InMarsat terminal, with associated phone & telex in centre frame. In the operator's console left centre is a vhf R/T, below it the RX antenna and phone switch panel, centre from top are Auto Key, Auto Alarm, Control Unit for ST-1760 main TX, ITT 3031 RX (black at bottom). Right top is the emergency TX (model forgotten) and at bottom a second 3031 RX. In the far corner is the ST-1760 main TX. The front panel is removed to tune and load the TX. When I joined the ship the auto tune facility wasn't working. The fault was eventually traced to a broken lead on a servo motor and the cover refitted.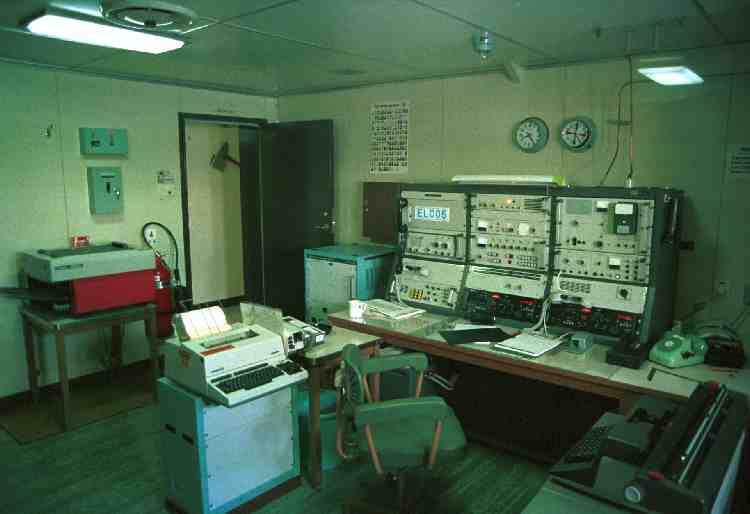 Another photo of the operator's console.


s.s. Chevron Copenhagen, A8GL, 264,000 ton VLCC. Registered in Monrovia, # 4927. I joined in late Sep '85 in Freeport, Bahamas, and disembarked in Feb '86 off Pascagoula, Mississippi.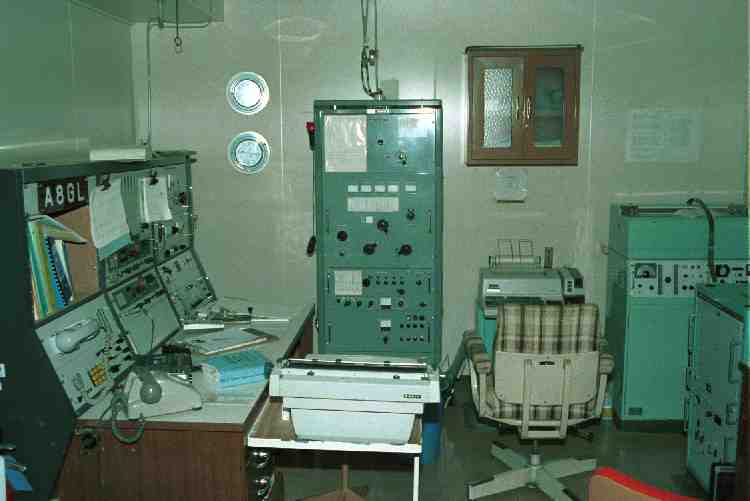 An earlier ITT station, the shack on A8GL was located port side, with R/O's cabin aft and other accomodation for'ard. Operator console to left, with 3020B RX, AA, AKD etc. Main TX in centre of far bulkhead was, if I remember correctly, an ST-1400C. To it's right is the Weather Fax receiver. I spent quite a time getting a working link to this from the main RX, as a good few of the WEFAX's crystals were no longer of the correct frequency. Far right is the Inmarsat terminal.


Unfortunately, I don't have a decent photo of the m.t. Chevron Stream (formerly Afran Stream), D5AX, my next vessel. She was also registered in Monrovia, # 6146. I joined in early May '86 in Philadelphia, PA, and disembarked almost exactly 5 months later in the same place, having run twice across the Atlantic to an SBM off Escravos, Nigeria. I had a second voyage on this vessel from Nov '88 to April '89.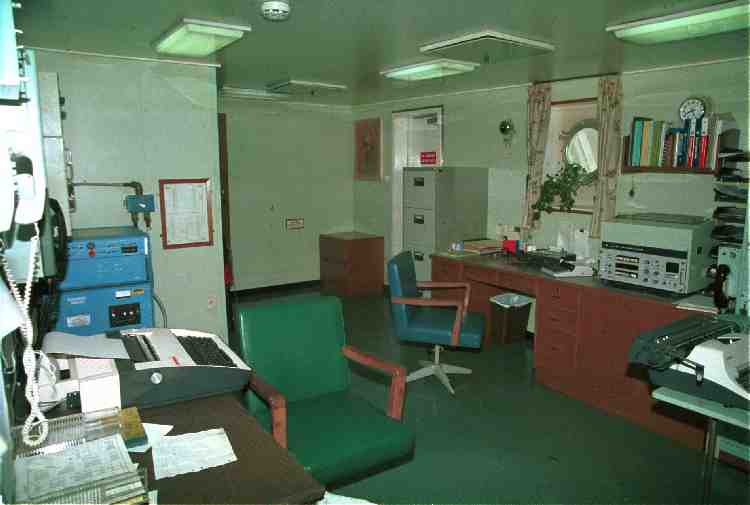 D5AX - a 70's JRC station. Blue box at left is Scientific Atlanta 3500M Inmarsat terminal, bulkhead mounted green box above and to left is domestic rf distribution amp.On the right is the JRC Weather Fax receiver. To the right of this, just out of view is the operator's console, see below.

Console LHS is the main TX, PA at top, systhesiser at bottom. Centre top TX antenna switch box, a gap which I think had some filters in the space, RX antenna patch panel, and the main RX a JRC 135 I think it was. An excellent little RX. RHS top is the battery charging panel, reserve TX, Auto alarm, reserve RX - I seem to rremember this was excellent on lf, but can't remember the model. Somewhere there is an AKD, which may be the unit lower right in front of my Heathkit twin paddle keyer.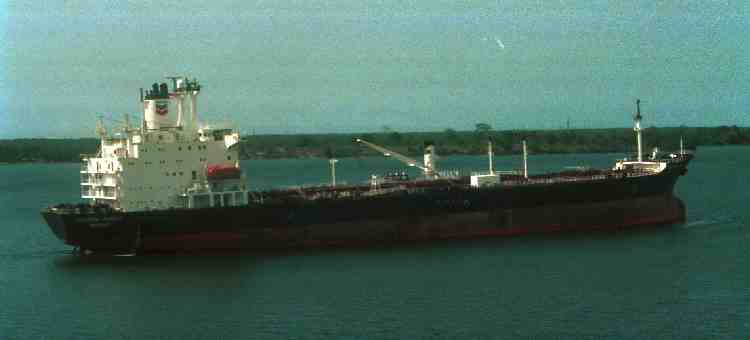 m.t. George H. Weyerhauser, C6FA7, 35,000 ton product carrier. Registered in Nassau, # 706595. I joined mid December '86 in Port Arthur TX, and disembarked mid June in the same place.


The next ship was another 35,000 ton product carrier, the m.t. Alden W. Clausen, ELBM4. This was also registered in Monrovia, #7104. Sep '87 Perth Amboy, NJ (Newark) to Feb '88, Portland, ME.

m.t. Kenneth T. Derr, C6FA3, 35,000 ton product carrier. Registered in Nassau, # 706592. I joined May '88 in Freeport, Bahamas (where this photo was taken) and disembarked mid Sep in San Francisco, CA. Two weeks before I left, the Korean crew was replaced by Filipinos, and myself and other Junior Officer ranks were replaced by Filipino Officers. (I have pulled the photo that used to be here as it was of the Kenneth E. Hill, a larger Chevron vessel, mainly used for lightering in the Gulf of Mexico to Pascagoula refinery).

From Nov '88 to April '89 it was back on the Chevron Stream again. Again I joined in Philadelphia, but disembarked in Beaumont, TX. By now, Junior Officer ranks on this vessel, 2nd Mate and 2nd Engineer down were from India.

Then it was on to the s.s. Chevron Antwerp, A8YD, in July '89 off Pascagoula, MS to mid Nov '89, disembarking in the same place. This was a 272,000DWT VLCC, the radio office being the same as the 264,000 DWT vessels. Registered Monrovia, #5390. There will be a photo of this ship sometime - I need to sort my flatbed scanner first.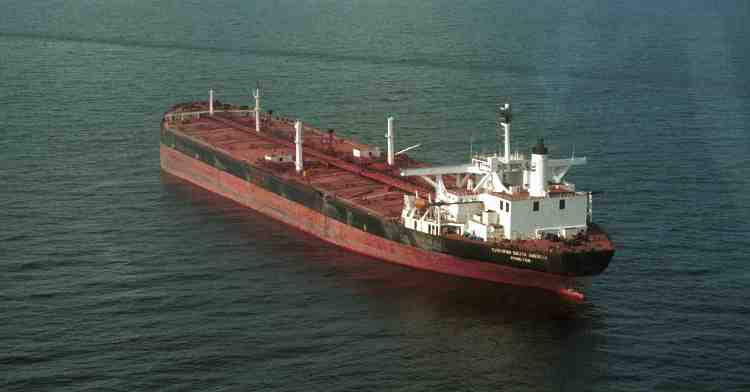 My first ULCC, the s.s. Chevron South America, ZCAA2, 464,000 DWT, around 13th largest in the world at that time. She was re-registered in Hamilton, Bermuda, #710489, to gain protection from British Navy while in the Persian Gulf - this was during the time of the Gulf War. I joined off Fujairah, U.A.E. (outbound PG) in Mar '90, disembarking off Pascagoula, MS in July.


Next it was on to a sister ship, the s.s. Chevron North America, ZCAB5, also registered in Hamilton # 710495. I joined off Capetown R.S.A in Sep '90, and disembarked off Pascagoula, MS in Jan '91.

Back to the Chevron South America at the end of April '91, again joining off Capetown. This was a periodic overhaul voyage. Having loaded off Ra's Tannurah, we lightered off Pascagoula. It was then a very slow voyage across the Atlantic, though with the major tank cleaning operations going on it didn't seem that slow, to Lisbon for dry dock. From there it was back to PG to load. I can't remember whether I disembarked inbound or outbound at Fujairah in Sep '91.
s.s. Chevron South America in drydock, Lisbon 1991. This was my last ship. Part of the dry dock I spent installing kit that would take my job. Look carefully near the forefoot - a great friend, Chris Callaway, the Chief Mate, subsequently a Master on Chevron Gas Carriers. Later became Port Captain at Milford Haven, later Regional Marine Superintendent, now (sensibly!) retired.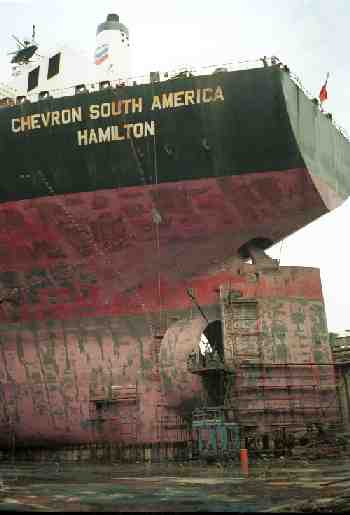 Another dry dock view.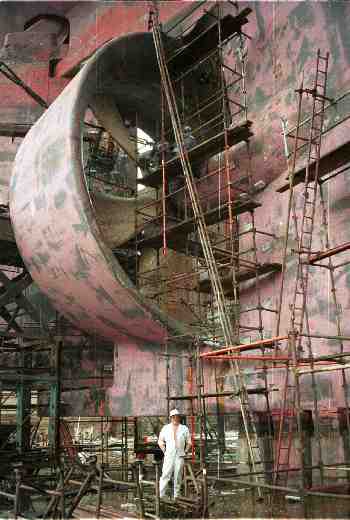 Myself in the bottom of the dry dock, close to the propellor.


As you can see there are a few photos missing. Later years on larger tankers, there was little to photograph. I'd actually left all my camera kit at home for the last voyage on the Chevron South America, and had to go ashore and buy one for the dry dock experience, plus the chance for lots of photos of Lisbon and surrounding area. If anyone has photos of the Chevron North America, Chevron Stream, the Alden W. Clausen or the one or two missing Radio Offices, they would be much appreciated. I have scanning facilities if you don't have them in digital form. Prints, slides or negatives will be returned.
---
Guestbook
Return to index page.