A little about G4FUJ
My name is Graham, and I'm located in Cheltenham, Gloucestershire, UK. My locator is IO81WV, and Worked All Britain square is SO92 Gloucestershire.
Born in 1958, I first became interested in radio when my father brought a domestic receiver home which had short wave capabilities. Although it only had the frequencies around the 49 metre band available, at night we could hear American and Canadian broadcast stations. By day we would often listen to near European stations.
I asked a few friends at senior school how to get into amateur radio (Dad had heard a little about it), but the only answer ever received is that one had to learn the Morse Code to 12 wpm. No one ever mentioned the technical side! I later found that a friend's father was a licensed amateur (G3JFH). Anyhow, the travelling bug had bitten, and a man from Marconi Marine's Avonmouth depot persuaded me that life as a seagoing Radio Officer would be 'Just the Ticket'.
So, off to college. Specifically a Marine Radio College in Bristol. I soon found all I needed about amateur radio too, and gained my amateur radio license in 1977. Being taught the Morse Code to 20+ wpm for the marine license made the amateur 12 wpm test seem a doddle!
I was a seagoing Radio, then Radio/Electronics Officer for nearly 13 years after that. Visited many parts of the World, though I missed out on most of South America, fair chunks of the Far East, the Arctic and Antartic (they'd have been too cold for me!).
I have worked for various lines, including Clan Line and King Line (as part of British & Commonwealth), Christian Salvesen (running coal from Tyneside to the Thames - though the coal strike in the mid 80's put paid to that!) and latterly for the North European Fleet of Chevron Oil.
Leave periods were spent playing with Amateur Radio, mainly vhf for many years, riding motorcycles and rebuilding an old Land Rover.
I now work in I.T., having come ashore into PC Hardware. From August 2000 I joined a large international IT Services company.
Amateur Radio is still one of my main hobbies. More information on my activity may be found on my activity page.
Other interests still include motorcycling, combined with radio - I am a member of the Motorcycling Amateur Radio Club. I also still drive a Rover 4x4, though now it's a 1991 Land Rover 90, fitted with Amateur Radio Equipment, and used to give away the occasional Worked All Britian square. Previous Land Rovers and the Range Rover were used to provide safety recovery cover for car rallies, primarily in Wales. I also dabble in photography, enjoy walking, and cooking Asian, Oriental and Mexican/Tex Mex food. I guess the cooking is a reminder of the many places I have visited!
After selling my rally recovery unit - it's an expensive hobby! (I have maintained my Recovery Operator's license, but only crew for other units nowadays) I started marshalling at the local Hill Climb - Prescott and at most meetings will now been found in Hill Control. For those that don't know, Prescott is the home of the Bugatti Owners' Club. A Google search will lead to their website, which, at the time of writing in 2007 is being updated.
From January 2002 until 2007 I was actively involved with the local preserved railway: Gloucestershire Warwickshire Railway. I joined the diesel debt. after a driving experience course in November 2001.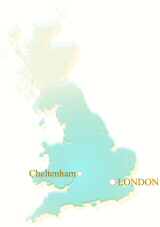 Return to index page.