Typical layout inside German Bomber of the period with the Fug10 and EZ6 sets.
---
SE90/40
A war time German Spy set, the SE90/40, suitcase set, rx 3 valve, tx 2 valve, vfo, pa, no provision for xtal ?? so how on earth frequency resetting was done ? freq range about 6 to 11 Mhz.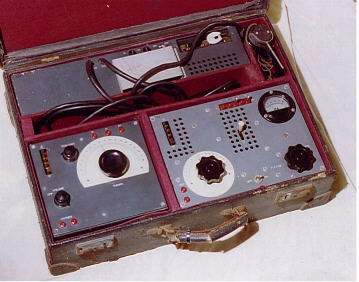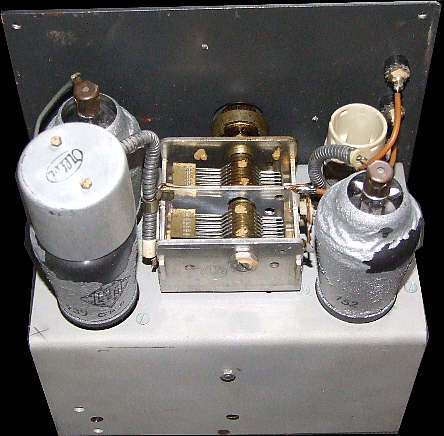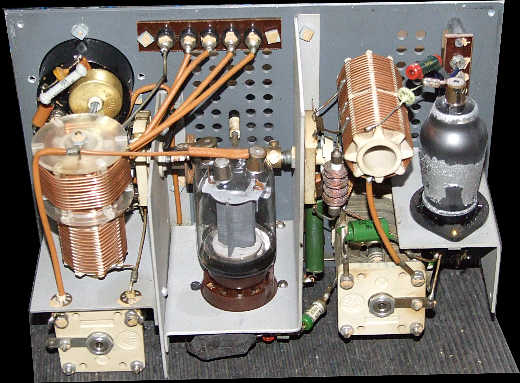 Internals of the receiver, transmitter and psu, sans transformer which was s/c unfortunately.

---
RADIONE R3

The Radion R3 receiver, hf coverge, used in conjunction with the RS20 transmitter.
Radione R3, compact communication receiver, Range: 2500-25000 kHz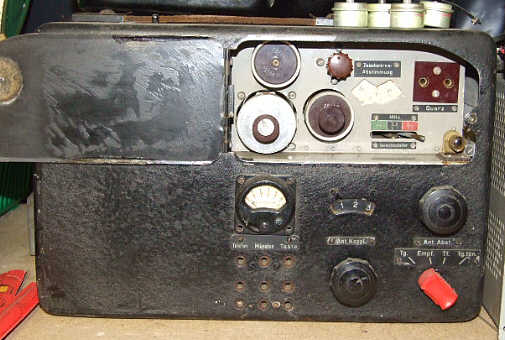 RADIONE RS-20

Radione RS20M [20W Marine Transmitter] MO.= LV1, PA= LS50. Modulator LV1. Range: 3000-14600 kHz
---
RADIONE R2

LEFT: The Radion R2 troop receiver. Working (with the solid state vib, see projects page, awaiting warmer weather for re-painting.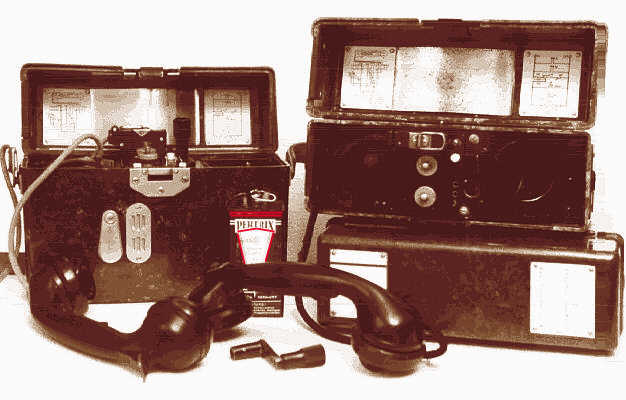 RIGHT: A set of German WWII Field Phones, bakerlite, very nice styling, a little different to our Type F.

---
HMZL OKW

A German receiver, the HMZL OKW 34 hf receiver.




Super-Heterodyne (Super in general); IF-Freq. 280 kHz Valves / Tubes 9: EH2. Receiver with BFO, covers ~ 2 - 22 MHz in 6 bands,
HMZL34 OKM [Philips] (see VO34) 4x EH2, 4x EBC3, EL2, Typ1461, 4687, 13202X, IF=280kHz.
Original receiver is VO34, a Dutch aircraft receiver which Germans used under designation HMZL34. Systemized to use only 3 types of valves, but unlike the Germans they chose a heptode instead of a pentode. There are a few differences: BFO valve EH2 was changed to EBC3 (to avoid using an extra signal diode), and some changes in the heater circuit.
---
HELLSCHREIBER

A recent addition here, a 1940 Hellschreiber, acquired with the very good help of my friend Timo. The unit is in very nice condition and even works, after 62 years ! I hope to have it on the air with a German tx very soon. (click on pics for slightly bigger views)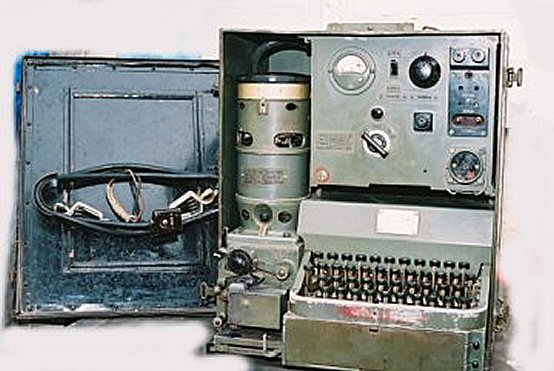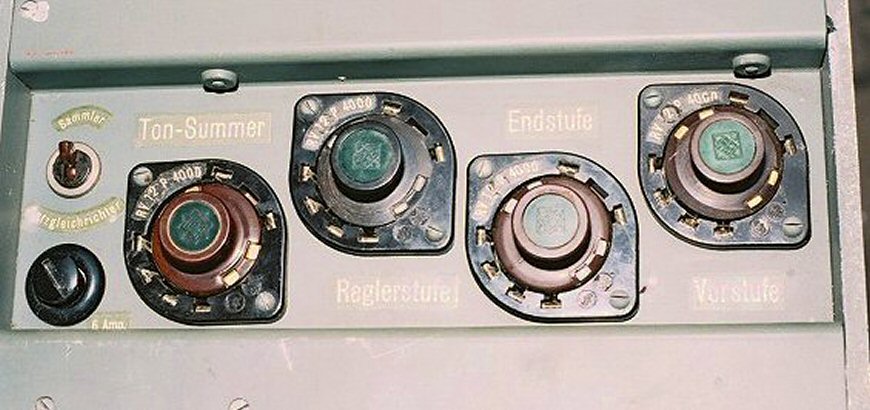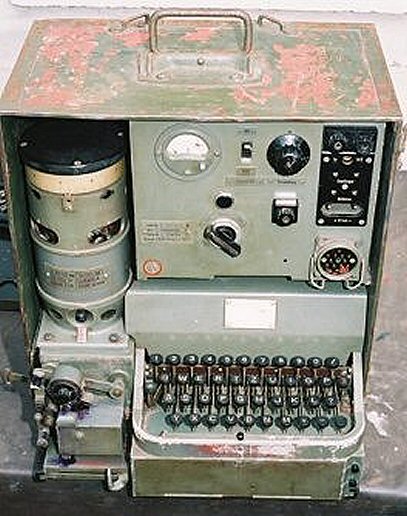 The German WWII Hellschreiber, views before restoration and attempts to get unit working again.
---
SE-6861

A couple of more modern sets now...................

Left: This is the AEG SE6861 hf manpack. 1.5 to 30MHz, 20W pep.

SEG-15D

Right: An East German made set, SEG15D, am,cw,ssb, 15W, 2 to 12MHz. 24v battery needed. The SEG-15 is a transceiver of East German make (SEG = Sende - Empfang Gerat). Made by RFT VEB Funkwerk Köpenick in Berlin around 1975 to 1988. The set was originally designed for both military and civilian use. The notorious Stasi (secret police) has certainly used them. The SEG-15 is a CW-SSB transceiver with a range of 1.6 to 11.999 MHz, both USB and LSB is possible. The output is switchable between 3 or 15 watts.
---
UFT-721
---
SEM 35

Slightly more modern set, SEM 35, VHF transceiver. 26 to 70 MHz.

---
The Fug7A VHF transceiver, used by German Police and military. 75 to 85Mhz, 15W FM. 1960.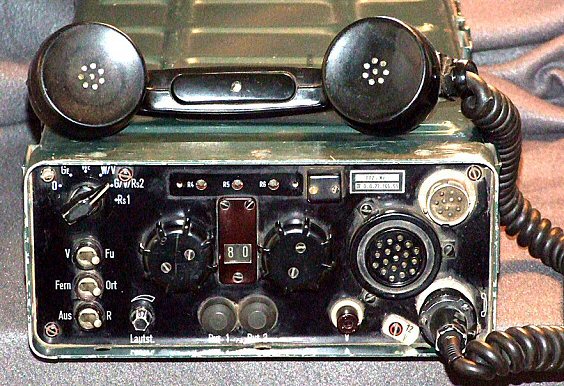 The later, all solid state, FuG7b-2 version.

---
LEFT: The oddest of VHF sets, the Teleport VI, used by Emergency services in Germany, 1960's. RIGHT: SAR set MR506 for Aircraft and Marine use.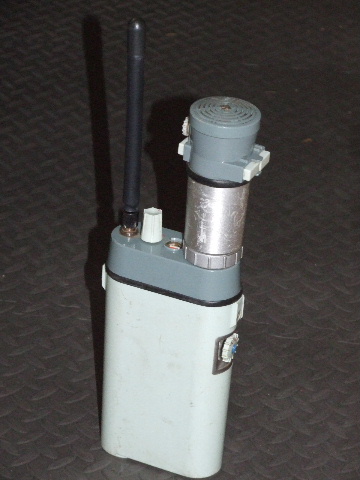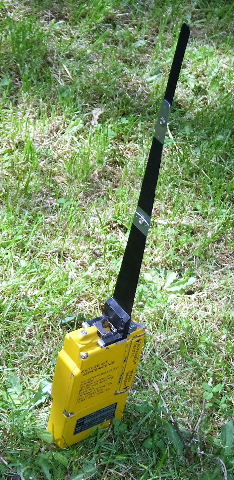 ---
Guten Tag, bitter, kommon her again....