| | |
| --- | --- |
| G3VGR | SAAR-HUNSRÜCK-STEIG Morbach - Kempfeld |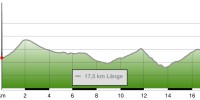 After breakfast, I rejoined the trail at the Ortelsbruch, a protected bog area. A boardwalk over 500 metres long led the way through the area. As the trail wound up through the Idarwald forest, I heard the sounds of logging activity and found the trail closed further up. Diversion signs were posted and I followed these before rejoining the trail. There must be a veritable army of unseen workers involved who ensure the trail is maintained and organized. I was very impressed. The detour didn't add too much distance to the walk. From the summit, it was a forgettable descent to the sleepy village of Langweiler. I was hoping to get something to eat here, but everything was closed, so I had a third consecutive day without lunch. The countryside is very open here with a fine view into the distance across to the Steinbachtalsperre reservoir. The trail made its way across farm fields and it was a pleasant change to be in wide open spaces instead of almost permanently in the woods.
This was a wide valley and the fields led into Geopark Krahloch , where I sheltered from a hailstorm. I saw the lady thru-hiker near here, but oddly she was walking in the opposite direction. Exiting the Geopark, the trail led me up into the Idarwal forest and the sun came out at last. It stayed sunny long enough for me to enjoy a view from the heights along the Idartal with the Deutsche Edelsteinstrasse snaking its way through the valley. It was a steep descent down through the trees to road level. After crossing the road, I began the long arduous ascent on the other side up to the Wildenburger Kopf. The trail first zigzagged its way up through gigantic heaps of slate which are the remains of long ago slate mine workings, then a steady climb up through a forest with some gigantic conifers. Eventually, I saw the tower of Burg Wildenburg through the trees and soon reached the information hut on Wildenburger Kopf. I was totally exhausted by now as the Bronchitis was causing me to breathe in short, shallow breaths, which made walking uphill both slow and painful. From Burg Wildenburg, it was a short walk down the main access road to the Hotel-Cafe Wildenburger Hof. The hotel is owned by a hunter and consequently, the dinner menu consisted only of game. I chose venison ragout with homemade spätzle which was quite excellent. This had been another very enjoyable and diverse day's hiking, despite me feeling very unwell.
| | |
| --- | --- |
| On the boardwalk over the Ortelsbruch | Nature trail by Ortelsbruch with specimen trees |
| Trail closed with diversion to left signposted | Pond near Langweiler |
| The church at Langweiler | View towards Steinbachtalsperre reservoir |
| A pleasant change from dense forests | Entrance to Geopark Krahloch |
| Pond in Geopark Krahloch | Trail heading towards Bärloch |
| View over the Idarbachtal | Idarbachtal and Deutsche Edelsteinstrasse |
| Zigzag trail up Idarbachtal to Wildenburg Kopf | Burg Wildenburg |
---