| | |
| --- | --- |
| G3VGR | SAAR-HUNSRÜCK-STEIG Orsloch - Bergen |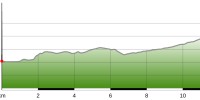 My hiking trip started by catching the 0858 Eurostar from St Pancras to Bruxelles-Midi, where I changed to a decrepit Intercity train and arrived at Luxembourg's only station around 1540. A short stroll from the station brought me to the Royal Quai bus stop to catch the SaarLuxBus to Orscholz, a small climatic health spa in the Saargau with a large rehabilitation clinic. After checking in at the Pension Dreiländereck, I went out to explore the town, but found the centre to be quite modern with little of interest. It was a very warm and sunny evening and I contented myself with a walk in the Kurpark before dining outdoors at Cloef Atrium.
Next morning, the weather was dull and a little chilly as I strolled through the Kurpark to the start of the Saar-Hunsrück-Steig at Cloef, a rocky lookout point with one of the most beautiful panoramic views in Germany. The view from the terrace over the Saarschleife (Saar bend) is quite spectacular and is definitely the most impressive start to any trail. As it was early morning, I had the terrace to myself and was able to enjoy the fantastic view in silence. From Cloef, I began the Saar-Hunsrück-Steig heading towards Mettlach, 5 Km away. The trail started through a forest high above the Saar and generally followed the river. In places, the path was narrow and rocky with occasional impressive views of the Saar below. Apart from one noisy cuckoo, I was walking along in silence. Just over an hour later, the trail descended slowly from the heights to a bridge over the Saar at Keuchingen
I crossed over the bridge to Mettlach, directly into the pretty village centre. The waterfront at Mettlach is dominated by the old abbey which houses the headquarters of Villeroy & Boch, who have been manufacturing fine ceramics for over 250 years. After some shopping in the town, including some goodies for my wife at V&B's Factory Outlet, I walked through the Alte Abtei park, past a bizarre Erdgeist Sculpture by artist André Heller and the 11th Century Alte Turm, to the abbey. There were a few coaches parked out on the road with many visitors, so I did not have time to visit the ceramic museum located in the abbey. I carried on along the waterfront another 100 metres and fortuitously arrived at the Abtei Brauerei just as its pub was opening and stopped for a beer.
After leaving the brewery suitably fortified, the trail took me up to Schloss Ziegelberg chateau with its fine arboretum. Then started a steep zigzag climb up through the forest until I reached the summit at Herrgottstein, marked with a large cross. From the summit, the trail crossed through an open field to a ridge above the Saarhölzbach with nice views into the Saar Valley. The scenic trail changed dramatically again as I descended into the narrow, secluded valley of the Saarhölzbach. After passing a few ponds, the valley became wilder and I was hiking on narrow paths, changing from one side of the valley to the other several times. Along the valley, I saw several historical border marker stones of the former border between Germany and France. After a steep climb from the Saarhölzbachtal, I reached an open field where an access path to Britten was signposted.
Normally, this stage ends at Britten, however I had been unable to find any lodging in Britten when planning my trip, so continued on past the village access path towards Bergen. The trail carried on up from Britten, past hill meadows until reaching a viewpoint with a fine panorama. Unfortunately, the viewpoint corresponded to being in the close proximity of a particularly noisy and ugly wind turbine farm. After crossing the B268 road, the trail led down through meadows into another beautiful valley, the Pansbachtal. I followed a narrow path along the Pansbach until branching off at a sign to the Landhaus Girtenmühle, my destination. The hotel was originally a farmhouse over 100 years ago and the stables became the restaurant. The restaurant has a pleasant atmosphere and advertises gütbürgerliche Küche. It was a great place to eat and stay overnight. This had been a most enjoyable day as rarely have I experienced such a diverse day's hiking.
Saarschleife viewed from Cloef




View along the Saar




Villeroy & Boch HQ in Mettlach




Erdgeist sculpture by André Heller




Alte Turm and Schinkel Fountain




Schloss Ziegelberg




View over Mettlach




Herrgottstein




Along the Saarhölzbachtal




Along the Saarhölzbachtal




Border marker stone in Saarhölzbachtal




Blot on the Landscape at Britten




The welcoming Landhaus Girtenmühle



---