| | |
| --- | --- |
| G3VGR | MALERWEG Liebethal – Stadt Wehlen |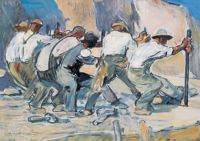 On Saturday 7th May 2011, I started my Malerweg trip by catching a Lufthansa flight from London Heathrow to Dresden. From the railway station at Dresden Airport, I caught the S-Bahn and arrived in Pirna around 17:30. After checking in at the Hotel Sächsischer Hof, my base for the next 3 nights, I spent the evening exploring the historic town of Pirna. The town is in a nice location on the River Elbe and has a picturesque old market square, which was the subject of a painting by Canaletto and has changed little since his time.

On a very sunny and warm Sunday morning, I walked across the road to the bus station after breakfast and caught the 0810 "G/L" bus to Liebethaler Grund, the "Gateway to Sächsiche Schweitz" and start of the Malerweg. Unfortunately the bus didn't stop anywhere near my required stop. When I alerted the driver, he dropped me off at a lonely crossroads near the village of Graupa, some 3 Km from my stop. After getting directions from an old man who was wobbling along on a bicycle, I made my way down some lanes to the village of Liebenthal. When I eventually approached the correct bus stop, I noticed the road was closed to traffic, which explained why the bus didn't go there. I was mightily relieved to see my first green Malerweg sign a little further on. It would have made me look rather foolish to go home and explain that I didn't walk the Malerweg because I couldn't find it.

The Malerweg started pleasantly with a walk through a ravine alongside the Wesenitz stream. After about a mile, I stopped at a memorial to Richard Wagner. An enchanting old couple explained to me that the composer wrote Lohengrin whilst staying locally. They seemed quite surprised and also pleased that I'd come from the UK to walk the Malerweg and asked me if the area was well-known in Great Britain. Not wanting to hurt their feelings by explaining that most people back home were oblivious of this area, I told them it had now been made famous by Julia Bradbury's TV programme.

The trail meandered alongside two old mills, but the riverside sojourn ended abruptly as it led up to the tiny farming hamlet of Mühlsdorf. From here, I walked along the sides of farm fields, yellow with rape and caught my first glimpse of the Bastei in the distance. After a short section through a wood and more fields of rape, I arrived at one end of the town of Lohmen, which was where I encountered my first "missing" Malerweg sign. After my experiences on the Rheinsteig, I was well prepared for this with map and GPS loaded with the 8 tracks. I was now walking down tarmac roads and was getting disappointed with my Malerweg experience. Fortunately, this feeling was short-lived when I approached an entrance to a wood with a large sign proclaiming that I was now entering the Sächsiche Schweitz National Park. The trail through the woods led me to the Uttewald Valley, a narrow ravine with sheer rock faces on each side. This was very impressive and it was quite cool in here, despite it being a hot day. All too soon, I came out of the Uttewald and arrived at the riverside town of Stadt Wehlen around 1230, where people were sitting outside the restaurants enjoying the sunny day.

As I had finished this short stage quite early, I contemplated pushing on to the Bastei, but suspected it would be very busy with visitors on a sunny Sunday afternoon. Instead, I took the opportunity to spend the afternoon and early evening sightseeing in Dresden, which is just a 30 minute journey on the S-Bahn from Stadt Wehlen. In retrospect, this was a good decision as I had not factored in any rest days to allow sightseeing, so would have otherwise missed out on a short visit to this beautiful city.
| | |
| --- | --- |
| Start of the Malerweg found at last | Along the Wesenitz |
| Along the Wesenitz | Richard Wagner Denkmal |
| Lochmühle | Millstones |
| Farmland near Mühlsdorf | Entering the forest |
| Through the Uttewald | Through the Uttewald |
| Uttewald Felsentor | Stadt Wehlen Market Square |
| Stadt Wehlen | Sunset over the Elbe, Pirna |
---