| | |
| --- | --- |
| G3VGR | ALBSTEIG SCHWARZWALD |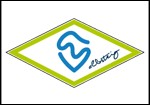 In 2019, I spent 8 days making day hikes in the Hochschwarzwald, which became my favourite hiking area in Germany after my Schluchtensteig walk in 2012. On one of the day hikes, I visited the Hotzenwald, a relatively unknown region of the Südschwarzwald near Görwihl and really enjoyed my short walk along the Höllbachschlucht. The deep gorge with its rushing rivers and deep green mixed forest left a lasting impression. During that walk, I noticed signs for the Albsteig, a new trail which opened in 2017 and was awarded Qualitätsweg status by Wanderbares Deutschland in January 2018. The trail is officially named the "Albsteig Schwarzwald" to differentiate it from the original 350Km Albsteig HW1 which runs along the escarpment of the Schwäbische Alb. This new long-distance trail follows the Alb river from where it flows into the Rhein at Albbruck through the Albtal to St. Blasien. A short distance north from St. Blasien, the Alb is formed by the confluence of two smaller rivers, Menzenschwander Alb and Bernauer Alb which have their sources on the Feldberg and Herzogenhorn mountains respectively. From the confluence of the source rivers, the trail offers an eastern or western variant to the crest of the Feldbergpass, with an optional return loop to St Blasien on the opposite variant for a total trail length of 84Km.
The Schwarzwald is one of Germany's best hiking areas and I wanted to return there in 2023 to walk my tenth Fernwanderweg. Although there are other appealing short trails (100Km or less) through the Black Forest, I discounted the alternatives for various reasons and decided to walk the Albsteig. The trail is designed to be walked either in 3 days (Sporting Stages) or 5 days (Connoisseur's Stages). I found from my walk of the Lechweg that taking a "Sporting" option leaves no time to dally and explore, so settled for a 5 day walk, which would hopefully allow ample time for some landscape photography. Although the "official" direction of the Albsteig is northwards from the Rhein to the source of the Alb, I always prefer to follow the flow of rivers, so subsequently planned to walk in a southerly direction from the Feldbergpass to Albbruck with the added bonus of getting my face suntanned instead of the back of my neck. This change in direction made it impractical to walk a return loop from the Feldbergpass, so I settled for only walking one variant which reduces the total distance to 64Km, easily manageable for a 76 year old with a gammy leg. Usually, I make my walks in late June, but the weather in the last few years has been exceedingly hot during that period, so I chose to walk the Albsteig in early September instead. Hopefully, biting insects would be less active at that time of year.
I like to photograph waterfalls, so added some extra days to enable me to visit the Allerheiligen, Gertelbach, Triberg, Todtmoos, and Krai Woog Gumpen waterfalls plus a shopping trip to Freiburg, one of my favourite German cities.
Planning the trip was quite easy. The Albsteig website has very detailed information for download and will also mail hardcopy brochures on request. There is also a wealth of YouTube Albsteig Schwarzwald videos from various hikers which give a good idea of the trail. Publicpress offers a 1:35000 Leporillo Map of the Albsteig which includes as much information as any travel guide, but I thought it rather expensive (€15) for such a short trail. Instead of buying the map, I downloaded the "Hochschwarzwald App", which includes OutdoorActive's offline maps of all the stages and can be used with a smartphone's internal GPS. During previous walks, I found that using a smartphone instead of paper maps was an ideal solution as it also obviates the requirement for a compass or dedicated GPS receiver. Distance trails in Germany are generally so well signposted anyway that navigation aids are rarely required.
I'm no longer at the age where I'm happy to carry all my belongings each day to the next night's accommodation, although this was very enjoyable in earlier times. After my last Fernwanderweg walk, I decided that on future walks, I would now prefer to stay in just one location instead of multiple overnight stops, so only considered tours where this could be possible. Fortunately, as I proved to myself on my Hochschwarzwald day walks in 2019, the transport systems in the Schwarzwald are frequent and reliable. Most accommodation in the Schwarzwald provides guests with the KONUS card, which allows unlimited free bus and train travel within the whole area of the Black Forest, so staying in one location would also be cost effective. Some research of the trail's route showed that by basing myself centrally in Sankt Blasien and availing myself of the various transport links,
I could comfortably reach all the Albsteig stages and carry just a light daypack. The only limitation is that the last buses from all stages arrive in St Blasien around 19:30 which would act as a curfew on either having dinner or making explorations elsewhere. Despite St. Blasien being the obvious option, I elected to stay in Hinterzarten instead because it was more suitable for my photography projects elsewhere in the Schwarzwald whilst still providing good transport access to all Albsteig stages. As some of the bus connections required early starts, I concluded that booking accommodation in a Ferienwohnung instead of a B&B Pension would provide better flexibility. Hence, I made a booking at the same Ferienwohnung in Hinterzarten where I had previously stayed on my 2019 Schwarzwald trip.
Arranging transportation was simple. Although the closest airports are either Basel, Stuttgart or Zurich, I decided instead to fly to Frankfurt from London City Airport using some BA Avios points. Onward train travel to Hinterzarten is direct from Frankfurt Airport using DB's ICE trains to Freiburg, then the Höllentalbahn to Hinterzarten. The SuperSparpreis Senior train fares from Frankfurt were also quite cheaper (€22.90 each way) than fares from the other airports and saved me the complication of buying a €49 D-Ticket subscription (which isn't valid for travel on ICE trains). I arrived much later in Hinterzarten due to DB's poor punctuality of their ICE trains causing me to miss connections. These delays were also compounded by track repair works on the Höllentalbahn resulting in having to use a replacement bus from Kirchzarten. Nevertheless, I was happy to be back in the Schwarzwald and looking forward to hiking the Albsteig.




Albsteig Itinerary
06/09/2023
&nbspWednesday
Travel to Hinterzarten
07/09/2023
Thursday
Stage.1
08/09/2023
Friday
Stage.2
11/09/2023
Monday
Stage.3
13/09/2023
Wednesday
Stage.4
16/09/2023
Saturday
Travel to London
Links
---