Raymond Gilchrist's HomePage"G0TUE"
---
---
My name is Raymond Gilchrist and I am 36years old and I have been a Radio Ham for 12 years, My main interest is QRP C.W which I try and get on the bands as often as possible. My main QRP tranceiver is the INDEX QRP PLUS and I use a Random end fed antenna. I like to build both receivers and transmitters, and use them on air as much as possible. My first callsign was G7BYP and I have held G0TUE for about 7 Years now.
My main bands for opperating are 80mtrs,40mtrs and 30mtrs, and I usually run at a power level of 4watts. I have built a Touch Paddle key which I use all the time, the Index has a built in Keyer. Computers are also a large part of Amateur Radio, I use the computer for Decoding RTTY,AMTOR,WXINFO and Pagers, I have done a mod from the Discriminator on my scanner to allow the Base Band Audio to be fed directly to the computer.
---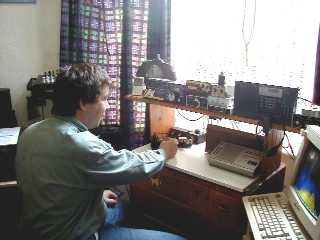 ME AT MY BENCH
---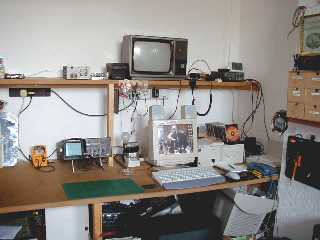 MY TESTBENCH + INTERNET COMPUTER
---
MY QRP SHACK
---
---
If you would like to hear any other Sounds, Let me know and I will add them to the list.
---