Manager : VK4FW, Bill
Tuesday, September 9th,1997, I am seated in the Nouméa to Sydney jet airliner and all the anxieties of the last few days are over and at last I can relax.
The Oceania DX Group (ODXG) decided at the end of 1996 to organise an expedition to the Willis Group VK9M and may be to the Holmes Reef, not referenced by the IOTA. I was contacted by the ODXG and asked to participate. It was a hard decision to make, considering the expense. After a few days of reflection I was part of the team.
Months went by, numerous faxes and later electronic mails were exchanged followed by lots of discussions on 80 metres. This intensified as the departure date approached. Just a few weeks before the set date, two OM had to pull out for professional reasons and we had to find two new amateurs. They will be VE5RA Doug and K6KM Bill.
We were to use Yaesu equipment. For my part I was to carry an amplifier. That will be my Yaesu FL2100 B (20 kilos as hand luggage, carried by hand all the way…), and band filters and headset.
I was to fly first to Sydney, then to Cairns but the expedition amost finished for me before it started. The flight that was to take me from Nouméa to Sydney was originally coming from Paris but a strike by the airline pilots had it delayed for 24 hours. It is difficult to describe my state of panic and despair. I am very grateful to the travel agent who after a lot of negotiations managed to get me a seat on a non scheduled flight for Sydney, plus a connecting flight to Cairns. All I had now to do was to let the organiser know.
At 22 :30 on Tuesday 9th, September I land in Cairns where VK4FW Bill and VK4MR Bob are waiting for me. They take me to the Floreat, a 20 metres vessel with the rest of the team already on board. We are busy getting the computers ready, loading logging and propagation programs.
The team is :
3 YL operating VK9WY:
| | | |
| --- | --- | --- |
| WA1S | | Ann |
| IV3FSG | | Elvira |
| 7K3EOP | | Noriko |

7 OM operating VK9WM:
| | | |
| --- | --- | --- |
| VK4MR | | Bob |
| VK2AEA | | Vlad |
| VK4FW | | Bill |
| AF7O | | Darryl |
| FK8GM | | Eric |
| K6KM | | Bill |
| VE5RA | | Doug |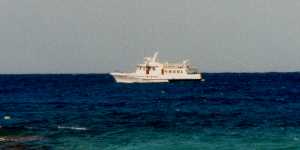 In the hold, about 4 tonnes of gear, on the deck are secured our 6 power plants, 1000 litres of fuel, 400 litres of fresh water, tables, a refrigerator, a freezer and in the cabins are the 6 complete radio stations (TX/RX and amplifiers) and our personal belongings. At 23 :15 on Tuesday 9th we cast off for a 30 hours navigation. The sea is heavy, most of us are seasick. Wednesday, September 10th, we drop anchor in front of Homes Reef. This is made of 2 small sandy islands partly covered at high tide and swept by the swell. The decision is hard to make but we must be realistic, we will not be able to operate this new IOTA because of the heavy sea making a landing impossible. After a good meal, we sail toward the Willis Group. The sea is very heavy, the ship must slow down and this is going to be a very long night…
On Thursday, September 11th, the small island of the group where the weather station is located comes in sight. The dinghy is lowered for a quick curtesy visit to the 3 permanent weathermen working here. In the afternoon we sail to the large island where we intended to land but because of the heavy sea a landing is impossible, so we turn back and decide to use the middle island, much smaller but sheltered and easier to land on. The first of many shuttle trips between the vessel and the island begins at 15 :00. Our gear piles up on the beach. In the mean time the main tent is being erected. It will be our sleeping and eating quarters. We stop the unloading operations at 18 :30. They will resume in the morning. Late that night, we decide to rig one station, so much we are keen to get on the air. We quickly put together the R5 antenna, tune it to a Yaesu 1000MP, start one of the computers and that's it :
This is VK9WM, DX Expedition on Willis Island, QRZ ??... and the first pile up begins, VK9WM is on air !
On the Friday, September 12th, the remaining of the gear is unloaded and all the stations are installed. In the evening, four are on air and we are working on 80,40,30,20,17,15,12 and 10 metres depending of the propagation.On Saturday , we finalise the installation of more antennas (20 and 160 metres) and add some comfort to the camp (showers, kitchen).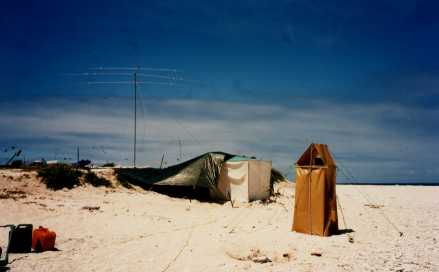 During the night between the 13th and the 14th, a true hurricane forced us to stop transmitting. In the morning, the only thing we could do is to assess the damage. Under the wind pressure the tent with three of the stations is split in half. The rain gets through the main tent and the shower block is gone. As a quick fix we rigged two small tents as sleeping quarters inside the main tent as operators' comfort comes first. Then two more tents are rigged, one will be the shack and the other to hold the equipment. After that we have the five stations on air.
They are as follows :
1 FT 1000MP + FL 2100B + BEAM 3 éléments 10/15/20m
1 FT 1000MP + FL 7000 + BEAM 4 éléments 20m
1 FT 1000MP + FL 7000 + VERT 40m et VERT R5
1 FT 920 + BEAM 3 éléments 30/17/12
1 FT 990 + FL 7000 + VERT 80m et ANT spéciale 160m
With VK4FW, I spend many hours in the sun, building a new antenna for 160 metres ; it is an inverted " L ". It will give very good results and will allow us to make 182 contacts on that band.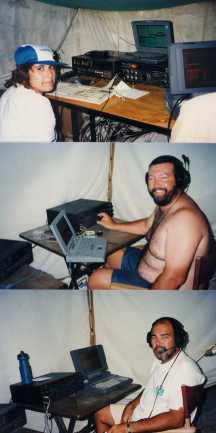 Our 10 operators kept all the stations operating, taking turn at each of them. Contacts followed contacts and the total log reached 41,275 QSO at the end of the expedition. Thanks to the use of band filters we had no QRM between our different stations.
In the following days, a routine was established which could be summed up as : radio, sleep, work. All the tasks were assigned, such as cooking, dish washing, water and fuel supplying, maintenance of the power plants.
On Sunday, September 21st, it is time to go. We must now dismantle our stations and get ready to load it again on board the vessel. Most of our gear is packed including our rubbish bags and when the tide is favourable we start loading. This will take all day. That nigh we still have three stations on 40/2015/10 metres. They will be dismantled at day break.
On Monday, September 22nd , Willis Island disappears in the wake of our ship and with it VK9WM and VK9WY, along with all the good and the not so good memories of the expedition. We make a brief stop at the weather station and we give the weathermen what is left of our fruits and eggs. We sail back to Cairns on a calm and peaceful sea.
On Tuesday, September 23rd, the Floreat is back at her mooring in the Cairns marina. After unloading it, the gear is packed on a truck going to Gympie. We had a farewell diner in a restaurant. Some spent a last night on board while others went to a motel and on Wednesday, we all depart.
As much this expedition has been very pleasant in all respects and we hope we gave a great number of amateurs what they were expecting ; it is with a sad note that we must say that traffic with Europe was difficult, some times tiring and irritating due to their lack of discipline.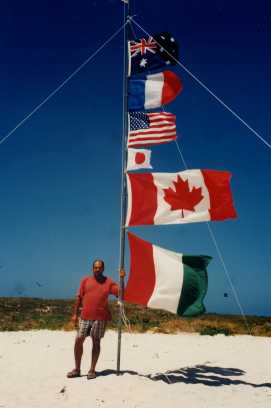 All our thanks to our sponsors, without them this expedition would never have taken place, to all the amateurs who passed the informations and to all those who, one way or another have contributed to make it a success.
VK9WM, VK9WY, Dxpedition to Willis Island is over.
RETOUR