Here is number of feed, all of them was build and tested by myself
Simple patch feed design
First patch antenna, I build because my downconverter already has one and it has linear polarisation. All that I need is add tuning screw into position
*Classic* ON6UG patch feed
This patch feed works well with my first 60 cm prime focus dish, but it has 12cm in diameter , so 1/5 and most important part of dish was shadowed and not used
I decided to put offset dish and I has one about 80cm, patch feed also in work and significantly overilluminated dish.Result was not good and I must add some disc directors to narowed patch diagram
Next step is use circular waveguide as feed or beercan feed also good for feeding prime focus with 0.3-0.4 f/d and allow good circular polarisation with 1/4 wave plate inside the guide.
Beercan will work with prime focus parabolic dish with f/d 0.3-0.4 for offset perfomance was poor. I need something that narowed feed diagram to reduce illumination loss. I find one of the *chapparell* type feedhorn for C-band TVRO antennas. Scaled dimentions for S-band give me feed for offset dish with 0.7 f/d. All my work in paper looks nice but in real life...
Offset dish feedhorn for S-band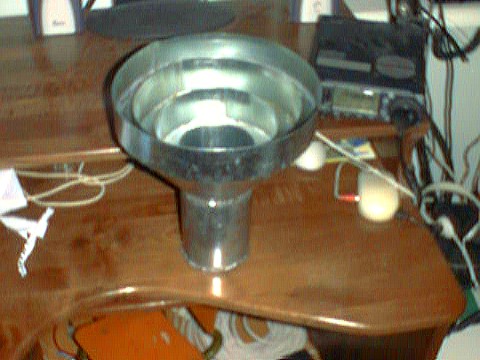 For dimentions, feed was realy big, note Icom-706MKII behind the feed.
Wireless AP range test One of this horns was used to test range of my wireless network. We play with pair WAP11 in bridge mode and put one AP for outdoor operation. Base antennas was California Amplifier grid 80x80cm with 24 dBi gain and box with short air coax.
We get more than 16 Km 11 MBit line of sight link with paraboli˝ grid and s-band offset feed with no problem.
Last updated 14/12/2002
Opening the case may void manufacture warranty. All modification at Your own risk, Im not response for any damage or failure. If You are not sure what You are doing - dont do it at all.