OCEANIA DX GROUP1997 WILLIS ISLAND DXPEDITION
Story by Bill Horner VK4FW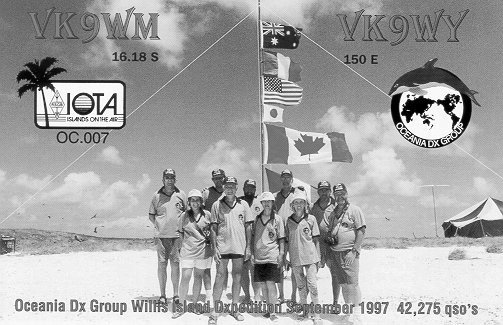 VK9WM/VK9WY QSL-Card
On the 9th September 1997 a ten member team departed Cairns on the 60 foot vessel " Floreat ". We had 2 destinations ... Holmes Reef and Willis Island.
As with all major dxpeditions an enormous amount of work must take place to ensure that not only will you have a successful expedition but that you will be safe without any emergency instances. The Oceania
Dx Group was first formed on the 29th of April 1996
and since that time we have now had 2 dxpeditions. The first was to Cocos Keeling Islands in May 1996 as VK9CT and now to Willis Islands as VK9WM and VK9WY. So where does one start.
All dxpeditions no matter how big or small must be well planned and they all cost money. The first thing therefore is to estimate what your budget will be and then to find some operators. When I say estimate I really mean a true calculation of figures not just a number out of a hat. When you have worked that section out you must now try to select a team of operators that are well balanced happy go lucky type of persons. I quickly decided that I wanted some YL operators along to hand out a new one. The word went out and to my surprise volunteers were scarce. If I could have found 5 yls they would have gone but that was to prove impossible. Instead I got 3 of the best ladies you would ever want on any dxpedition. IV3FSG .... Elvira ... this was her first major dxpedition and she made 1558 rtty qso's. 7K3EOP .... Noriko ... this was her first major dxpedition and she made over 3700 ssb contacts. WA1S .... Ann ... this was the second dxpedition for Ann and she is a good cw operator who really worked up a storm with almost 5000 cw qso's. Despite the fact that the last dxpedition had a yl operator ( 1992 ) the demand for yl dxcc was high. These ladies really adapted well and worked hard to
give out a new one. With only 3 yl operators it meant that we had to have 7 men to fill the slots to give us a full compliment of ten operators. Along the way we had some changes due to some pretty sad circumstances. One of the team actually had a nasty fall off a tower. The eventual team of males that went were : FK8GM, K6KM, AF7O, VE5RA, VK2AEA, VK4MR and VK4FW. Now that our team was complete much work had to be done to ensure we were all going to be ready and able to carry out the task at hand.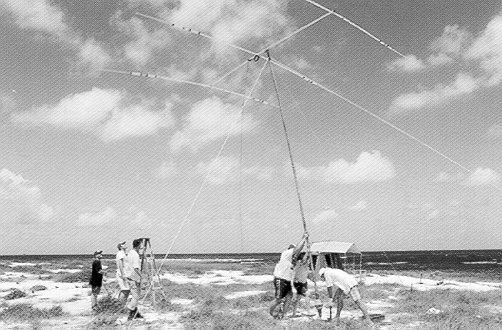 Erecting the Cushcraft A3SDX
SPONSORSHIP
As earlier mentioned these dxpeditions cost lots of money. With the team complete it was time to announce to the world that the dxpedition would be on and that donations would be welcome. Major contributions started flooding in from around the world, as Willis Island had climbed to 23 on the wanted list. ODXG, INDEXA and NCDXF were quick to support us and ensured that this would go ahead. Other supporters soon followed in the form of : WA SECURITY PRODUCTS, EUDXF, VK4CY, JH1AJT, VK6NKG etc. Time had arrived to do a deal with one of the major radio manufacturers to supply at least 6 hf radios and amplifiers. In the past I have had great support from YAESU and DICK SMITH ELECTRONICS. The FT 990 and FL7000 had proved many times in the past that they were very reliable and robust to handle just about anything. I figured the latest stablemates would also stack up well. After much negotiating with Yaesu and DSE we had an agreement drawn up to again ensure that this would be a success. Well now , who would like to purchase some ever reliable FT1000mp tranceivers and FL7000 amplifiers at a bargain based price. As it turned out we ended up with only 3 of the FT1000mps and 3 of the FL7000 amps presold and this shocked me a little. Thankfully Yaesu also sent down one of the brand new yet to be released FT920 tranceivers and then DSE loaned us another FT1000mp and FT920. This complimented the FT990 and FL7000 I owned and with a FL2100B we had all our Yaesu hf equipment. Late in proceedings DSE also loaned us a 2m FT11 handheld for ship to shore communications. Now for antennae........ Emtronics and Com-an-tena between them supplied some 3 ele mono yagis and full size quarter wave verticals for the low bands. These complimented the Cushcraft sponsorship to give us all the artillery we needed. As months went by more and more things slowly fell into place. Eric VK4NEF was kind enough to loan alot of equipment which was used rather extensively. More small donations arrived and we all started to feel like this was going to be a huge success. By this time pretty well all the magazines had alerted the dx community that this was 100% go. Alas excitement everywhere.
DOCUMENTATION
As with all dxcc accredited operations you must have all licencing and landing/camping permits in order. Applications were submitted and after many hours of negotiating finally we had it..... BUT not for Willis Island where all previous dxpeditions had operated from. To my utter dismay and discust we were denied permission to go to the Met Bureau and the reason ... very simple.... the last dxpedition had broke the rules and used a building to operate in. This really cost us a lot of money in hiring of extra generators and fuel etc as we would now have to go to either the North or Mid Island where there was no cover, just birds birds and more birds. The logistics of this operation suddenly doubled and almost tripled as we had to have so much extra supplies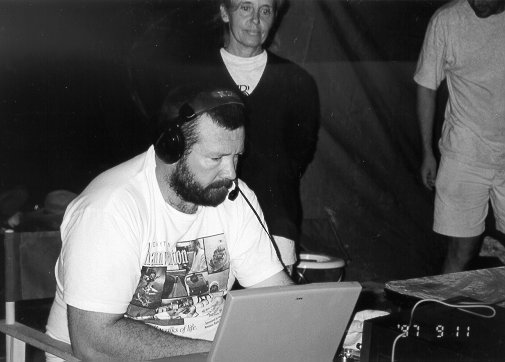 Bill, VK4FW, 1st QSO logged from Willis,11:36 UTC, 11.09.97 to UAØSJ
and take a much more precautious approach to our safety. After all the little and big problems along the way we finally had almost everything ready to go. The days were getting shorter for departure and it wasn't long before operators were leaving their cosy homes for a journey into the wild blue pacific.
DEPARTURE
By the time everyone had arrived all the hire equipment and all other gear was loaded. Loading of the boat took about 4 hours. Extra fuel and water was taken on board as a last precaution as we learned the weather was going to change. At this point I must thank Sally Bilson from the Cairns Charter Boat Centre for her marvelous work in finding us a good boat with an incredible understanding owner and crew.
Enroute to Willis we would endure some rough weather and most of us got as sick as dogs ( I was one of the worst ). We had planned to check on Holmes Reef on our way. This lovely place was just too dangerous to attempt a landing so we would devote the extra time at Willis. At approx 22.30 utc on the 10th of September we were sitting 300 metres off the coast of Willis Island. We had bought the Met staff some boxes of goodies and we all were invited ashore to say hello and take a few photos. The staff were very pleasant and we all thoroughly enjoyed the guided tour of the Met Station. This is certainly the place to operate from. Back on the boat we headed for our final destination. I thought MURPHY would have been too scared to get on the boat with us but I was wrong. When we got to the northern islet we found it too dangerous to try taking equipment ashore as we would have to ancor atleast 850m from shore. The rough weather made landing imposssible if you didn't wish to get wet. Turn around and lets check out the Mid Islet was the command from the skipper when he returned in the dinghy.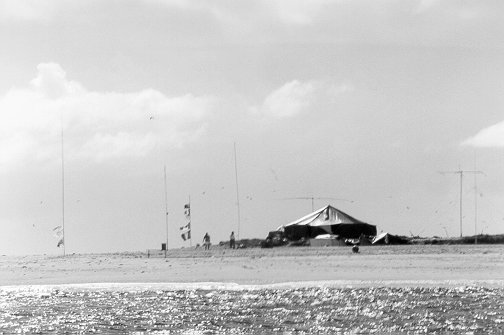 Site of VK9WM/VK9WY
MID ISLET ... our new home
The Floreat was ancored some 350m off shore and the unloading began. For safety we could only really get stuff ashore for about 2 hours each side of low tide. With the majority of operators still sick it made things tough for the rest of them but after a while we were making good progress. Bob VK4MR was in charge of the landing party and he had things well in hand when he along with his 2m handheld suddenly took a unexpected bath in the ocean. By by handheld..... The weather didn't look real good with the wind gusting at some 30 knots and it was rather a hard task to actually erect the big tent ( 24ft x 24 ft ). On 2 occassions the wind caught it and it pulled people off their feet before we finally had it erected. As the afternoon wore on, our new home started to look like the usual dx antennae farm except we had more birds to look at ( ha ha ).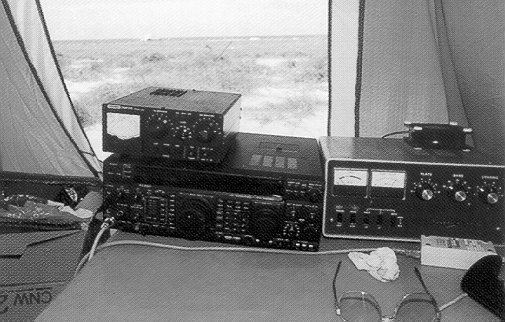 One of the stations
At 11.36 utc on the 11th of September 1997 we logged our first qso with UA0SJ. All logs were direct onto computer with K1EA CT 9.27 software for ssb and cw while we used WF1B rtty software for rtty. These 2 logging programs certainly rank amongst the best in the world. To stop station intermodulation we used passband filters from ICE and DUNSTAR. Over the next few days despite wind gusts reaching 50 – 60 knots with fairly continuous regularity we managed to get more antennae up. For a few of us we spent many hours fixing things and restructuring things. We had tents being shreaded and antennae crashing down and then one night an operator filled a generator with water. Then a major rain sqaul saturated some personal belongs and some computers and other bits of gear. Thankfully we have been able to get most things working and no logs were lost. Despite these major set backs we still had hope that we would have a successful dxpedition and all return safely with out any more damage or loss.
YAESU
Yes yet again this equipment proved that it is perfect for everything including dxpeditions. The FT1000mp tranceivers are absolutely in a class of there own. The way the receiver functions with low band qrn is just brilliant. With dual watch you can also monitor 2 frequencies in the pile up. The Collins filters in this unit really compliment the tranceiver. The robust FL7000 amplifier has always been an honest work horse which easily gives out legal power. This without a doubt is a must to own if you like transistorized amplifiers. The surprise package of them all is without a doubt the new FT920.... what a beauty and with 6m as well. Yaesu have really got a winner here although I wish this unit had a built in
power supply. Despite the fact that the DSP on this is in the AF stage it has a great little receiver. I actually preferred this to the FT1000mp when working on the low bands. ( qrn on the low bands averaged s9 at all times ) I also wish it had a narrow filter available for ssb and not just cw. And yes my faithful old FT990 is still the best of the bunch prior to the new DSP tecnology. All tranceivers were used with the Heil headset microphones. I must thank VK2IGW, VK2XN, VK4NEF,VK6NKG, VK4CEJ and VK4CY for not only pre - purchasing the Yaesu equipment but for agreeing to the use of it on the dxpedition before receiving it.
ANTENNAS
The Cushcraft A3SDX, A3WS and R5 were a real treat to have. The A3SDX has been specially made to take on small airplanes. All sections are sleeved to bring it up to size. ODXG loaned the A3SDX to the VK9LX operation for the CQWW CW Contest 1997. The Com-an-tena verticals for 30 and 40 m worked really well with 21 radials on each. The purpose built 80/160m vertical got some damage and wouldn't work on 160m and was just converted to 80m as a quarter wave vertical with 54 radials. The Europeans have passed many comments that its the best consistant signal ever heard from the Pacific on 80m. The Emtronics TE mono band yagis for 10, 15 and 20m were just superb and a treat to put together. These antennae are very robust in the high winds and never faltered. Finally the FK8GM/VK4FW emergency 160m inverted L ..... well for some 4 or 5 hours for 3 days we kept trying to improve this antenna. We pinched some things rom peter to pay paul and eventually had the vertical section at about 15.5m in height and eventually managed to work 182 qsos on this band. Our furtherest qso was with ZS4TX on the 20th September at 19.20 utc. When the weather finally decided to stop battering us we shifted some excess equipment back to the boat. A decision to leave early was made when we learned that again the weather would deteriorate and our 60000 target would not be reached. We set a new target of 40000 and when the last qso was made at 20.00utc on the 21st September we had amassed 42,275 qsos with 167 countries in the log.
Our journey back to the mainland was smooth compared to on the way out. I would like to thank the ships crew and owners for a most memorable trip. Again a special thanks to all our sponsors and to all the members of the Oceania Dx Group. Your support is priceless.
cul.

TheTeam