For DXers and Contesters worldwide:
GOM - the 'Global Overlay Mapper'
** The BEST just got BETTER !! **
** and now its FREE to Download **
Representing a new concept in the field of Ham Maps, the Global Overlay Mapping System is packed full of features for all Ham Radio enthusiasts, including :
1 World Map, with specialised satellite images and world region-boundaries.

8 Continental Maps - Europe, Asia, Africa, North and South America, Oceania, Arctic, Antarctica.

29 Sub Continental Maps, with Single Click Navigation for easy loading.

Each map has a background, 12 active layers, and custom Scalebar.

Country Outlines, CQ, ITU & Time Zones, Color Relief Map, Grid Locator & Lat/Lon meshes, 100s of Region Names.

2204 Major Cities - Europe:323, Asia:517, Africa:513, North America:314, South & Central America:359, Oceania:178.

The latest Prefix, IOTA, and Flag Information.

Real-Time Mouse Tracking, with continuous Positional and Grid-Locator information.

Easy-to-use Feature-Locate system - Jump to a position on a map from a full list of Prefixes, Capital Cities, Country Names, Admin Areas, IOTA Groups, and over 2500 Major Cities.

Go straight to any Latitude/Longitude position, or load a map from a 4 or 6 digit Grid Locator.

Customised to your location, for instant Beam Headings and Distance Display.

Comprehensive multi-page Help System and Information Guide.

Download for use on your own computer - no Internet connection required.

Did you try GOM before, and but didn't want to turn off your popup-blockers on Internet Explorer for it to work properly? Did you even have a problem of it disappearing altogether?! If so, you'll like the NEW version. It has been re-packaged into a Windows shell, so that it installs and operates just like any other Windows program.
To see screen-shots and find out more, click Here
To download for FREE click Here
To register the Global Overlay Mapper click Here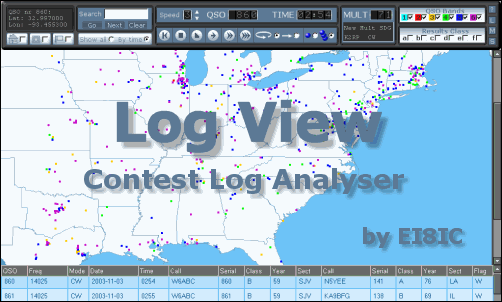 LogView - Graphical Contest Log Analysis
LogView is a post-contest log-visualisation tool, for analysing contest performance. It plots the QSOs in a Cabrillo-format contest-log on to one of 8 different maps by finding the position of each QSO from an online database of about 970,000 W/VE callsigns.
LogView's features include :
Step through a log manually, or animate the contest at a range of speeds and watch QSOs build up in the order that you made them.
Annotate each spot with a callsign-label.
Keep a running count of Multipliers worked.
Choose to display all, or selected bands.
Filter all DX calls from your log.
Compare your QSOs with published contest results.
Display all, or selected result-classes.
Highlight gaps in your antenna coverage.
Search the log and spotlight results on the map.
See position, distance, and bearing information for each QSO.
Save the map for offline viewing and analysis.
The following contests are supported by LogView: ARRL-10 ARRL-160 ARRL-DX-CW ARRL-DX-SSB ARRL-RTTY ARRL-SS-CW ARRL-SS-SSB ARRL-VHF-JAN ARRL-VHF-JUN ARRL-VHF-SEP ARRL-UHF-AUG CQ-160-CW CQ-160-SSB CQ-WPX-CW CQ-WPX-RTTY CQ-WPX-SSB CQ-VHF CQ-WW-CW CQ-WW-RTTY CQ-WW-SSB IARU-HF NAQP-CW NAQP-RTTY NAQP-SSB RSGB-IOTA STEW-PERRY TARA-RTTY
LogView also has a separate, dedicated Results-Viewer, that lets you create a map of contest results, and compare them to the results of other contests.
To see screen-shots and find out more, click Here
To see the LogView Demos, click Here
To see the Results-Viewer, click Here
NAOMI - the 'North American Overlay Mapper'
The Ultimate in US and Canadian Ham Map Systems, NAOMI is a content-rich mapping suite for all Ham Radio enthusiasts. Packed with exciting map tools, NAOMI's features include :
47 full screen (1020 x 650 pixel) maps at 1:2,000,000 scale. 2 full screen overview maps at 1:20,000,000 scale

Each map has 9 backgrounds: CQ Zones, ITU Zones, Time Zones, ARRL Sections, States and Provinces, Counties and Municipal Regions, UTM Zones, Satellite Photo, Color Relief Map.

Each map has 16 foregrounds: State, County, Areacode, Zipcode, Water, Urban Areas, Major City, Minor City, Roads, Railroads, Prefix, Section, IOTA, Flags, Grid Locators, Lat/Lon mesh.

1-Click Quick-Load feature, or select map with position annotated from a range of Quick-Access entry-lists: State Capital, Large and Small Cities (over 28,000), Counties, Area Codes, IOTA, etc. etc.

On-screen map pins, instantly referenced to all other positional data. Calculate distance and bearing, draw on-screen path and range-rings.

A large selection of easy-to-use Calculation Tools. Compare positional and identification data, show Horizon Distance, Sun and Moon Rise, etc. etc.

Real-Time Mouse Tracking, with continuous Positional, Grid-Locator, Distance, Bearing, and Long Path details on the Status Bar, in a choice of user-defined formats, fully customised to your own location.

APRS integration displays live position icons, track-lines, and breadcrumbs for all APRS stations on the FindU database. Custom call entry and time filtering.

Internet integration for instant access to a variety of online services related to map position: Repeater Databases, Weather Radar Images and Forecasts, TerraServer access, Propagation and Operating Resources.

3 User Lists, where you can keep your own collection of locations, such as waypoints, club or group members, contact points, beacons etc. Easy to create and amend with the special List Editor tools. Plot the positions on the current map, or compare and reference to all other positional data.

On-screen multi-zone Time Display. Dragable Locator map, Scale Bars, and Grid Graticules.

Table Viewer, to view spatial data in list-form. 130 tables provided. Search and Sort Facilities included.

Comprehensive multi-page Help System and Information Guide.

To see screen-shots and find out more, click Here
To download the NAOMI Demo, click Here
To purchase NAOMI, click Here
...meanwhile,
lets continue with an introduction to the rest of this website, which is all about the hobby of Amateur Radio on the Short Wave Bands (HF), and the sport of Radio Contesting.

There are eleven main sections :
• My Ham Station
• HF Contesting
• Irish Contesting
• Buy And Sell It
• Ham Links
• Overlay Maps
• Ham Maps
• APRS Maps
• Flags
• Ham Downloads
• Guestmap Archives
• My Ham Station
Here you will learn about EI8IC, a brief biography of my radio amateur 'career', and be able to see the radio equipment and aerials that I use. You will also be able to view and search my contest logs without wasting time downloading a Java-Applet.
• HF Contesting
The biggest of the section, reflecting my main interest. Here, in amongst nearly 50 pages, you can see a Calendar of Major HF contests that are coming up. You'll learn about ways of Budget Contesting that won't empty the pocket book. You'll browse through numerous Tips and Techniques. You'll read the Contest Stories from some of the World's Major Contesters. You'll see the latest VK4EM Contest-Bandplans. The Topband Frequency Allocations are here too.
• Irish Contesting
Here you can view the results of EI entries to a variety of contests, arranged both alphabetically and chronologically. You can find out how to GUARANTEE a No.1 place in the Irish record books. And find out more about Irish Contesters too...
• Buy And Sell It
Here you will find an on-line service to help EI-hams buy, sell or exchange radios, electronic equipment and components. It is completely free to read the ads, respond to them, place a new one, or cancel it once you've sold the goods. So why not dust off that old transceiver, PSU or antenna and sell it to a ham who really needs it !
• Ham Links
Every site has links, and who am I to buck tradition ? You'll find my selection grouped under the headings of Antennas, Contests, Propagation, Software, and Towers. Unlike most websites, each link here has its own introduction, telling you something about the site before you go there.
• Overlay Maps
The newest of the sections on this website, these pages showcase the most exciting development in the field of mapping for Amateur Radio: Overlay Maps, and include an introduction, feature list, and screen-shots of the North American Overlay Mapper, and the Global Overlay Mapper.
• Ham Maps
The most popular section on this website, with a range of maps created by me for the Ham community. There's CQ Zone maps, IARU Zone maps, ITU Region maps, Great Circle maps, Prefix maps, Grid Locator maps, Time Zone maps, even a map of Irish Lighthouses.
• APRS Maps
This section represents a new field in Amateur Radio, but one that is growing fast in popularity: APRS - the Amateur Position Reporting System. A short introduction is followed by live maps of Irish APRS stations, maps for use with the FindU APRS server, maps for use with the UI-View APRS program, and a range of free APRS logos for your website.
• Flags
This section showcases a package of over 450 flags, available for use in your own project or website. All countries are represented, plus all US state flags, Australian state flags, and Canadian province flags.
• Ham Downloads
A small section, with some exclusive content, available nowhere else on the web. The maps are available, in two zipped files. There's the full set of coloured Contest Bandplans. And a great Log-Search script written in Perl, as used on this website.
• Guestmap Archives
The popular 'Guestmap', a new type of guestbook where you can mark your own position and leave your Callsign and comments, has only room for 100 entries at a time. This limit was soon exceeded, so it became necessary to create a series of archive-pages, where past visitors, no longer on the Guestmap, could have their calls and comments available to all.
Important: This website is navigated using a series of pop-out menus that take about 5 seconds to appear after each page is loaded.

If you are not seeing any menus to the left of the screen, it means that your browser does not support Javascript, or that you have the Javascript function turned off, or disabled.

If you wish to turn Javascript on in your Internet Explorer browser, go to Tools>Internet Options>Security>Custom Level, and select 'Enable' for 'Active Scripting', 'Allow Paste Operations', and 'Scripting of Java Applets'.

If you do not wish to enable Javascript, please click here for a new navigation bar that doesn't use Javascript.

I have changed over to a new counter since B*r*a*v*e*n*e*t started adding popups to each page visit. This one is the QSL.net counter. I wonder how to add the previous 55970 hits to the total ?