by 4F1FZ, photos by: 4F1CJC
---
PAHIYAS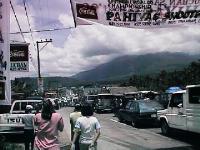 LUKBAN ..... A town in Quezon province at the foot of the mystical Mount Banahaw.
PAHIYAS.....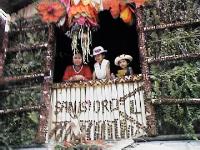 A tradition and a way of saying thanks to God with emphasis on Faith.
BARACOM... A communication group synonymous with Aurelio or Dayon, the President.
These three were the key elements in an unforgettable experience that PMOCWP's will commit to the special memory banks of their brains.
Lukban, that beautiful town with a tradition that they have preserved well going into the next millenium. What a wonderful celebration it's going to be in the year 2000. Located at the foothills of the famous and mystical Mt. Banahaw. The mountain where as they say, phsycic powers are generated and reinvigorated, the place where they can commune with gods and even God. Yes, that town of smiling and friendly people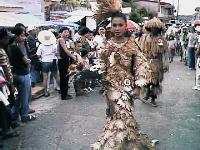 where the name Lukban is imprinted in a tradition influenced by Faith.
Surrounded by mysticism, their Faith held them aloft to be able to reach God and say "Thanks " thru this very unique celebration, the PAHIYAS.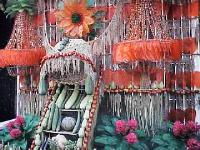 A practice trully Pilipino and worthy of worldwide recognition. They say "thank you Lord" for all the blessings, be it bountiful harvest, good weather all
year round, flowing energy of good health, glorious days with family and friends and peaceful existence here on Earth.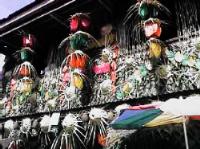 The celebration is now very famous and is being visited by local and international tourists.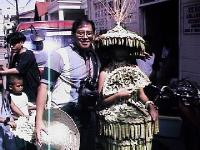 As you mingle with different kinds of people in the snaking streets of Lukban, looking at all those besutiful decorations of all the houses left and right, you can see the awe and surprise on the happy faces of the visitors, transients here in the Philippines and even the domestic tourists. And you are one among them imbibing the magic of this happy occassion.And silently you feel you want to pray and say "Thank you Lord, I am one with them".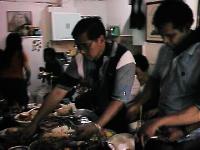 There are so many things that can be written about this affair but in a nutshell and in simple words, "awesome, overwhelming and wonderful".
And the group BARACOM thru its President Dayon (Aurelio, but I like the former better) and his group extended to us a very warm hospitality that exhibited one of the very well known traits of Pilipinos.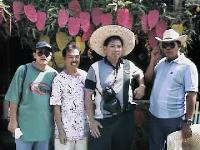 These were the people who made our visit in that wonderful place a reality. The gallant men and women of BARACOM.
To all our friends in Lukban, from the BARACOM,
headed by DY1UOM (Dayon) and wife Clarissa and family, DY1TXY Ronnie with his Mom, Dad and Monique, DY1SQA Erwin, DY1SXL Ed, DY1USW Hector, DY1BRO Jolas and we also saw Eric and Mario DU1LWF.I just hope I did not miss anyone. Maraming salamat po Guys and I hope we can be there again specially in the year 2000 celebration and hope by that time we can stay longer and enjoy to the fullest the entire spectacle. MORE POWER AND KEEP UP THE GOOD WORK!
All these and more shall be committed as one of the special and beautiful events in our life as Amateurs. They can only be forgotten when time has corrupted our memories or until the end of never.
From the group were the President Tito 4F1CJC, Gus 4F1EAA, Eve 4D1PMD together with Rachel, Mel 4F1DMD, Caloy 4F1GYE, Jerry DU1NUK and Rey 4F1FZ. The indefatigable team from the Charlie Walkers group
we say once again our hearfelt and sincerest 'SALAMAT PO!'.