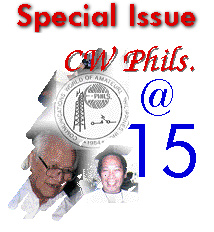 September 1999
---
CW Philippines TRIVIA. still underconstruction
did you know that:
Ex-Pres. Fidel V. Ramos was guest
of honor and inducting officer in 1989.
He was Defense Sec. at that time.

DU1DRF his first callsign, founded in 1984
CW Phils. Was the first Corporate Sec. of PARA
when it became a Federation. 4F1FZ Dr. Rey Fermin is
a dentist by profession.

Ed Montalban 4F1AED now 4F9AED
PARA Past President, CW Phils. Past
Pres. and one of the Incorporators of CW Philippines.

Fr. Bob Olaguer, of the famous case
of death convict Echagary is
a HAM and a long time member
of CW Phils. You can hear him
on the morning net.
More trivia will be posted, so please visit us again.
---
Home | Continue