! -- Image map created by MapMaker32 -->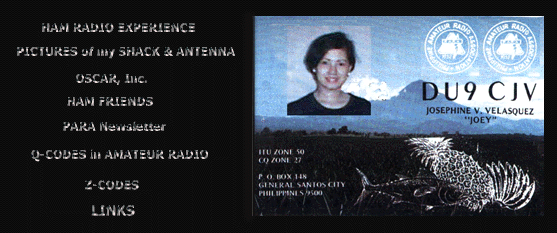 MY HAM RADIO EXPERIENCE
Ham radio was unknown to me not until 1991 when one of our friends from
General Santos City, South Cotabato, DU9AOU ( Bro. Danny Pamplona but he
changed his QTH and call sign at present is DU8ARK) introduced me to this hobby. I was surprised that he could communicate with people from different parts of the world. And he had lots of friends. However, i noticed that there were only few women who came up on air. During those times, propagation was excellent..and stations from Europe and United States were like stone's throw away. And being a YL gave an edge when I went DXing.

The antenna that I used was a cubical quad, made by no less than Bro. Dan himself (DU9AOU). And DX stations were really amazed that though my transceiver was only a Yaesu FT 747- 100 watts, my signal was very strong. I became an active member of OSCAR (Organization of South Cotabato Amateur Radio).

Through the request of my JA friends, I also wrote several articles about the hobby which were featured in Japanese magazines.

In 1992, I met the Mabuhay DX Club on 10 meters...and we chatted every morning (PI time)..and established our friendship on the air. Among the first stations I met and became close to were AB6BG (Alex, now K6BG), AB6FX (Papa Boy, now K6FX), N6WJN (Ramir),AA6ZI (Frank), N6ZIP (Choy).

The good propagation only lasted for two years and we've lost contact since. When internet came, I am very happy that I am able to establish contacts with my friends again. The first friend that I met was WJ1P (Joel) and even before ICQ gang was formed, he graciously sent me news and updates on Ham activities in the US.

Now, he has given me this space for my website...and I am really very grateful. I featured a list of some ham friends on the web. Also for some added information, I posted the q-codes and z-codes used in amateur radio.

---
Created 050897
Revised 092098