SUMMARY REPORT
The DX100DX special project of the Philippine DX Foundation, Inc.(PDXF), Philippine Amateur Radio League, Inc.(PARL) and the Mabuhay DX Group (K6MDX) was a success. The collaboration of the groups indeed achieved the purposes for which the project was planned. The DX100DX special call station commemorated the 100 years of Philippine Independence and at the same time displayed the skills and capabilities of the Filipinos in contesting. The activity also was a venue for visiting hams in the area to view and experience contesting QSOs thru actual hands-on participation. From tower installation to equipment and computer layouts visiting guest had the perfect eyeview of what ham radio is all about and the excitement of contesting. The coordination and skills displayed by the operators in handling the contacts was indeed a preview of what the viewers would become in achieving the enjoyment the hobby brings. The group achieved 2,056 QSOs with a score enough to put them probably on top of their category among the Philippine entries.
PICTURES
Frontage of the Acosta-Pastor Ancestral House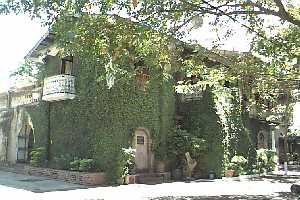 Backview of the Acosta - Pastor Ancestral House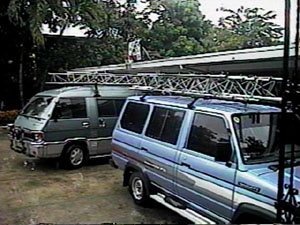 Transportation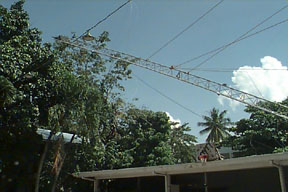 60 feet aluminum tower installation

DU1KBE Chito & 4F2KWT Gil assembles the Force 12 C4S & then up ......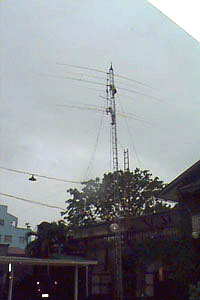 4F2KWT Gil atop the 60 feet tower installing the Force 12 C4s
Working condition ......
DU1MHX, 4F2KWT, Jun, WJ1P, DU1SAN, DU1KBE
DY1KXR, DU1JXP, DY1LVA, Marc, DY1SNL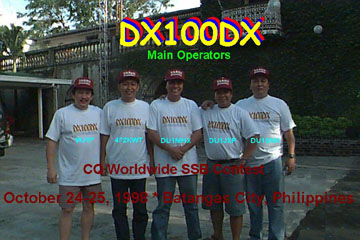 The main operators - (L-R) Joel, Gil, Hogi, Nikki and Boysan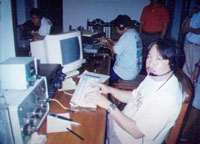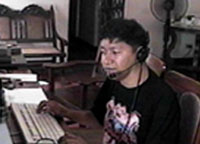 WJ1P Joel ....................4F2KWT Gil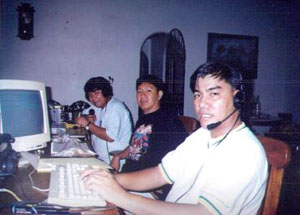 DU1MHX Hogi .............DU1JXP Nikki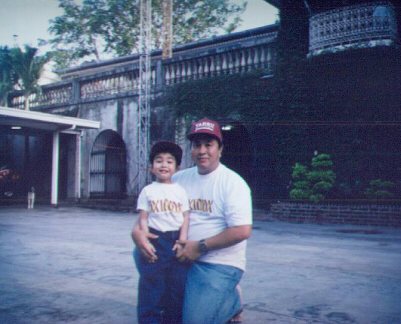 DU1SAN Boysan & Marc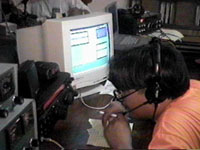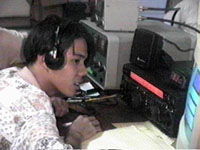 AC6CP/DU1 Vhodick .....N9BXH/DU1 Francis............. DY1SNL John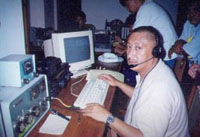 DU1KBE Chito
DY1KXR, DY1SNL, DU1KBE, DY1LVA, DU1SAN 4F2KWT, DU1MHX, Jun
This shirt feels good !!!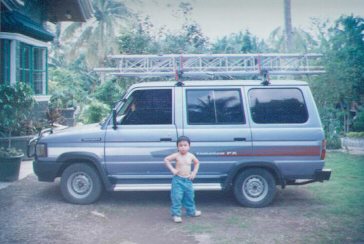 DU1SAN's son Marc Christian, youngest member of the group.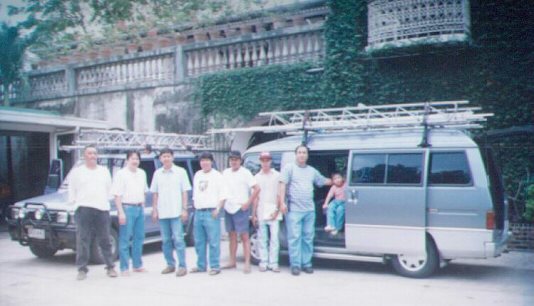 Final pose before heading home for Manila.
R & R

Anilao beach treat courtesy of DU1NQP Dick Asi (center picture w/WJ1P)
Lunch & merienda treats by N9BXH Francis & Rhodora in San Luis, Batangas

Merienda at DU1DDB Mon's residence in Tagaytay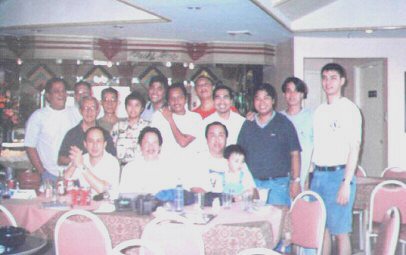 Final socials at the Wednesday Lunch Pow-wow at Aristocrat.
ACKNOWLEDGMENTS
The organizing committee expresses its warmest thanks and gratitude to the following individuals and groups which made the DX100DX project a success.
Mabuhay DX Group K6MDX
WJ1P Joel Pastor - US Coordinator
N6JFO Noel Lozada - Promotions
Philippine DX Foundation, Inc. DX1DX
DU1SAN Boysan Nepomuceno - Philippine Coordinator
Philippine Amateur Radio League, Inc. DX1L
DU1TH Tom Hashim - Station Licensing
Pastor Family
Station Venue, Food & Accommodation
DX100DX Main Operators
WJ1P Joel Pastor, DU1SAN Boysan Nepomuceno, 4F2KWT Gil Lappay, DU1MHX Michael Hogar, DU1JXP Nicodemus Academia
Other Operators
AC6CP/DU1 Vhodick Santos, N6JFO Noel Lozada, N9BXH/DU1 Francis Camoras, DY1LVA Ed Valdez, DU1KBE Chito Barretto, DY1SNL Rudy-John Ambata Jr., DU1NQP Dick Asi, DY1KXR Marlon Marasigan, DU1DDB Ramon Yoingco
Station Installations, Physical Assistance & Transportation
WJ1P Joel Pastor, DU1KBE Chito Barretto, DY1SNL Rudy-John Ambata Jr., AC6CP/DU1 Vhodick Santos, DU1NQP Dick Asi, and DY1KXR Marlon Marasigan, Pastor Family Batangas City, QC Ex-Councilor Bert Galarpe
Product Donors
Yaesu Caps, CocaCola T-shirts and WJ1P/W6BMD's DX100DX T-shirts
Hospitality Stations
N9BXH/DU1 Francis & N9YWE Rhodora Camoras - San Luis, Batangas
DU1DDB Ramon Yoingco - Tagaytay City
Equipments provided by :
DU1SAN, WJ1P, WW6CP, 4F2KWT, N6JFO, AC6CP/DU1, DU1KBE

The CQ World-Wide DX SSB contest which was chosen to be the venue was not intended to be a true competition for the group but rather a venue of a special event commemoration (Philippine Centennial - 100 Years of Philippine Independence), country contest participation and most important the sharing to fellow hams and new amateur radio enthusiasts the true spirit of amateur radio.
The organizing committee would like to convey thanks to the unmentioned individuals who in some other ways had contributed to the success of the project. To the unsatisfied observer or outsider who never knew our goals, try to surpass our achievement ............ go for it !!!

Boysan '98