<><><> DU1SAN <><><>
STATION PROFILE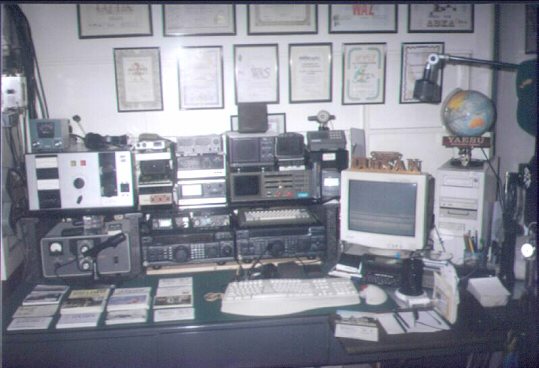 LOCATION
ARS LOCATOR - ITU ZONE 50, CQ ZONE 27, IOTA OC-042, GRID LOC. PK04LQ
QTH - 186 MACARTHUR H'WAY, POTRERO, MALABON, METRO MANILA 1475
QSL INFO - P.O. BOX 3000 QCCPO, 1170 QUEZON CITY, M.M., PHILIPPINES
HOME PAGE - http://www.pworld.net.ph/user/d/du1san http://www.qsl.net/du1san
---
EQUIPTMENTS
TRANSCEIVERS


| | | |
| --- | --- | --- |
| YAESU FT-1000MP | YAESU FT-920 | YAESU FT-900CAT |
| YAESU FT-712 | YAESU FT-50RD | YAESU FT-73 |
Other Yaesu equipments : FT-711RH, FT-211RH, FT-2311
Other brand of equipments : Standard C-7900, COLLINS KWM-2A
---
ANTENNAS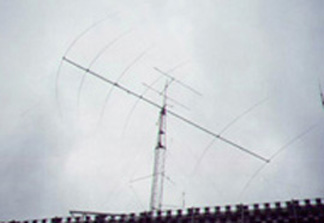 KLM 20M-6 during a strong typhoon.
KLM 20M-6 (6 Element Monoband Yagi for 20mtrs)

MOSLEY PRO 96 (9 Element , 5 Band Yagi for HF)

M2 6M7JHV (7 Element Monoband Yagi for 6mtrs)

CUSHCRAFT A3S (3 Element Tri-Band Yagi for HF with 40m add-on)

CUSHCRAFT R-7000 PLUS (Multi band Vertical for HF)

ALPHA DELTA DX-LB PLUS (Multi band Dipole for HF)

HUSTLER G7 (Vertical for VHF)

COMET CA-430Y212 (Yagi for UHF)

COMET UHF fiberglass vertical base antenna

Home brewed VHF & UHF Corner Reflectors and HF dipoles.
---
LINEAR AMPLIFIERS
HF- HEATHKIT SB-220 , ETO ALPHA 76A, HENRY 2KD, COLLINS 30L-1, Yaesu FL-2100B, Dentron GLA 1000B, Dentron GLA-2500
UHF- MIRAGE 1010RN, TOKYO HY-POWER HL-120U
---
POWER SUPPLIES & METERS
---
ACCESSORIES
HYGAIN HD-300 (Rotator)

DAIWA CR-4 (Rotator)

AOR 3000A (Receiver)

TONO 5000E (RTTY Terminal Node Unit)

KAM Plus (All Mode TNC)

YAESU FT-8 (Speaker/Patch Unit)

YAESU DVS-2 (Digital Voice System)

YAESU MD-100 (Desk Microphone)

HEIL - PRO SET, MICRO PRO, BOOM SET

MFJ 969 ( Antenna Tuner)

MFJ 931 (Artificial Ground)

ALPHA DELTA - DELTA-4 (Coaxia Switch Surge Protector)

POLYPHASER - (Lightning Protection) Coaxial, AC Supply, Telephone

CLOCKS - MFJ 12/24 , THE TIME MACHINE , ACRON ZEIT, ICOM GC-4

ULTIMETER II (Weather Station)
PERSONAL COMPUTER
CPU - PENTIUM II 266 MHZ MMX

HARD DISK - WESTERN DIGITAL 3.1, 2.1

MONITOR - MAG 507

SOFTWARE - WINDOWS 98, LOGIC 5, TR Log, CT 9, WIN95SSTV, WF1B, PSK31

PRINTER - EPSON STYLUS 600, EPSON LQ-100

HARDWARES - US ROBOTICS SPORSTER VOICE 56k (Fax/Modem), EASYPHOTO READER (Photo Reader), SNAPPY (Video Grabber), ZIP (Back-up Disk), Colorado (Back-up Tape)

DATABASES - RADIO AMATEUR CALLBOOK / CD-ROM, QRZ, BUCKMASTER, PDA
OPERATORS

Boysan

Marc
At age 4 he worked 22 stations in his first vhf contest - PARA District 1 Kid's Day Contest.
---
16 October 1999