"

"
is the title of a new book written by Stan, SM7WT.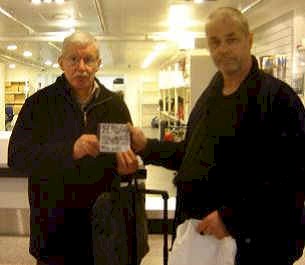 SM7WT (left) is handling the first CD to TF4M
SM7WT, the author, wrote about:
This project has kept me away from the rig for more than 4 000 hours, but I have enjoyed the work very much and all those fantastic examples
of true ham-spirit all of you have shown! The 102 MB PDF-file on the CD corresponds to a book with 1211 pages and around 1000 photos.
Why not a book?
Some hams have said they would prefer to read a book rather than a CD. I add the complete text (no photos) as a 2.7 MB WORD file on the CD so you can print the entire text or the sections you like. Just the text covers 471 pages. If you print two pages on each side that means 118 sheets. After all (with the photos) we are talking about 1211 pages!
However; a CD offers several advantages that would not have been possible in a book:
• Very easy to search for information
• No printing costs -"Thanks to Amateur Radio" (324 pages) cost me $ 10,000!
• Much lower postage rates
• More information can be shown
• Several color photos can be shown
How to buy?
If you like to get this CD, I would appreciate US$ 15 including postage.
If your friends ask you to make them a copy or if you want to make copies to send your friends as a gift, I would be happy if I get $ 5 for each one and - of course their calls to be able to send updates to them also! It is important for me to know, how many "readers" the CD has and I would appreciate a few dollars for my work even if this is definitely not a commercial activity!
And please give me your correct address!
IMPORTANT: If you send money, please send cash in an envelope! (The bank demands $ 17 to cash a check!)
My address is:
Stan Gülich
Marten Skrivares väg 7
S - 240 10 Dalby
Schweden
If the interest is high enough, I will be happy to continue this work and send updates to you and the other "readers" or to create a new version in 2010 or 2011!
About the contens
If you like to read about DXpeditions, don´t miss chapter 2!
Here you find 195 pages about DXpeditions. You can also look for "DXpeditioner" in chapter 4 and you will find several outstanding DXpeditioners telling you about their personal experiences in every part of the world.
If you like to look at and read about extremely large antennas,
look for TF4M; OH6KN; SM2DMU; WB9Z; DJ4PT; K4SKI; JH1KRC; F5SE; W5UN
If you like very interesting stories about how Amateur Radio has affected life,
some of my favorites are CU2JT; KT6YL; W1ZY; 3D2AG; GM3VLB; G3JCJ; PY5AY
If you like to read about young hams,
don´t miss WG4Y, KG4IUM, ZR5TUX, PU5ANA, K4AAT, DL1MH
If you like to get to know some of the best known VHF operators in Europe,
look for "VHF" in chapter 4.
If you like to read about hams who train youngsters to become hams,
look for WB2MGP; VU2RBI; DH1NEK; DL1MH; UU5JK; DK9NP
If you like to read about SSTV operators,
look for LA5PN; SM5EEP, SM5BUO
If you like to read why hams who lived behind the iron curtain lost their licenses,
look for calls starting with U or OK and search for "ex. DM"
Whatever you do, please don´t miss chapter 1 about hams using their skill as hams and their equipment to help during emergencies or to help people in the third world!
The chapters now look like this:
Chapter 1 How Radio Amateurs help the world
Radio Amateurs help after the Tsunami 2004 on the Andaman Islands by VU3RSB
One woman using Amateur Radio to help India - VU2RBI presented by VU3DVS
Radio Amateurs help after the Tsunami 2004 in Thailand by HS1WFK
Radio Amateurs help Sri Lanka by F6BFH
Radio Amateurs help during Wilma 2005 by N1DL
Amateur Radio as a support for the Austrian Red Cross by OE2PDM
What do all those hams at the UN World Food Program do? by LA5PN
MARCO - How hams help the third world by W6CS
Fighting fires in Africa by DL8OL
Helping Tanzania by DK9NP
Hams in charge of communication during the forest fires in Australia by VK2HF
Amateur Radio services in Southern California by WB6TIG
A letter from a president by G4OBB
A hostage in Iraq - how could a ham help? by LA5PN
Chapter 2 They simplify our lives (DXpeditions and QSL-Managers)
E44M Palestine 2009 photo gallery by SP3DOI
VP6DX Ducie Island 2008 photo gallery by SP3DOI
9L0W Sierra Leone 2008 by DK2WV
A25/DL7DF Botswana 2008 photo gallery by SP3DOI
9U0A Burundi 2007 photo gallery by DL7DF
VU7RG Lakshadeep Islands 2007 photo gallery by SP3DOI
VU4AN 2006 Andaman photo gallery by DL7DF
Handling the pileup by PG5M
DXpedition to the end of the world, Rapa Island in 2002 by 3D2AG
What did you see in those countries? by DL3GA
Active from 111 countries by DK7PE
The second DXpedition to Haiti in 2004 by DL7CM
Prins Karls Forland JW0PK in 2001 by PG5M
The first PY YL DXpedition in 1998 by PP5ASN
Why the Seychelles? by HB9MX
Sudan in January, 2003 by PG5M
DXpeditions to VK9X in 2003-2005 by VK2CZ
Kingman Reef in 1993 by OZ1LGF
The Live MUF Software from G7RAU by KM5PO
The QSL-Managers
Chapter 3 Who is presented in this CD?
Chapter 4 Personal presentations (around 260)
Chapter 5 Friends - gone, but not forgotten (SK)
Chapter 6 Some of the highlights of Amateur Radio through the years