A SELECTION OF DE 8981 / DL6QA QSL CARDS / AWARDS
and miscellaneous information
1947 - 2001
Everything started with a book I received from a friend in Kobe / Japan 1943 who was the wireless operator of the Arado 196 reconnaissance seaplane carried on board the German Navy Raider Ship No. 28 (Hilfskreuzer Michel). This book was the opening for me in Amateur Radio.

It was published by renowned Rolf Wigand, DE 0065, D4CXF in October 1940 and was a so called primer for many HAMs in Germany. It includes 111 fundamental HF circuits.

My copy is one of the very few still existing.
1947 - 1949

SWL Station DE 8981

RX (top center) home made 0-V-1 with two famous TELEFUNKEN RV12 P2000 tubes.

SWL card DE 8981
| | |
| --- | --- |
| | Permission, issued on 12th April 1948, for setting up and operating a receiver, according to regulations dated 27th Nov. 1931. |
A greeting card from the second DARC postwar HAM meeting in 1948.
The good old days of amateur radio in Germany.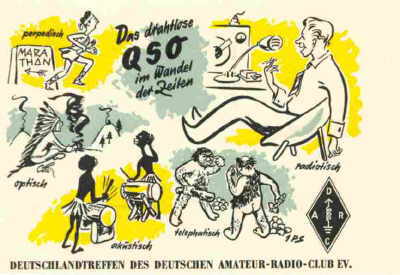 My first SWL Award Certificate

First postwar DARC 144 MHz contest 1949.

Achieved 3rd place ranking with 1275 points with a home made VHF transceiver.
1950 - 1960

Station DL6QA

Before and after licensing in 1950 my first station was partly sponsored by my late friend W6CFU of Dunsmuir / CA. We interchanged cow bells from Bavaria and the Black Forest, sepiolite (German : Meerschaum) tobacco pipes and salt and pepper shackers against US surplus equipmemt. The main equipment , however, was home made. Tubes utilized in the PA were types 807, P 35 and LS 50. Antennas used during this period were simple outdoor and indoor dipoles. I was QRV in AM (carbon microphone) and CW on 80 m, 40 m, 20 m (max. 50 W input) and on 2 m (1.5 W input) with a home made transportable transceiver.

Later on I operated a GELOSO VFO from Italy.
My former SSTV opening and closing trailers:
More than 50 years DARC membership:
I joined the "DARC/BZ" at Kiel-Ellerbek after the war on 1st January 1949. BZ stands for British Zone. The membership dues were DM 4.50 quarterly, i.e. DM 18.-- per year. Today the annual membership dues amount to DM 120.-- respectively (EURO) € 61.36.
The first publication of the DARC/BZ for members was the "CQ" magazine on 1st March 1948. At that time the DARC was the roof association of five individual clubs: BARC, DARC / BZ, DARC / Berlin, HRC and WBRC.
50 (52) years DARC membership issued in 2001
Amateur Radio Telegraphy High Speed Club "HSC e.V." of Germany :

My HSC Membership Certificate.
Join the Club (see address in the certificate)
My 25th visit to Korea in 1993:
At the EXPO'93 Amateur Radion Station 6K93XPO on 30th Oct. 1993
At the station of HL1ATE on 4th Nov. 1993 and his QSL of 2001
... to be continued with my station layout and a selection of awards on HF
mainly achieved with the QAM-Loop